Ok, this is it, no mas. I'm finally finished the with sporadic Madrid recapping. But I would feel empty inside if I didn't briefly mention my mall excursion. I always visit a mall when on vacation. Obviously, I only travel to big cities, but even Penang had one, which only surprised me a little since Asians have quite an affinity for mall culture. Only Mexico City posed problems with its Santa Fe mall hidden way on the outskirts, inaccessible by public transportation. (Not really surprising at all considering their seeming lack of a middle class. Maybe that's why NYC can't sustain a proper mall either, too-rich and too-poor all smooshed together.)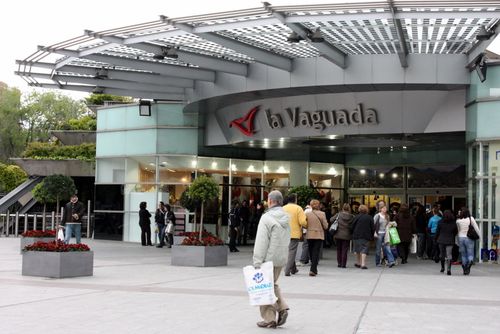 Madrid had more than one centro comercial to choose from; we picked La Vaguada because you can get there smoothly on the subway. I figured it would be a rinky-dink Manhattan Mall atrocity, but it was the real deal with an enormous supermarket, or rather a hipermercado, Alcampo, that was way larger than Fairway, and that was just the bottom floor. Upstairs, they sold washing machines, plus-size smocks, saws, and more relevant to my needs, a cheap corkscrew. I should know the answer to this since I cover retail topics at work (I'll look into it tomorrow) but why do we not have grocery stores inside US malls? Here, I'd appreciate the convenience. In other countries, for the fun of experiencing packaged foreign food.
I feel self-conscious taking photos inside grocery stores, but do regret not capturing the entire towering aisle heaving with hoof-on whole jamon. Canned seafood is also allotted an unusually large proportion of shelf space.
The heart (or I guess if you were corny like me, you could say stomach) of any mall is its food court. I didn't know what to expect from a Spanish food court. And it wasn't really fast foody (no Cinnabon but a homegrown chain Canel Rolls with savory versions like cheese and bacon) but a level ringed by sit down restaurants and tapas bars (and a hair salon, movie theater and video store), almost exclusively Spanish in culinary style.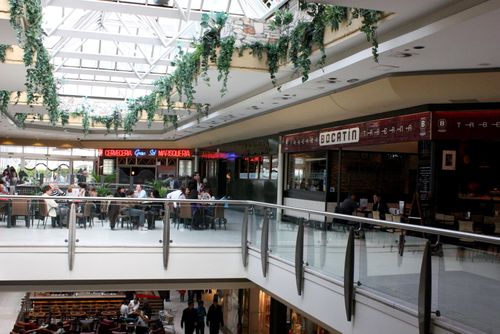 Bocatin is a taberna specializing in sandwiches, a.k.a. bocadillos. Way in the background is Gran Sol Marisqueria  and Cervecería. I like that beer is prominently mentioned everywhere. Drinking in an American mall just seems weird.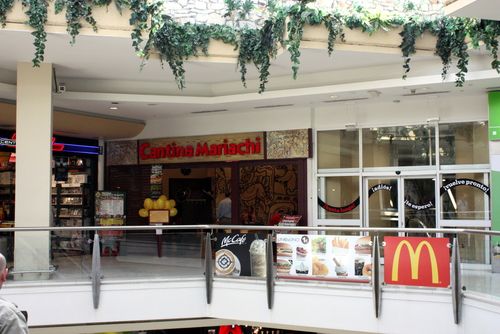 The non-Iberian offerings included The Wok, Istanbul, L'Alsace and Cantina Mariachi. It was also hard to ignore the plywood covered a giant coming soon ad for Taco Bell, fittingly with a larger than life packet of mild salsa. The first public (naval bases don't count) Taco Bell in the country opened not so long ago in December. The chain has never been a success in Europe (or Mexico, duh) so I wonder how the Spanish will take to Crunchwraps.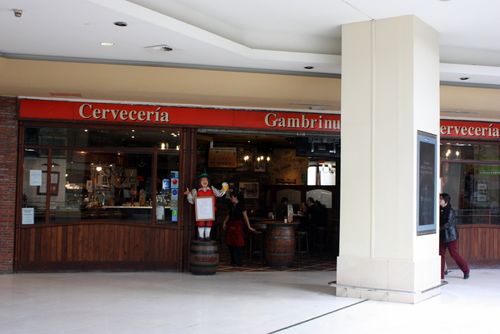 We chose a random casual eatery, Cervecería Gambrinus, that I later saw all over the place. Their logo is a portly pageboy'd Falstaffian guy called Gambrinus. From what I could deduce the lore is German not Spanish. Maybe it's like our use of Friar Tuck in association with drinking establishments.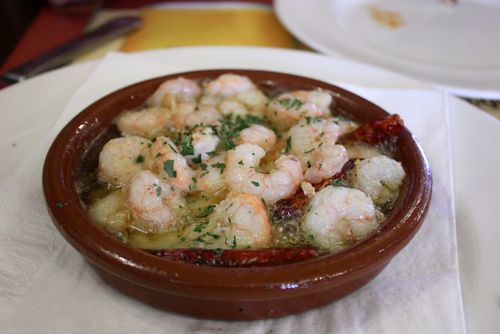 I love gambas al ajillo, maybe even more so for the saucy remnants. I could just pour the shrimp, chile and garlic infused olive oil into and dish and eat it alone with crusty bread.
Ok, so we ordered chicken wings, a.k.a. alitas. You get what you deserve doing such a thing but we were curious. Pallid tomato sauce inevitably accompanies fried chicken parts in other places (marinara in Hua Hin). I realize putting blue cheese or ranch dressing on poultry is an American abomination.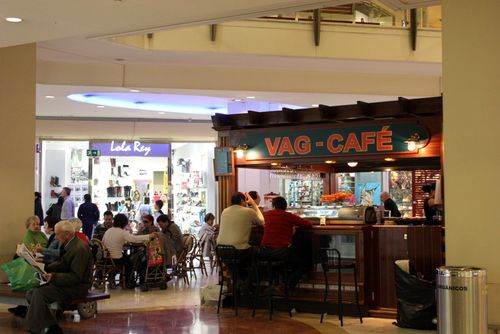 Because I'm childish this café gave me pause. I thought a bit, and duh, it's a cute abbreviation of Vaguada Mall.
One of the cool things was that despite housing a clean modern supermarket (and a weirdo smallish storefront that only sold packaged frozen food—can you imagine an entire store devoted to Tombstone Pizza, Banquet Chicken and Hungry Man Dinners?), the shopping center also had a series of rows emulating traditional market stalls: seafood, produce, dried legumes and nuts, butchers, cheese and the like.
Just across the way, on the same floor, was a tattoo parlor. Not so traditional, I would say.
La Vaguada * Monforte de Lemos 36, Madrid, Spain