Tapas Round 1: Cañas y Tapas, Txirimiri, Casa Lucas
If people only know one thing about Spanish food, it's tapas. (At least I thought so until the person who sits six feet from me at work stared blankly when I uttered the mysterious word in response to his "What did you eat in Spain?" question. I'm a speed talker/mumbler so I thought I wasn't enunciating properly and repeated "you know, tapas." Then again for good measure, "tapas?" Uh, no.  I thought that was the easy answer, not wanting to get into pig ears, percebes or 12 miniature courses employing, yes, a little foam.) Or maybe paella, damn, I should've just said paella.
I have mixed feelings on Spanish tapas. I love the concept of lots of little things spread out over an evening yet I'm crowd-phobic and don't enjoy eating while standing (or walking, for that matter). But it must be done. I can concede that our American style of tapaing (I also love that tapear, to eat tapas, is a verb) with full table settings is a mild aberration yet still be ok with it.
We ended up in the thick of two tapas hubs (at least for tourists, and I will always wonder how Europeans are already drunk by 11pm and chanting what I imagine must be sports anthems outside in large groups) on our first two nights.
Ok, I'm not ashamed to admit that our first stop, hours off the plane, was a chain. I love franchises, so there. Sure Cañas y Tapas is tourist friendly, positioned right on the Gran Via, but I wouldn't call it a trap and Spanish speakers were in the majority (not that all Spanish-speakers in Madrid live there. I don't imagine many of the English-speakers I see every day taking photos with the Financial District bull live in NYC) even at the early hour of 9pm (where it's still jarringly light out in Madrid, for contrast the sun set at 7:35pm in NYC on April 15).
This is where I acclimated to being enshrouded in cigarette smoke, how to maneuver and finagle spots at the counter and the level of assertiveness needed to get served and pay the bill. Not that anyone is rude, eh, some are brusque, but mostly they are just inattentive. If we were in the Applebee's of Spanish food, I was none the wiser because the food was far from crappy. Then again, I've eaten a few riblets in my day.
Morcilla de Burgos isn't the intense sweetish blood sausage that I'm used to. This was crumbly and contained a good amount of rice. I think a blood sausage hater would like this if you didn't mention the word blood when serving it to them. Madrileños seem to enjoy dry crackery things, and all sorts of them turn up in breadbaskets along with non-dried out slices of bread. Simple ham croquetas are hiding in the background.

Cañas y Tapas * Calle Gran Via 71, Madrid, Spain
We moved onto La Latina, three metro stops away, and as we accidentally discovered later, less than a 20-minute walk from our hotel. Madrid was surprisingly compact. Barely walking the distance from Houston to 14th Street puts you into a totally different neighborhood. We kept ending up in La Latina without even meaning to. Cava Baja is the main tapas strip in the area, and the side streets are equally plentiful.
I was torn on Txirimiri. The front bar was jammed predominantly with under-30s drinking cañas, smoking and not really eating any of the pintxos (as a Basque place it's all about things on bread and lots of K's and X's) displayed in cases while the restaurant in back was sparsely populated with over 40s. Who to emulate? Was it stodgy to eat a real meal? Instead, I blindly picked two pintxos and found open space on a ledge to house my plates.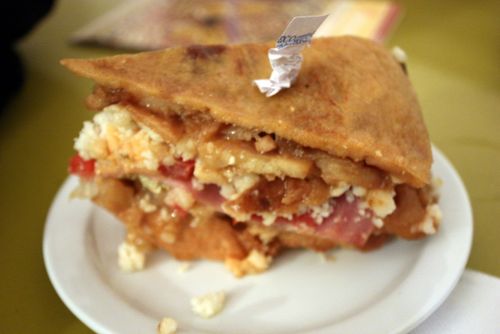 Despite being told what this was, I couldn't tell you exactly what it as called. I think it's a tortilla sandwich. Served room temperature, it contained potato but as you can see, also ham and crumbles of cheese. Caramelized onions were also tucked in. It might not have been my first choice, it's simply what caught my eye immediately and I was reluctant to ask about every last thing on the counter in my so-so Spanish. This ended up being a minor problem the whole week. I read Spanish, particularly food Spanish, very well but if I'm only verbally told what's available it garbles in my brain. Luckily, there isn't anything (other than melon) that I won't eat so I don't mind being surprised with what I end up with.
This was a jamon-wrapped nugget of goat cheese topped with mushrooms and garnished with basil oil. A lot of flavor is packed into these little bites. I would've tried a few more offerings but we needed to explore more. I vowed to return for proper dinner another night but that never happened; we ended up at Kulto al Plato, another creative Basque tapas place instead. So many regrets.

Txirimiri * Calle del Humilladero 6, Madrid, Spain
Small and boxy Casa Lucas felt more traditional, with an amicable older counterman and a quieter vibe. It's not a scruffy taberna. We had a few glasses of red wine. I couldn't tell you what because I don't always pay the same attention to what I'm drinking as to what I'm eating (though I'm trying to be more astute). But this definitely wasn't a cheap house wine place—there was a thought out list written on the chalkboard and best of all, nothing was over 3 euros (ok, so that's cheap). I'm accustomed to spending as much, if not more on alcohol than on food, so it was a pleasant surprise to find perfectly nice glasses of wine for $3.25 rather than $10 for a change.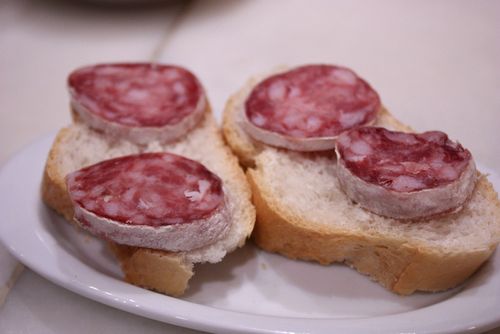 What added to my notion that this was a more traditional or at least genteel tapas bar is the fact that this was the only place we encountered the entire week that gave us a freebie with our drinks, as I think is more commonplace in locals type places. I won't say no to salchichon.
We shared ventresca, tuna belly atop roasted red and green peppers. Tuna, and canned seafood in general, is huge in Madrid. I didn't take a photo but entire grocery store aisles are devoted to clams, mussels, anchovies and what seems like every iteration of tuna imaginable. This was lively, vinegared in an escabeche style. So much better than water-packed Chicken of the Sea.
Casa Lucas * Calle Cava Baja 30, Madrid, Spain