Kulto al Plato

Kulto al Plato appears to have next to nothing written about it in English. I only knew that it had won best tapas bar of 2008 from Metrópoli magazine, which could mean anything. No one ever agrees with best ofs and I'm not sure what kind of weight that publication holds among food-lovers in Madrid.
From what I had read, it seemed like it would be a nice in-between restaurant, not formal like Sergi Arola Gastro but more creative than a typical tapas bar, being Basque and all (I have no idea why their cuisine is so tradition-breaking). The casual environment with serious food almost feels more Manhattan than Madrileño.
The food is very playful and employs plenty of twists on classics, which obviously weren't classics for me. That's the tough thing, it's not just the language. If you're a foreigner you're lacking the appropriate taste memories. I know enough from reading about Spanish cuisine to recognize some of what they were tweaking but have no original dish to compare it with. I'm sure I missed things that locals wouldn't have.
We chose the eight-dish tasting for 25 euros. If you sit in the restaurant I think you have to do a tasting (there's also an 11-course version for 40 euros). In the bar, you can order a la carte. There didn't appear to be any menus, just a giant chalkboard with lots of words using X's and K's interspersed with little cartoons and commentary. I was facing the board and close enough to scrutinize much of it (though, sadly not close enough for a decent photo). 
We didn't really know what we were going to get but it was for the best. Picking from the menu would've been a little overwhelming and I'm sure I would've missed some gems. It was like a little Spanish culinary lesson. But it's really about the taste, isn't it? Would it really matter if a diner came in blind and had never heard of gazpacho? Does identifying the riff make a new-style tomato soup more enjoyable than judging it on taste alone?
Aceitunas con vermu. This was a lot of olives for two people or maybe I just have a small appetite for olives. But of course these were no ordinary olives. Thankfully, they weren't doing that Adrià alginate olive spherification thing that seems to wow people (not that I'm above wowing, but they've even done it on Top Chef now). These were real olives, it was the red centers that were faux pimento. Instead the olives were filled with a sweet, boozy gel meant to mimic vermut. I never tried the popular aperitif when I was there, but it's common enough that bars have it on tap. From what I understand you drink it on ice with a lemon slice.
You can also buy a 12-pack to go. I almost considered picking a few up as fun souvenirs. We were flying out the next morning but I was afraid they wouldn't keep or they'd get confiscated.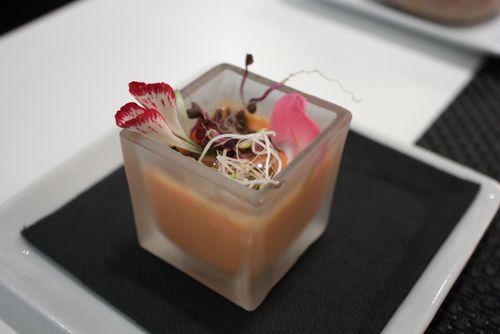 Salmorejo con brotes y flores. Ack, I knew I wasn't going to get of Spain without being served flowers. It happened on my last trip too. I have a phobia about eating flowers, even stems on things like spinach, give me the creeps. Not that there's anything wrong with the taste. I tried to concentrate on the rich, chilled tomato flavor and tune out the pretty foliage.
This menu was like a research project. It wasn't until I returned home that I could look at my blurry, harshly lit chalkboard menu photo and try to put together what we'd eaten and what half the words meant. Flores=flowers, sure, but salmorejo means nothing to me. Now I know that it's a cold tomato soup similar to gazpacho, but thicker due to the use of more bread. I think brotes are sprouts in this circumstance but I've also seen it as microgreens.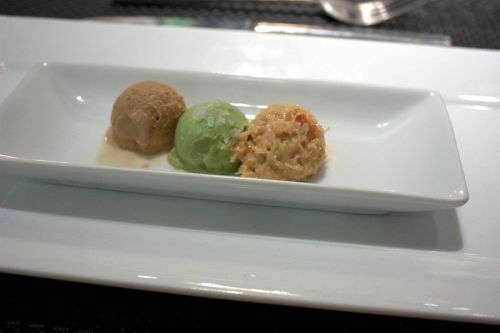 Txangurro+aguacate+regaliz. We all scream for ice cream, well at least they do in Madrid. Frozen savories seem to be quite a thing, and I'm all for it. Left to right, these tiny spheres were licorice, avocado and crab. Individually, they might be kind of weird but as they melt and flavors meld, it's just right, though licorice dominated by a hair. The crunchy sea salt atop the sea green scoop added nice texture and salinity. Here's a recipe and a prettier photo of the dish from their original restaurant in San Sebastian, A Fuego Negro.
Espinaca roja, verde, cebolla y queso feta. The spinach salad was no great shakes. Feta, red onion and lots of sesame dressing.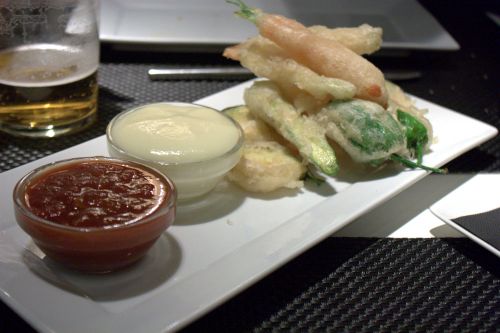 La txiki-huerta en tempera con ketxup casero y ali-oli de patata. I didn't know what the heck txiki-huerta was (Spanish is enough to decode—Basque is just asking for trouble) and I still don't, but obviously these were tempura'd vegetables: carrots, onions, chile peppers, eggplant. The dips included homemade ketchup and potato aioli. The aioli was the odd component, for sure. Creamy, rich and yep, starchy not eggy.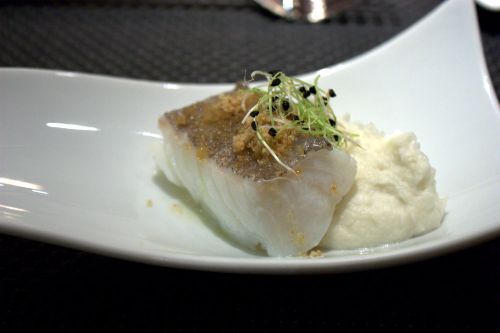 Bacalao con "currymigas" sobre coliflor. Salt cod is ok, though I managed to eat not one bite of it until our last day in Madrid when I had it for lunch as part of a menu del dia at La Camarilla (I never wrote about it because it's wasn't that exciting—despite how it appears, I don't actually write about everything I eat), and then again here for dinner. There was no question that this was the superior preparation, but once again, it's one of those regional things you may or may not know about. Migas that Americans might be more familiar with is the Tex-Mex style using sautéed torn up corn tortillas and eggs, Migas in Spain are breadcrumb-based peasant dish often associated with Extremadura. Of course, I've never eaten migas, I just recall reading about them in The New Spanish Table. Book smart, street stupid.
So, they've flavored their breadcrumbs with curry and use them as a crunchy garnish for super Spanish salt cod. The thick cauliflower puree offered a nice mild pillow for the strongly flavored fish.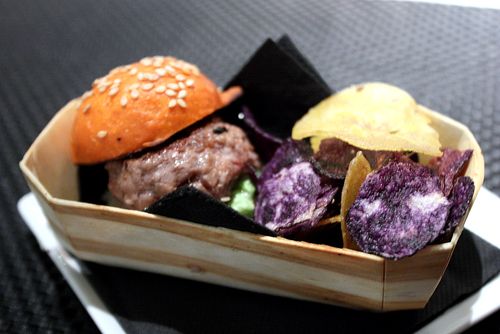 "MakcoBe" with txips. Ok, now hamburgers, I understand, they're speaking my language. But there still had to be an un-American in joke.  There was a cartoon dog next to the menu description with the caption, "De Cobi no!! De wagyu" I have no idea how I recognized the line-drawn dog as the '92 Barcelona Olympic mascot, Cobi, yet I did and felt very pleased with myself for getting the humor. Essentially, no, it's not Cobi meat, it's kobe/wagyu.
All you need to know is that this is a mini burger with chips. The sesame seed bun was adorable and I think it might've been ketchup-flavored. The chips were like homemade Terra Chips. Frankly, I don't remember the quality of the beef at all because I was more caught up in the presentation.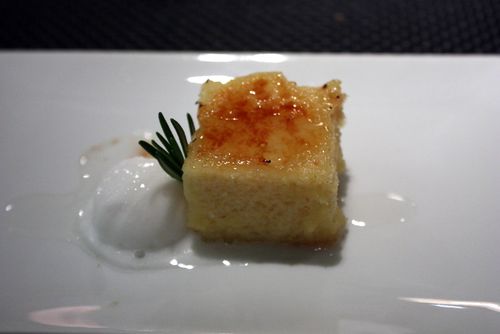 The pineapple cake with coconut ice cream was fairly straightforward. A decidedly non-tropical sprig of rosemary kept the sweets from being too sunny.
Kulto al Plato * Calle Serrano Jover 1, Madrid, Spain