Tapas Round 2: Casa Toni, La Casa del Abuelo, La Venencia
Numerous times we ended up in another popular tapas enclave near the Puerta del Sol. I was reluctant to take chances on places I hadn't written down (or rather copied, pasted and printed) or heard of because who knows if they would suck or not. I'm not a risk-taker.
One of the many sporadic bursts of rain that punctuated the week hit while I was out trying to stroll instead of power walk. Desperate for a speedy respite, we popped into the first inoffensive, non-packed place we could find. I had wanted grilled pig ears at tiny La Oreja de Oro (on my approved list) but the tavern was prohibitively full both times I attempted a visit.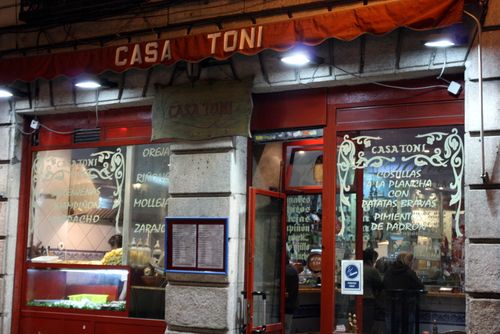 Casa Toni, the bar we randomly entered, advertised pig ears too, though the skeptic in me was suspicious of a sparsely populated room with an open table, no less. Too crowded? Too empty? There's just no winning. I don't think anything was wrong with Casa Toni and we soon realized after easily getting a seat that there was an upstairs dining room people regularly headed to, potentially diffusing mobs. 
The first thing listed on the menu is oreja a la plancha, which was my intended dish. I already knew I liked pigs' ears (as you may have noticed, I'm no grammarian, and now I'm having trouble deciding between pig ears or pigs' ears because I've seen it both ways) but you never know what you're going to get. Resto's pig ear salad is awesome but the pigs' ear salad I had in Macau was pure crunch, no chew, too garlicky and not compelling.
To my surprise, these grilled pigs' ears were the underdog hit of the entire week, even according to James who's indifferent to offal. Quite possibly my favorite thing. These rough ribbons of meat and cartilage had the perfect ratio of fat and softness to tough bits and lots of flat surfaces for maximum crispy char.
Half-way through devouring this plate like the drenched, starving beasts we'd become, we noticed two of the cooks looking at us and laughing, possibly thinking that those American gluttons must not know what they're eating. (I don't doubt that's an uncommon mistake if you couldn't read Spanish and just pointed to the first thing on the menu). Believe me, we knew what we were doing. All I could think was that if this was the ho hum version, Oreja de Oro's must be insane. 
These patatas were specifically brava, spicy (I use that descriptor loosely) sauce only. Often you see patatas bravas served with aioli too; at Casa Toni that rendition had some made up name like patatas bravaioli. Thank goodness they were crispy because I hate all-mush steak fry-type preparations. Portions of both the potatoes and ears were larger than anticipated.
Casa Toni * Calle de la Cruz 14, Madrid, Spain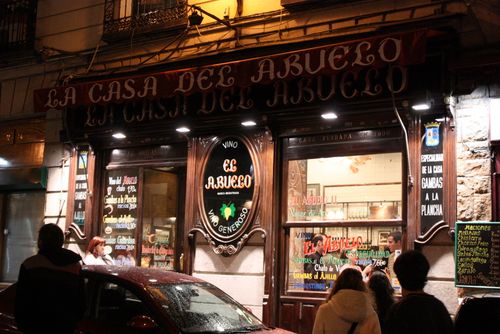 Casa del Abuelo is directly across from Oreja de Oro, and both bars were perennially packed. When we spied a gap at this gambas specialist we jumped. For lunch we dared to try food court gambas al ajillo (oh so much more on that later) so for variety we had our prawns a la plancha here.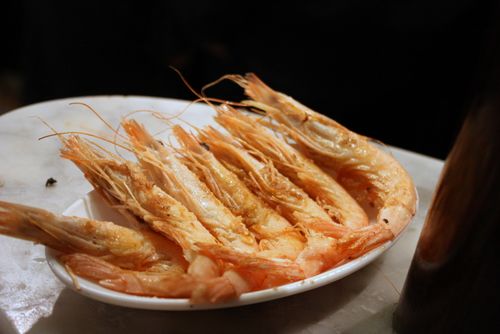 Saline and moist, similar to Chinese salt and pepper shrimp, these crustaceans were fun bar snacks. And there's nothing more fun (ok, I can think of a few others) than tossing heads and shells onto the floor. We were standing at a tiny marble table but the bar had a garbage trough along its front. It's also not unusual to see cigarette butts stamped out and tossed to the ground indoors. I not only feel weird smoking inside restaurants, but ashing on the ground feels criminal.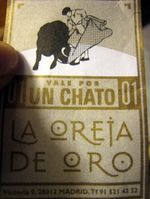 Apparently La Casa del Abuelo and La Oreja de Oro are more than just neighbors, they are affiliated. Upon paying the bill for our shrimp we were given a coupon for a free chato across the way. I didn't know tapas bars gave out coupons; it was almost carnivalesque. I felt like Charlie with his golden ticket, though a tiny €1 glass of wine isn't the grandest prize. I intended to take them up on their offer after seeing Watchmen, but at 12:30am on a Sunday night the gates were down. I never did get to taste those golden ears.
La Casa del Abuelo * Calle Victoria 12, Madrid, Spain
With dusty bottles and sawdusted floor, La Venencia is a classic sherry bar–and like much of Madrid, seemingly straight from a '20s movie set. I do like the specialization aspsect of many tapas bars. Casa Labra is another, known for things made with cod, and Las Bravas, is always teeming with patatas bravas eaters, obviously. I just don't see a tapas bar that only served variations on the same few ingredients thriving in NYC. 
The back room was fairly empty because it was near to closing time, if I'm correct either 1am or 1:30am. Despite what people say about Madrid being a late night city, that didn't seem to be the case. We've encountered this phenomenon countless times on vacation. We're still bright-eyed at 3am and nothing's open. Sleeping till noon is the downside to not being tired in the middle of the night. I think it balances out; it just means that I rarely eat breakfast in foreign countries. 
I didn't experiment, only sipping a single glass of dry manzanilla and picking at some olives. I'm no olive connoisseur but every single type we were offered, and we were given many in every shade of green and brown, tasted different. So many olives. These were salty and richer than ones I'm used to in the U.S. or maybe the sherry was enhancing the olives' flavor.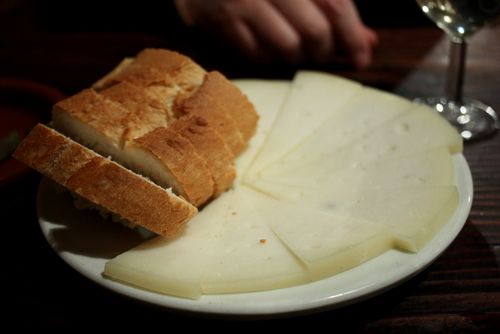 No skimping on the Manchego here.
La Venencia * Calle Echegaray 7, Madrid, Spain