La Taberna de la Daniela

Cocido is muy, muy Madrileño and I've never seen it in NYC, so passing up the regional specialty would be morally unacceptable (in my book of ethics). It's essentially every meat you can think of boiled with garbanzos and a few other vegetables. Not such a tantalizing description, sure. Luckily, the chilly weather made such heftiness seem appropriate. I don't know that the lunchtime stew holds as much appeal when it's sweltering.
The biggest question was where to try cocido since we'd only have one shot and it's not something you decide on spur of the moment; most restaurants that feature it require advance reservations. Malacatin concerned me with their too mammoth portions, though I loved their logo of some kid with an ax (or maybe it's a hoe, I'm pretty sure it's not a bindlestiff as I initially thought). La Bola, I'm certain would've been fine, but I really wanted to get away from the tourist track  environs of our hotel.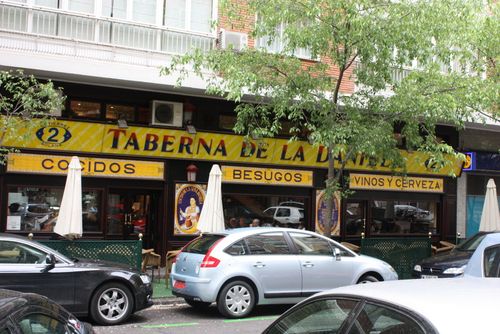 We chose Taberna de la Daniela, which I later discovered has three locations. We inadvertently picked one further away that we needed to in a neighborhood that ended up being near the big soccer stadium. The subdued area reminded me vaguely of the Upper East Side, and had a proliferation of children's clothing stores in addition to a mini mall with a TGI Friday's and Tony Roma's. Cocidos is spelled out right on the restaurant's yellow tiled sign lest you had any doubts.
Initially, you are brought what appears to be two versions of romesco. I honestly couldn't tell the difference between the two other than that one was thicker. Long green peppers (odd, since Spaniards are notoriously spice-averse) and pearl onions accompanied the sauces. Were these appetizers meant to be nibbled on or intended to go with the main meal?
It's times like this when I realize that I actually have more culinary knowledge about Asian obscurities, which I've read about and eaten more extensively. My experience with traditional Spanish fare, and European cuisine in general, is much more limited. In some ways it's more freeing to travel in places like China or Thailand because Americans aren't expected to speak the language or know shit about anything. The bar is low for us so it's not as embarrassing to make mistakes. But Spain? Spanish is a common second language in the United Sates; it's not too much to expect Americans to be capable of communicating. Not making cultural faux pas is another story.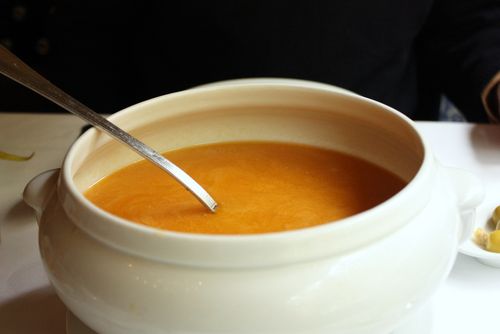 Soup is first. This broth is neither light nor subtle. I swear it tasted like mutton but that's the one meat not present in cocdio. Must be the pork. Barely detectable beneath the orange surface are fideos, broken vermicelli. This was a lot of soup for two. I wavered between not wanting to waste and seeming unappreciative and not wanting to fill up on liquid knowing the bounty that was in store for us. I sipped two not-quite-full shallow bowls worth.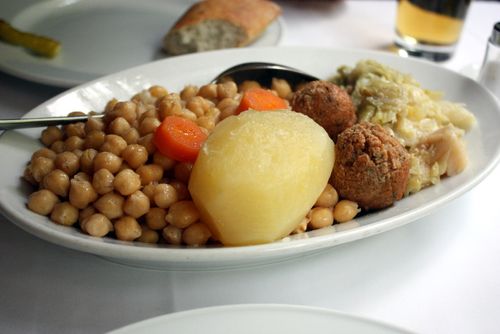 This cocido was listed as three courses; two and three are presented at the same time. The meatless plate was primarily garbanzos with one potato, two dumplings, bits of carrot and cabbage. I just dug in, mixing as I pleased with no idea about the proper procedure. The bib-wearing businessmen next to us ate vegetables first and mushed them down with the back of a spoon. Then one of them cut up a green pepper with a butter knife and added rounds to the meat. I don't think this was normal.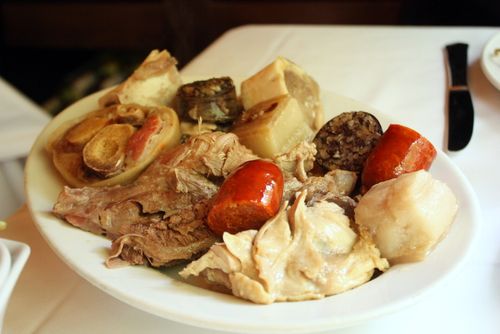 No lamb, but just about everything else. Chorizo, morcilla, chicken, brisket, pork fat (I think that's tocino, though I was under the impression that was more bacony), marrow bones and the cross-section of a pig's foot. I wasn't that excited about the chicken and pure pork fat blocks made me a little nervous, but it was hard not be impressed with the selection. There are no fireworks with cocido, everything tastes as it is, no wild seasonings. It's peasant food that people have grown to love, kind of like corned beef and cabbage (another bland dish I enjoy) times a thousand. Though I don't think I could eat this on a frequent basis. Once a month, no problem.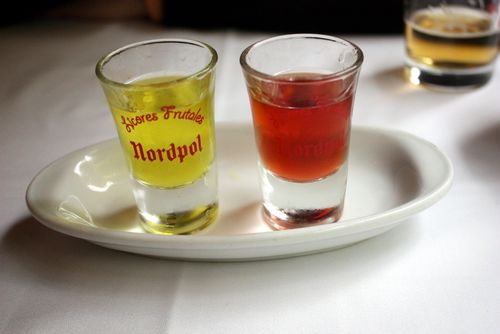 Diners are sent off with bracing, supposedly fruity but really more herbal, shots of liquor. I really wish I could work that two-hour lunch with wine and digestifs into my daily routine. The practice doesn't seem to fly, stateside.
La Taberna de la Daniela * Calle de Gutiérrez Solana 2, Madrid, Spain