Café Nebraska & Vips

1/2 I wouldn't recommend Café Nebraska to anyone unless they were nostalgic for the European trip taken with their mom and sister when they were 15. No, I'm not talking about myself. My family's vacations rarely consisted of more than a two-hour drive to the Oregon Coast. (To be fair, there was a 1984 Disneyland excursion where I watched part of Stop Making Sense in the motel room adjacent to my parents, not knowing what to make of David Byrne's oversized jacket, and a trip to Vancouver B.C. where my dad was too bashful and Hank Hill to go into any of the over-18 shops to buy the Duran Duran posters hanging in the window that my sister and I were clamoring for.)
James wanted to see if Café Nebraska, a Denny's-like chain he had been to over 20 years ago, was still chugging away on the Gran Via. It was, and still is thriving in multiple other locations too. Our first morning was the only time we woke up early enough for breakfast so we stopped by to get some café con leche and plan out our day.
Just plain churros, not with thick chocolate for dipping. These crispy tubes actually tasted more savory than sweet, even with the addition of powered sugar.
After 20 minutes we realized we weren't getting our other ordered item, huevos rotos. I'm still not exactly sure what happened but after finally grabbing our waiter's attention and asking again, we still didn't get them. I would've just left but James was intent on getting our eggs, which we did after the third try and angering the waiter who subsequently wouldn't bring our bill after asking for that twice. That's the Spanish style service legends are made of. Ok then, it wasn't as if I expected Café Nebraska to come with Michelin-starred service…or food.
We asked for huevos rotos, literally broken eggs, because the night before we were mesmerized by numerous people eating fried eggs, ham and French fries from what looked like individual cast iron pans with handles at a tapas bar, and I finally deduced that this was huevos rotos.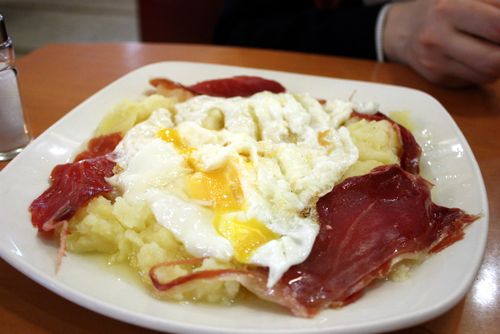 This version unexpectedly contained a bed of mashed potatoes drizzled in like a gallon of olive oil, with eggs over easy and fried jamon. This was good in the same way that a giant platter of oozing melted cheese nachos topped with sour cream and guacamole is good. Gut-busting and tasty, but not for every day consumption.
Throughout the week, I spied many variations on this seemingly popular dish. It was a common first course in menu del dias. Quite a few used thick-cut potato rounds, like chips but fatter.
On to Vips. I've mentioned them before out of my own nostalgia. Though I can't seem to find much evidence of the restaurant's existence (just this pin on eBay and a buried mention in this state representative's bio) and I'm pretty sure they are in no way related, we had a chain called Vip's (with the apostrophe) in Oregon. I also noticed Vips in Mexico City, which I do imagine is affiliated with the company Grupo Vips in Spain (that also owns TGI Friday's and is somehow affiliated with Starbucks). But in Mexico, Sanborns is the Denny's-esque place to be so I never checked out Vips.
I had no intention of going to Vips in Madrid, but at 12:30am on Sunday after getting out of a movie, I was starving and concerned about missing out on a dinner opportunity during vacation (James ate a giant popcorn, a.k.a. palomitas so he wasn't hungry but I don't like popcorn. Well, I do like palomitas dulces, caramel corn, which seems to be standard in theaters in Spanish-speaking countries, but I didn't want to fill up on sweets) our nearby options were limited. Sure, there were a few brightly lit cervecerias with a few older gents at the bar still open but I wasn't sure what kind of food, if any, they might have. And frankly, I was kind of happy to have an excuse to try Vips.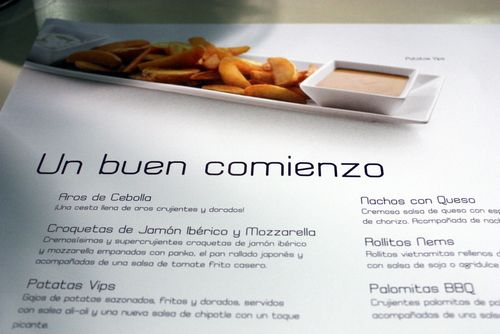 Neither of us had the nerve to try the aros de cebolla, listed first on the paper place mat menu, which I'm guessing was a bloomin' onion.
James ordered ham and cheese croquetas. I don't think marinara is standard at Spanish restaurants. I guess these were more like mozzarella sticks.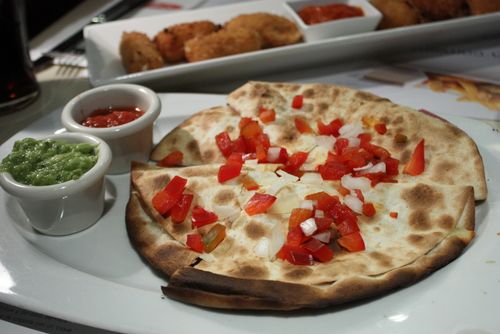 I went totally off the rails and opted for a ham and cheese quesadilla. My expectations were not high. The tortilla was a bit overdone and the middle wasn't thoroughly warmed, instead of melted cheese, individual grated squiggles were still detectable. And the salsa was barely more spicy than diced tomatoes straight from a can. The guacamole might've used real avocado, though.
Café Nebraska * Gran Via 55, Madrid, Spain
Vips * Calle de Alcalá, Madrid, Spain