Balear

Ok, if you're a freak who still don't know what tapas are (and I'm coming to the startling realization that there are many—last night while dining with my grandma that I never see she asked what we did in Madrid. James answered "tapas bars," which she heard as topless bars. It took a few minutes for it to sink in that we were talking about two entirely different things) I'm naively hoping that you must know paella. Rice with saffron and stuff in it, you know?
Yes, it's a Valencian thing but being in Spain at all brought us closer to the ricey specialty than eating at say, Socarrat in Chelsea. I'll admit right up front that I'm not a crazy rice-lover, but I think it would be a shame to pass up a paella opportunity on its home turf.
We chose Balear over a few other options in Madrid, not really on a whim, there were a few other contenders but out of practicality. We were happy to discover that Balear was open on Sunday, a day that many restaurants pack it in.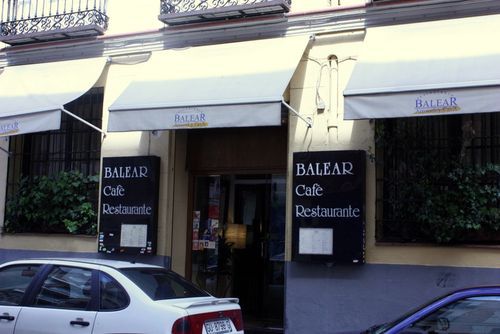 Judging from the cheery yellow walls and palm trees hinting at tropical chic, I'm guessing Balear refers to the Baleriac Islands. It was almost enough to make me forget it was 50-something degrees and wet outside. After a few glasses of cava (arroces and cava are displayed together on their signs and I'm susceptible to advertising).
No appetizers were ordered because we were afraid extras would overstuff us. Maybe we were being overly cautious. I was fine with the pan con tomate and tuna escabeche that comes standard.
There were so many choices, I was interested in rabbit and snail, but ultimately we picked the mixta, which included a little bit of everything. And I'm still not clear on the difference between arroce and paella, both are rice dishes with things mixed in and both variations were on their menu.
Before I could even come to my senses or snap even a blurry shot, a no nonsense Filipina came out and manhandled the paella. Within seconds, 90% of the pan's contents of were scooped with two large spoons and tossed onto our plates. Wham.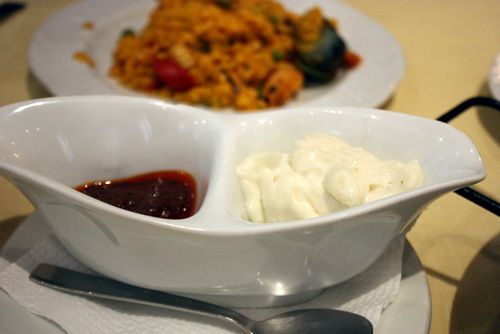 The major difference from what I've seen in the US is the addition of aioli and romesco as accompaniments. Nice. But still a bit baffling. Do you dab a bit onto individual bites or mix big blobs into the pile of rice on your plate? Even though I'm normally wary of mayonnaise, I loved the extra richness.
The paella, itself, was just right. Chewy, slightly oily but not too sticky, with grains that just cling together. Mixed in were shell-on prawns, rings of octopus, slices of chicken, combined with slices of green beans, peas and strips of red pepper. I honestly find it hard to describe what saffron adds to a dish, though I know its absence would be missed if it wasn't there. It tastes sunny.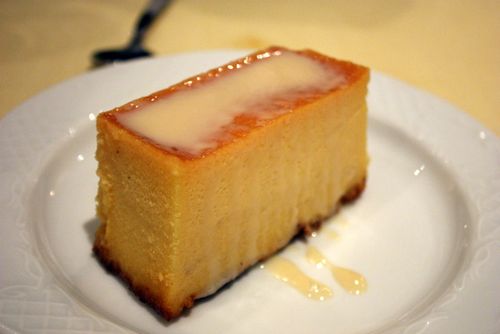 Up until this point we had been too full to order postre, a.k.a. dessert, anywhere. I was determined to try at least one Spanish sweet before leaving. I was most impressed by the wooden cart with shelves enclosed in glass that gets wheeled to each table. I am a sucker for a dessert cart. I chose the pudin, which looked to me like a rectangular flan. Visuals are important; if I'd only heard the word pudin I would've imagined a pool of pudding. Blah.  I didn't realize until later that this was quite a generous potion and richer than any other versions I tried. Yes, it is like a crème caramel but much thicker and richer; this had a consistency closer to cheesecake than the expected slipperiness. The substantial wedge was drizzled with an orange-flavored sauce that made me wish I hadn't waited until the end of vacation to try a postre.
Balear * Calle Sagunto 18, Madrid, Spain