Ever since experiencing Basque food in its own element, I have become insufferable. Ok, not really, but I have wondered why there aren't real pintxo bars in New York City when we have so many other niche culinary ventures. I'm envisioning a counter teeming with trays of small, high quality, totally creative, reasonably priced ($3 short pours of txakoli, not $12 like I experienced this weekend and $5 plates, not double digits) gems to be consumed while standing or on stools at a bar. It's so crying out for a Brooklyn treatment. Could you street-food-ize it or make it pop-up?
If I were the opposite of me, I would make this happen despite my complete lack of business sense, industry experience and capitol. Like this is the part of the T Magazine or New York profile where the subject says, "I liked kombucha…so I started a kombucha company" or "I loved s'mores as a kid…so I'm now producing artisanal graham crackers. It's a full time job."  Uh huh. Myself, I've wanted to start a category (tumblrs just don't do it for me) A to C, documenting these inexplicable journeys from idea to execution.
There are factors holding back pintxos bars in NYC: price, as I already mentioned, and the bar thing. Americans like to sit down and stay in one place when eating a meal and you couldn't have a crawl anyway without a concentration of options in the same area. One destination pintxos place wouldn't cut it.
This week I tried two extremes: Bar Basque (comped, I must point out) and Txikito (on my own dime—the difference between the two meals was almost exactly $100 on the nose, though mostly because I tried far fewer things at the latter not because the quainter restaurant is bargain-priced) to see the state of Basque cooking in the city.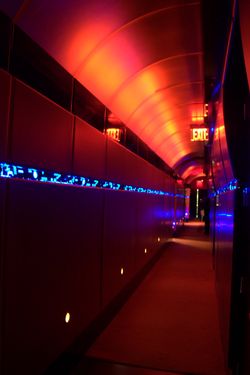 Bar Basque is just as bombastic as one may expect from a Chodorow production. The relentlessly red panels, ticker tape blue digital squiggles racing along the surface, and wall of windows open to a giant outdoor movie screen is like a lounge in an Asian capital that has a tough door policy for locals while letting in all Westerners even if they're clad in Old Navy. When people said, the décor is like Blade Runner, I thought they meant that metaphorically, but Syd Mead, Bar Basque's designer really did have a hand in that movie's sets. It was jarring to see Annie Hall, a film only five years older than the sci-fi classic, playing on the screen visible from most tables. 1977 Manhattan contrasted with 2011's interpretation of cinematic 2019.
All the show might give the impression that eating was secondary, yet the food is quite good. Spanish ingredients abound—you will get your Idiazábal, jamón and olive oil—while a whole series of seafood crudos and escabaches seem more like the product of chef Yuhi Fujinaga's imagination. There is not a lot of raw fish traditionally eaten in Spain.
While light and effervescent txakoli is the wine most associated with the Basque region, gin and tonics are also a Spanish favorite. (I drank them by the tumbler-full at Madrid's deco Museo Chicote) The list of modernized variations, each paired with a unique brand of spirit, including the rosemary and chile with No. 209 Gin above, was clever. Cocktails and a few shared plates of food might be the best way to enjoy the restaurant, which doesn't feel like the right venue for a drawn out multi-course meal.
Idiazábal croquetas and yellowfish tuna tartare "push pops" with red wine caviar.
Of the lightly marinated items playfully presented in cans—Spain is the king of preservas; entire grocery aisles are devoted to canned mariscos—the mussels with pimento de la vera, onion, garlic and fennel were my favorite. The meaty blobs, hit with smoked paprika seemed right on and the crimson oil and caramelized aromatics left behind made the best bread dip. 
There was also Spanish mackerel with shallots, chiles and coriander seeds, octopus, black olives and tomato confit, and Yellowfin tuna with ajo blanco and chimichurri. The only dish that felt a little clunky were the sea scallops with Mediterranean flavors. On paper black olives and preserved lemon seemed fine, but the olive puree smudged on the plate (which I genuinely thought was refried beans) overwhelmed the raw seafood.
The smoked trout with jamon butter trumped the pudding-like pork belly with baby clams, if only because the fish had its crispy skin showcased.
The heirloom tomatoes with Pedro Jimenez sherry vinegar, were simple, greenmarket and somehow very American. I've been researching where to eat in San Francisco next week and this falls squarely under the hyphenated style they like to call Cal-Spanish. Everything gets the Cal prefix by using local produce and serving it simply.
Leche frita with chocolate and passion fruit sauces and piña colada flan with caramelized pineapple.
Is it ok to admit that the real reason I wanted to go to Txikito was to see the adorable food wallpaper in the bathroom? I'm a sucker for design. Fewer than ten blocks from Bar Basque, the Chelsea restaurant is cute, rustic, woody, the dead opposite of the theatrics occurring adjacent to the Eventi Hotel. Then again, on my way out my exit was blocked by a white-haired gentleman demanding enthusiastically, "Give me the best seat in the house!" I thought that only happened in movies. Also, that's not someone who would appreciate pintxo-hopping.
Like most Spanish restaurants in the city, the offerings tend to be more like raciones than tapas. The morcilla, stuffed into wonton skins like spring rolls, is mild in its fried shell and on the tapas end of the scale. Little rich bites.
I was sitting at an odd angle from the blackboard, so I did not catch which mild, oozy cheese this was. Perked up by two anchovies and a bed of softened grilled red pepper strips, the fondue-style dish serve with bread was a little like Spanish queso, no Velveeta needed.
Arugula hides the poached egg, the most important part of any such dish. The tiny, battered, fried fish covering the whole tufted affair added great texture and a hit of salt like barely fishy canned onions. Who would like to make a green bean casserole with these instead?
Txipirones, a.k.a. squid, cut into ribbons and served with…what was described as pine nuts and sweet onions. I had been picturing a sweet-savory thing with raisins even though nothing really led me to believe there would be any chunky dried fruit. This was more creamy,  rich with concentrated natural sweetness from the onions, and the kind of topsy-turvy dish that wouldn't be wildly out of place in San Sebastián.
Salinas, Basque chef Luis Bollo's new restaurant, is also on my radar. Though when I see a restaurant running specials like Salinas did this morning with Gilt City, I now get suspicious thanks to The Bad Deal.
Bar Basque * 839 Sixth Ave., New York, NY
Txikito * 249 Ninth Ave., New York, NY