La Cepa

La Cepa is the worn, wood-accented type of bar that just seems wrong free of cigarette smoke haze. You don't acheive that dusty patina overnight.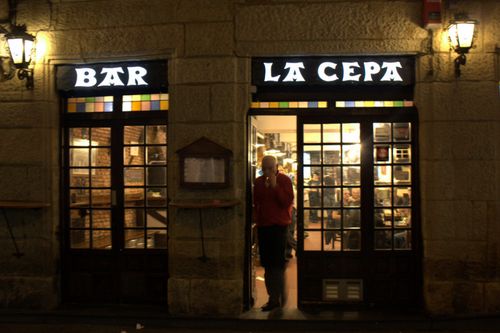 People just smoke in the doorway, anyway.
I did wonder what years of indoor smoking must have done to all of those hanging hams.
I only tasted bursts of pure porkiness, more meaty than saline and smoothed by fat, in these slices—a media ración—of jamón Jabugo.
You won't find dazzling culinary stunts at La Cepa. Sometimes you need a rest. We'd already spent Saturday afternoon standing and sampling pintxos and weren't in a mood for any cerebral hours-long tasting menus, so we returned to La Cepa simply to sit down for bit and enjoy simple homestyle food. This is not a complaint, but it's easy to fall victim to palate (and foot and stomach) fatigue on a trip like this. A similar thing happens in S.E. Asia; after a few nights and days of street food and hawker stalls in appetite-killing heat, you just want to absorb some air conditioning indoors for a meal or two. Comfort over exploration.
Ensaladas mixtas, I learned, are more than just tossed lettuce and tomato. Olives and  hunks of oil-cured tuna make it more of a meal salad. You are provided with oil, vinegar and salt to create your own dressing, but never pepper. I wonder what peppermill sales look like for Spain compared to the US.
Callos aren't Basque at all, but I was feeling like tripe instead of some of the larger beef and fish dishes that were on the menu. The blubbery, spongy ribbons were braised in a tomato-based sauce, thickened naturally by collagen, plain as that. Some recipes call for morcilla or chorizo, but this version had no more than a few bits of jamón—La Cepa is a hammy place, after all—to complement the organ meat.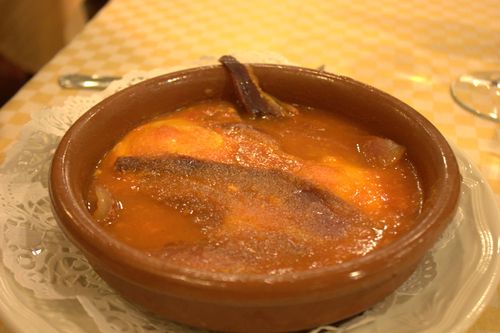 Neither of us knew what magras were, but James ordered it anyway. It turned out to be a cazuela of ham and eggs really; long slices of jamón and three (yes, three) poached eggs floating around in a tomato sauce that didn't taste like the callos despite similar appearances. 
The back dining room (the bar was full of Spanish speakers glued to the big Real Madrid- Barça matches) was clearly for tourists, though not a trap. However, it was the only place I experienced big groups of stereotypical Midwesterners, two tables at opposite ends of the room filled with balding men in khakis and belt-clipped phones, who appeared to be in town for business, not gastronomy. I preferred the young Latino-looking (are there short, brown Spaniards?) couple who'd moved on from their bottle of Cava to shots. How do you say p.d.a. en español?
La Cepa * Calle 31 de Agosto, San Sebastián, Spain