Arzak

I briefly chatted with Elena Arzak as she said goodbyes to groups of lunchers slowly trickling out the door in time for what would be American dinner. When Mugaritz invariably came up (I imagine at least 80% of foreign Arzak customers likely dined at both in quick succession) she said something curious: "They're French." Obviously chef Andoni Luis Aduriz is not, so she must've meant the food. In turn, that would imply that Arzak is more Spanish. Or should I say Basque?
As a librarian by training, I enjoy categorizing things and what designation to give these topsy-turvy restaurants is problematic in the same way that food cooked by Indians in Singapore but not necessarily found in India, confounds me. Not to eat, but to designate in tidy checkboxes.
Initially I might've said Arzak and Mugartiz were both Spanish because they're in Spain. But this is Basque country. But are their ingredients overtly Basque? Kokoxtas are used at Mugaritz to non-traditional effect. Green tea, yuca and huitalacoche are used at Arzak.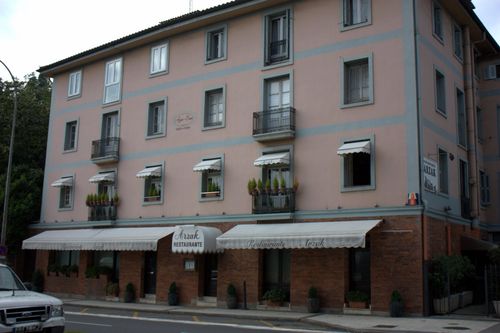 Arzak, unassuming in the same residential part of San Sebastián since 1897, lacks lush grounds, livestock or herb gardens to ogle. The restaurant is being run simultaneously by the third and fourth generations and is firmly entrenched as a local restaurant. It's unquestionably Basque—at least in spirit.

All of the amuses, plus the corn soup with figs and morcilla, arrived at once. (I tried not to go overboard with the individual glamour shots and just focus on tasting the food. If anything, note-taking is more useful than photo-snapping because a month later I only have fleeting memories of how things tasted.) You must be quick with that camera or you'll miss the dramatic dry ice effect created when tea is poured around the sweet-salty ham and tomato balls. On the left is a puffed yellow rice filled with a wild mushroom mousse. Displayed on the spindles are nuggets of kaitaifi-wrapped kabrarroka (this translates to scorpion fish, but I think is similar to hake) paste. I noticed the crisped vermicelli being used on at least one pintxo, maybe at Zeruko. Strawberry halves topped with rolled sardines was the most unusual combination, though the oil and sweetness worked. Fruit and fish can be friends—or at least acquaintances.
I decided on a Bierzo wine because…frankly, I'm more knowledgable about food than wine and yes, Michelin starred restaurants in Spain are where you can totally dork out on Riojas, but I didn't want to misstep with a pricey bottle. Bierzo is more of an up-and-comer in the US, fairly inexpensive and perhaps more versatile for a tasting menu since Mencia grapes are lighter than Tempranillo or Garnacha. Plus, I recognized Descendientes de J. Palacios Petalos del Bierzo as being a forgotten wine on my to-try list from a few years ago. Bizarrely, this exact bottle was called out in a Food & Wine article about Pinot Noir alternatives I just found at the gym. The only odd thing was that on the menu it was listed as 2007 and I was brought a 2008. The presenting and tasting of the wine is usually uneventful and I've always secretly wished I had something more to say during the ritual. And yet I didn't make any mention of the bottle discrepancy; it just didn't seem worth it with the language barrier and price point (this is like a $22 wine in NYC—I think it was marked up to 40 euros at Arzak). How different could the two years really be?
Unless you ask a million questions or are privy to behind-the-scenes looks at the involved food preparation, you will never know how complex a dish is based on menu description, and not likely through taste either unless you're a total pro.
I'm not a sensual eater (and generally hate the word sensual). I like a dish more after I understand what has gone into it, but I don't think anyone should have to know the 20 steps and ingredients incorporated to enjoy a meal. It should work both ways even if peeks into the process add meaning.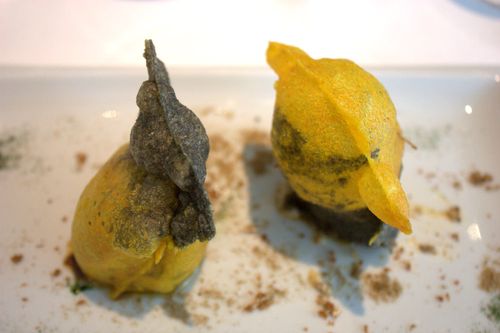 Last weekend I watched the new Cooking Channel show with the dopey title, From Spain With Love, and the host was shown by the Arzaks how this dish, cromlech y cebolla con te y café, was made. Me, I only knew that onion, tea and coffee were ingredients based on the description. Now I know that the shells are made from dough of yuca and huitalacoche that puffs when fried. The foie gras nugget that sits inside was detectable when eaten—you're instructed to quickly flip them over as not to lose the filling from the open base and eat the creation out of hand—but I missed the green tea nuance that I now know is there.
So not Basque in flavors, but completely so in conception. A cromlech, as I neither learned from TV nor from description but from the internet, is an ancient circle of burial stones. Grave markers on a plate, essentially. More morbid than playful? I thought they resembled the freakish looking Dumbo octopus.
Bogavante coralino was significant for its use of kaolin, the clay I'd also seen used at Mugaritz. I want to say that the stiff, chalky smudges were green from chlorophyll, but I can't find any evidence of that. The sesame crisps, soft lobster meat and onion crunch provided much contrasting textures.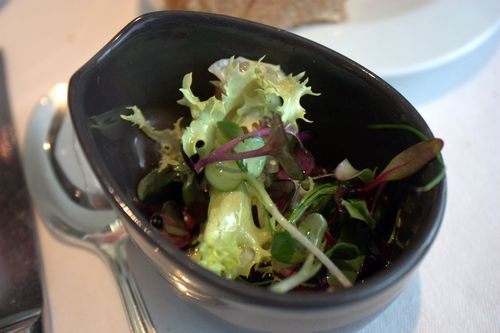 Many of the courses, as well as the desserts, came with little sides. I didn't keep track of all of them, but these greens that sat atop tapioca pearls, accompanied the lobster.

Mejillon y huevo espolvoreado. I completely forgot about this course. The yolk was not a yolk but an orange jellied disk made from mussels. Sometimes I think you'd need to eat each dish at least twice on separate occasions to get a true feel for them.

For the fish course, I chose rape marea baja because I'd loved photos I'd seen of the monkfish paired with tropical shades and crystalline blue stars flavored of curacao. I will always order the blue thing. The flavors were very light, though, some shells mildly fishy, others sweet. The coral was tempuraed seaweed (and I was given more shells and coral on the side). I wouldn't have noticed how light if we hadn't swapped plates half-way through and I noticed how much more distinctive the sole was.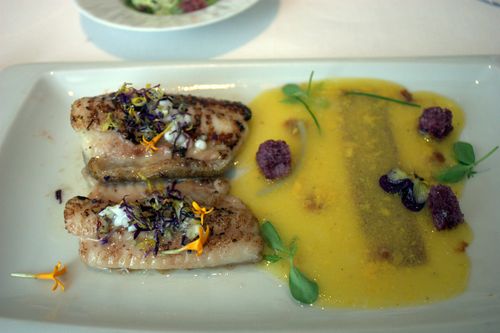 Lenguado con mamia, paired with an orange sauce and sweet red wine soaked croutons had more punch. I'm assuming the head cheese was the thin, meaty strip hidden beneath the pool of sauce. Mamia is a curded dessert, which I'm guessing (always with the guessing—I take back any earlier hesitation; this food is super Basque, at least in a way that could only make total sense if you were familiar with the original) is the thick white topping on the sole. Maybe I just liked this dish because of the sweetness; their penchant for seafood and sweeter accompaniments was new to me.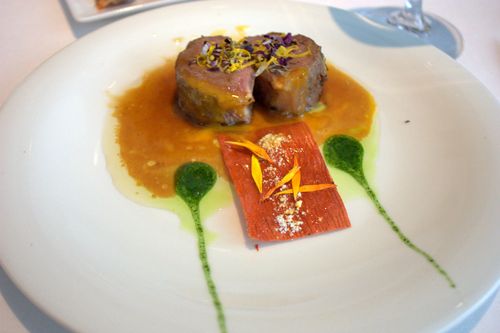 The meats, while delicately portioned, had heft. I picked the cordero con romero y curcuma. Despite the flourishes—flower petals, of course—and rosemary infused oil with red pepper sheet, this was not a wildly untraditional lamb dish, but a very good one.

Its side was white asparagus stubs wrapped in jamon and served as tempura.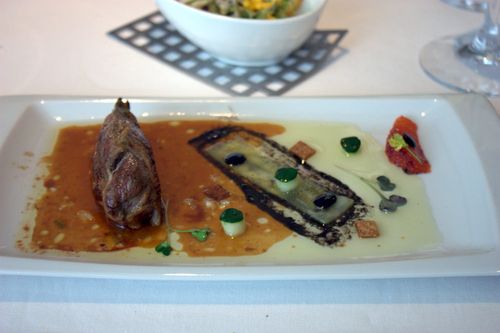 Pichón asado con maíz y flor de azaha. The pigeon with corn and orange blossom was nearly as good. Black olives and cucumbers rounded out the flavors.

A side salad with a little pigeon leg.

We said yes when asked if we liked chocolate. I don't know what happens if you say you don't. I suppose you're not served the sopa y chocolate entre viñedos, a wavy bowl containing a shallow pool of strawberry soup occupied by shiny grape-like blobs filled with chocolate. An even bigger sphere of basil ice cream lies half-submerged in the pink liquid. More ice cream, I want to say chocolate, was served in the square dish.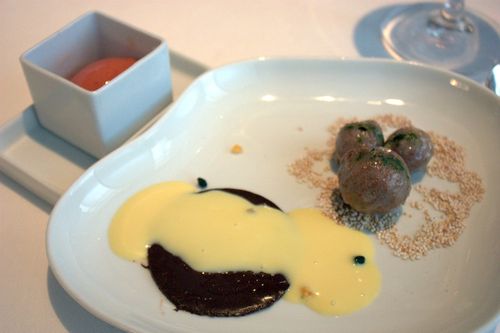 Jugando a las canicas de chocolate. More chocolate orbs, these more wizened and meatball-like in appearance. Or I should say marbles since the dish translates to "playing with chocolate marbles." The side ice cream for this was dessert was tart, pink and dubbed "tutti frutti." I might have guessed strawberry bubblegum.

And one more. Hidromiel y fractal fluido starts with a dish of clear honeyed water. As red dye (made from vodka, carminc acid, sugar and water I discovered.  If you have free time on your hands, here's the recipe. It's a doozy.) is dripped onto the plate it blooms and zigzags like blood rushing into capillaries.

The thin, lightly sweetened sauce is then spooned over chilled upright wedges of white chocolate-covered lemon ice cream.

Piedra de pistachio y remolacha. Beets, pistachios and a spongy cake.

As I mentioned in my impressions of Mugartiz, I thought it was interesting that both restaurants end with an allusion to tinkering. Mugaritz with chocolate nails poked into a flowery ice cream one, and at Arzak a full range of nuts, bolts and Lego-like cubes.
After saying goodbye, I started heading across the street to get a photo of the restaurant's exterior despite its understated presence. When we got to the crosswalk, I realized Juan Mari Arzak was already there waiting for the light to change. I'm a horrible small-talker, and can barely make what even counts as small talk in Spanish (I'd already gathered from when the chef made the rounds during lunch that he didn't really speak English—that's more Elena's role) but it's weirder to not acknowledge the person who just spent hours in the kitchen preparing the special meal you just ate.
I did muster in my so-so Spanish, "Do you live nearby?" He said "yes" and pointed up the street. I've always envied people who can walk to work. Maybe my eyes showed the pain of 13 years of subway torment. I was half-concerned that the elder Arzak was afraid we were going to follow him home.
"Uh, ok, bye! We're going this way." I may be a poor conversationalist, but I'm totally not a chef-stalker.
Arzak * Alcade Jose Elosegui 273, Sebastián Spain