La Cuchara de San Telmo

La Cuchara de San Telmo and Zeruko were the only pintxo bars I visited twice. The variety of food demanded it and both left me with the feeling that I didn't get an adequate initial experience due to the bodies-to-open-space ratio. During the first La Cuchara excursion on a Sunday afternoon, we had to squeeze and hover until a ledge opened up and then instantly felt the pressure to free up our space (this is what it normally looks like inside). It's a popular place.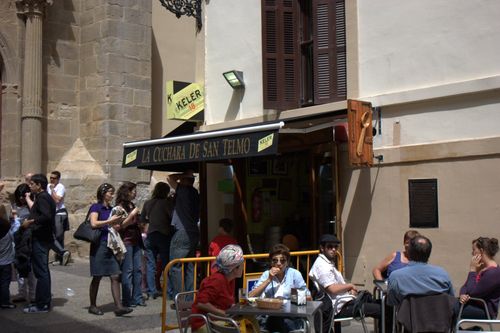 On a Tuesday night, though, the narrow room was practically empty. We weren't even hungry, but had to seize the opportunity luxuriate in the relatively open space. It was just us and a motley crew of European men speaking to each other in heavily accented English about how horrible American food is because one of them was taken to a Southern restaurant where he was served fried alligator that was flavorless with batter thicker than the meat. But did it taste like chicken? More than once I overheard Europeans speaking in English about Americans customs. Of course our food isn't all fried, but yeah, at most non-upscale restaurants the check will be brought before you ask for it.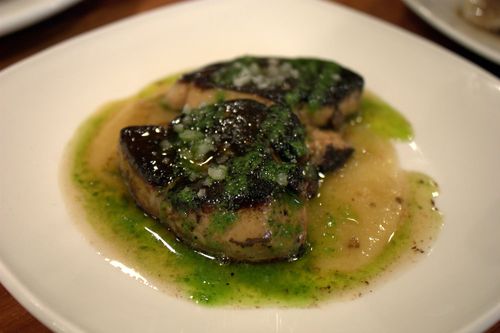 Foie con compota de manzana. Simple, seared foie gras with apple jelly and plenty of coarse sea salt. For 3,6 Euros? This dish sums up San Sebastián's affordable luxury.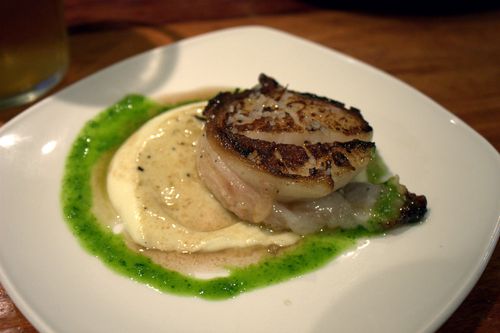 Vieira "toro" envuelta en tocineta de bellota. I goofily pride myself on my Spanish food vocabulary (not my conversational skills, definitely not those). I know the words for mussels, clams, razor clams, langoustine, lobster, shrimp, soft-shell crab, crab, many fish, and spider crab and cod cheeks in Basque…ok, I'll stop, but I had never heard the word for scallops. I just chose vieira because I liked the toro in quotes and figured it would be something playful. Um, and I could parse that there would some sort of ibérico bacon involved. Yes.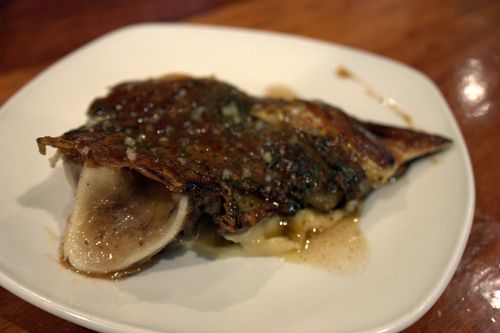 Oreja de cerdo ibérico salteada y crujiente. I will always order a pig's ear anything if available. Spanish and Filipino preparations always get the gooey/crisp thing right, though I had never encountered an entire ear served whole like a steak. Usually, I see this cut sliced into chunks or ribbons. Maybe it's just to disguise its original origin?
Pulpo salteado con hojas de berza asada. Ok, I learned another word: berza. I hadn't expected any cabbage on my pintxos. Charring the octopus and sautéing the greens turned both kind of sweet.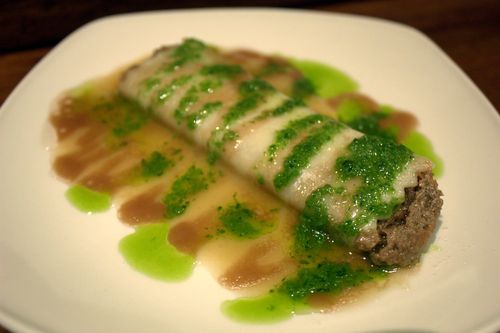 Canelón casero de carnes de cocidos. Boiled meats doesn't make this filled pasta tube sound so attractive, but you know it's not going to taste like gray shoe leather. I chose it because I only wanted something small (this was on the already-full-of-foie-moriclla-and-suckling pig second spontaneous visit). One useful thing that I noted after being able to get an unobstructed view of the menu, was that you can order any pintxo as a ración, which would be entrée-sized in the US (we're the only weirdos who call the main dish an entrée—it seems like everyone else in the world uses that for appetizers) or half that. Maybe you'd like a whole plate of canelónes?
La Cuchara de San Telmo * Calle 31 de Agosto, 28, San Sebastián, Spain