Bergara

Bergara skewed more traditional than Hidalgo 56. To be honest, I was a little more interested in the décor than the food because even sharing two small pintxos per stop, the third restaurant is where you're likely to start busting a gut. But the main reason my attention was divided was because the room was a charming grandma/old sea captain mishmash of nuts.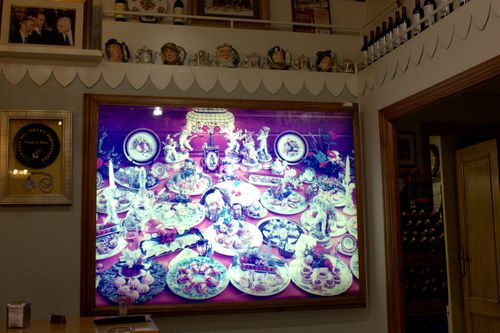 Ceramic tea kettles in the shape of cats wearing dresses shared shelf space with steins painted with men's faces. My spot on a picnic bench put me in direct view of the backlit elephant in the room. I couldn't keep my eyes off the glowing tableau of pintxos interspersed with more bearded mugs and prancing cherubs. Luckily, I managed a quick photo before the staff turned off the light and started sweeping.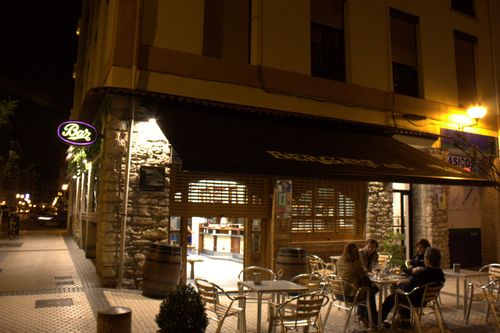 Do you see a pattern forming? 10:30 pm really is the weeknight dining tail-end in San Sebastián.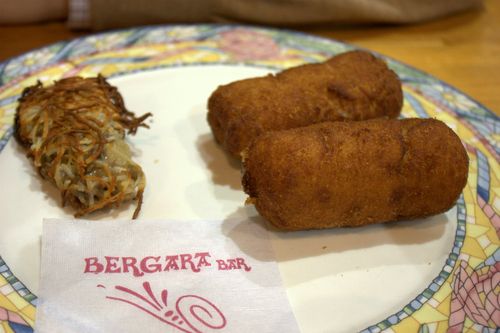 There is that txalupa, a fritter of wild mushrooms, langoustine, cream and cava, next to two massive béchamel-and-ham filled croquetas. I told you, third meal is the dangerous meal. I didn't know any better–croquetas in NYC are often tiny little things.
Bar Bergara * Calle General Artetxe 8, San Sebastián, Spain