Casa Senra

I thought I was becoming a seasoned pintxo-orderer by the time I ended up at Casa Senra, mid-way though vacation. Apparently, I still had fear in my eyes. "No tiene miedo!" said the young man behind the bar, nudging us to just pick up a plate and start plopping things on it. (Not all places are d.i.y., though, which is why I was waiting to see if another customer just jumped in or had things plated by staff.)
I ended up only picking one because my heart was set on a few cooked dishes. It's amazing how much flavor can be crammed onto one slice of bread: anchovies, jamón, green pimientos, cheese and caramelized onions. I guess I should take back what I said earlier about not seeing meat and cheese together on pintxos.
Choosing with your eyes can be fun, but the more elaborate pintxos need to be ordered from the menu. Wow, I'm just noticing a wild mushroom dish with Coca-Cola sauce scrawled at the bottom.
My txampi con foie y suave allioli got attention from strangers—and for good reason—the architectural wonder nearly appears to have been sealed in fondant. That is the work of the so-called smooth aioli, which is blanketing a fat mushroom, block of foie gras and a bread base in all of its emulsified glory. How can a person who can only stand mayonnaise in small doses down a creation like this? I ate first, internalized later. Basque country is no place for gastronomic mental blocks.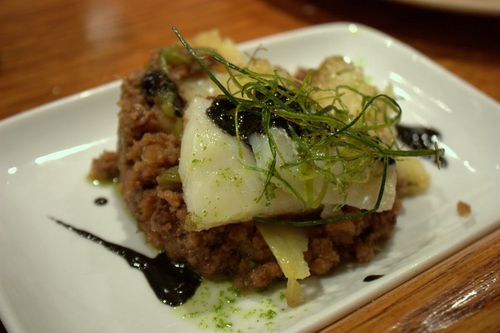 I'm not 100% sure what's going on with this montadito de txipiron pelayo y bakalao. In places like Barcelona, a montadito is essential a pintxo, something stacked on bread like the anchovy cavalcade above. Here, anything on anything seemed to be a montadito and I'm guessing that the bottom layer where the advertised squid (txipiron) was lurking. Its ink certainly played a role, as did the rectangle of salt cod crowned with frizzled leeks.
What I'm completely clueless about (any insight would be appreciated) is what Pelayo means. I can't determine if it's a region, style or breed of squid or something else, altogether. I get the sense that txipiron pelayo is a non-descriptive namesake like oysters Rockefeller or veal Oscar.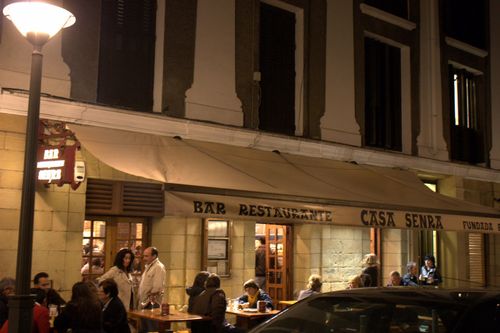 Casa Senra * San Francisco, 32, San Sebastián, Spain