Chiseled Basque mountains, country roads hidden from global positioning systems, fields of shaggy sheep, old men in berets? Too postcard perfect. And to eat an unadorned cast of sea creatures, their essence sullied by little more than salt, butter and charcoal smoke? More simple perfection. Maybe too much so.
I wasn't convinced that Etxebarri was for me. Do you think I talk about chain restaurants and all of their cheese-smothered, common denominator glory because I'm being ironic? No, I need the grotesque in my life, and by grotesque I mean greatness. I'm also confused.
It doesn't seem right for me to deride Americans' blind obsession with Italy and all the Tuscan trappings while allowing for faux stone farmhouses and never ending bowls of pasta in the suburbs. I hate our fixation with old world charm. When everyone agrees on what natural beauty is—A grassy rolling hill? A vineyard at sunrise?—it becomes a cliché.
Next you start travertining up your suburban home, installing a wrought iron wine rack and putting up wallpaper borders painted with clusters of grapes. Mass produced facsimiles cloud what was appealing about the original in the first place and it all starts seeming tainted.
Now, I have a hard time with genuine Italian landscapes because it makes me think of Olive Garden. Yes, the Olive Garden that I occasionally enjoy. Like I said, I'm confused.
Luckily, there isn't a mainstream fetishization of Spanish culture in the US—at least not beyond calling anything served on something smaller than a dinner plate, tapas. When I stand in a courtyard in Axpe and stare at  a whitewashed stone facade, I don't think Vegas casino or Cheesecake Factory (maybe a little Swiss chalet).
But of course, Extebarri, an asador famous (even my mom knew it from No Reservations, which I thought she wasn't watching anymore because she thought Tony was arrogant) for chef  Victor Arguinzoniz' mastery of smoke—and its hard to get to location between San Sebastián and Bilbao—is no facsimile. It's also all that it was cracked up to be.
We'd been gorging on various chorizos from a fancy deli near our apartment; little spicy ones, fat vinegary ones, but none of the cured sausages were as soft and balanced as the three fork-and-knife slices we were served as an introduction.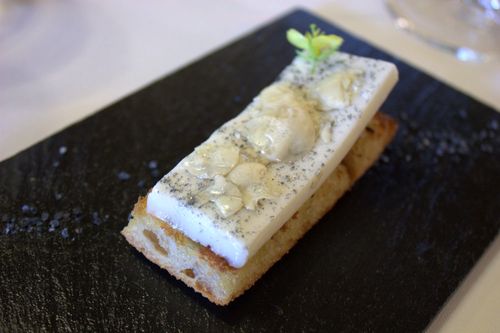 The thick slab of smoked goat's milk butter, the creamiest cream mixed with full-on barnyard funk and campfire, was almost overpowering at first. Rich, sooty and caprine with only a few paper-thin slices of mushroom for diversion, this was possibly the most decadent treat I've encountered, no truffles, foie gras or gold leaf necessary.
Palamós prawns, mine with one feeler that unfurled a half-foot off of the plate, were spot-on. I pulled the head from the body before thinking to suck the head and had to salvage the rush of smoked, buttery liquid with a hunk of rustic bread. I could make a whole meal (a very expensive meal) out of these meaty crustaceans. These were a highlight.
The octopus were small where the prawns were mighty. Grilled, but not charred, the little creatures were served in a straightforward manner with only a little smudge of ink for reference. I've seen other write-ups where there was an accompanying onion jam, but all I remember was the naturally sweet flesh, no extra sweetness.
Wild Saint George's mushrooms formed a tuft atop of a perfectly runny egg yolk (I can't tell you how many times in recent history I've been served a way too stiff yolk—ok, twice, both in Brooklyn). Despite the egg's brightness, this was a very quiet dish, a respite course. I don't recall what was listed on the menu, but I imagine these were hongos. I'd asked my Madrileño Spanish teacher before my trip whether they used seta or hongo in Spain and he said seta. Of course, hongos abounded on every menu in San Sebastian and sat whole, big as a baby's head in baskets on countertops. I'm not sure if this is because the Basque region is crazy for wild mushrooms or that my teacher isn't really into food—I mean, he eats soyrizo.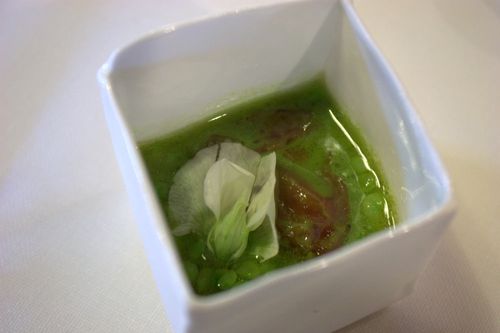 Pea soup showcased more spring produce and was smokier from wood than ham. Ok, there was a tiny wisp of jamón lurking the green puree. And of course, a flower.
Angulas, not the imposter gulas seen in grocery stores and on pintxos, were buttery, slippery with an unexpected crunch like firm fish noodles. I tried looking for their microscopic eyes to remember they were actually eels.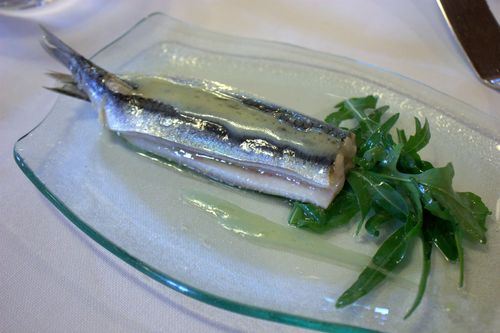 No eyes on the plump, headless sardine. The oiliness was cut by the handful of arugula.
Even though full—little things always add up—I knew the chuleta was coming and was excited for a hunk of meat. I'd been anticipating its arrival after seeing family-sized versions of it on the tables of large groups of Spanish-speakers who'd ordered a la carte (which isn't a bad idea if you've been once and already did the tasting to know what you like most).  I don't know that there's such a thing as a doggie bag in Spain, or Europe in general (it seems to be ok in Asia and Latin America), a bolsa de perro? (Bolsa para perros, which is what you get if you Google bolsa de perro,  is something very different.) So, the medium-rare-verging-on-rare (beware, done meat-lovers, you're not asked) slices of aged beef had to all be eaten on the spot. A super-vinegary side salad helps revive the appetite. We discreetly tried to get all the fatty, charred remainders clinging to the bone without resorting to using our hands and gnawing. Those are the best bits.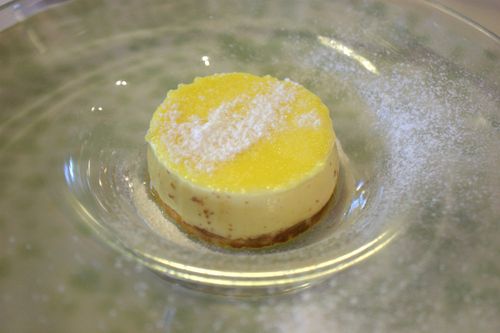 A lemony custard, supremely eggy, sugar powdered, and possibly the only non-smoked dish.
Can you smoke ice cream? Of course you can. The innocent-looking scoop of vanilla hit with an ashy background and berry (blackberry?) sauce made me think that s'mores might be good with a smudge of fruity jam.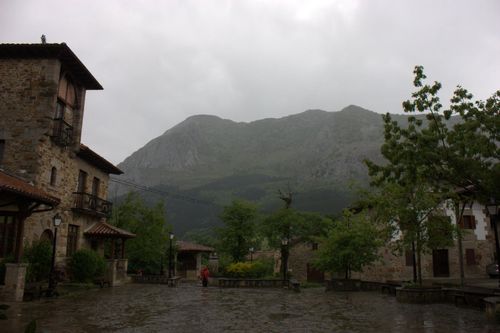 The only rainstorm of the week hit when we were inside.
I thoroughly enjoyed the blast of nature and purity, in fact, it might've been the most memorable meal of all from this week in Spain, but I still made (ok, he wanted to go too) James pull over the rental car at Eroski, a massive supermarket, in a small town right before the highway on-ramp. It was time to cram-in some less picturesque culture.
Etxebarri * Plaza San Juan, 1, Axpe, Spain