La Mejillonera

Really, what's the difference between pintxos and fast food in San Sebastián? Both serve alcohol, prepare things quickly and you can throw your trash on the floor (I did not because it feels weird).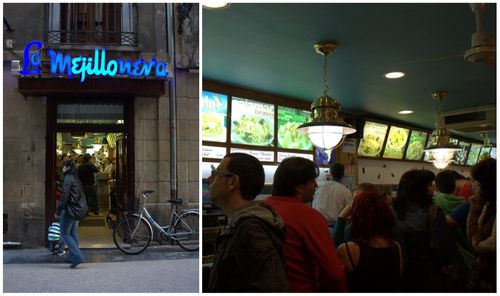 In the case of La Mejillonera, the distinction is more a matter of decor. The plastic, back-lit photo menu—mussels, fried calamari sandwiches and patatas bravas make up the bulk of it—just has that McDonald's look (though not the orderliness—there are no such thing as lines; you have to force your way to the front of the counter and shout out your order loud enough to be heard).
Plates of mussels served on the half shell come with sauces like mahonesa, vinegreta and marinara. Tigre, a spicy (Spanish spicy, which is to say not at all. Like in Argentina, you won't find pepper on the table) tomato sauce seemed to be most popular based on cries of "tigre!" being called out when ready. It's a little messy, but it's easier to just pick up and slurp rather than fuss with the fat wooden toothpicks.
They truly love their allioli suave. I've never seen this consistency or volume before and I've eaten a fair amount of patatas bravas in Spain and the US. The tigre sauce does double duty here.
La Mejillonera * Calle Puerto, 15 San Sebastián, Spain