The Dutch

The Dutch, with its new lunch menu, seemed like the perfect candidate for my sporadic effort (Má Pêche was the first) to eat more real lunches instead of lentil soup, dried seaweed and water at my desk. Dreary.
Cocktails beat water coolers anytime. The Aviation Royale, which wouldn't have been out of place on New York's lineup of rainbow drinks, tweaks the standard gin, crème de violette (Yvette, in this case) and lemon by adding sparkling Vouvray for fizz. I wasn't double-fisting, hence, I don't recall the name of gingery cocktail on the right—it doesn't match any of the descriptions from their online menu.
A baby loaf of jalapeño cornbread and butter sets the tone: American, homespun, a little spicy.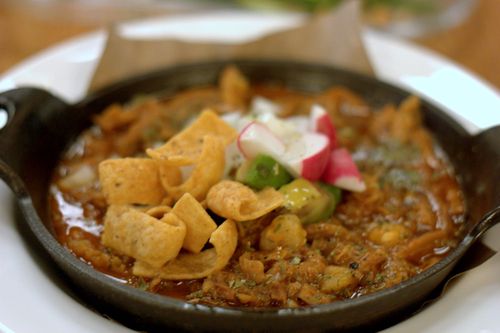 Tripe and Fritos may be the new pickled tongue and soda crackers, marrying organ meats with a more familiar staple. Brooklyn Star with their tripe chili and The Dutch now with Barrio tripe, are both tapping into a Tex-Mex canon, heavier on the Mex. The tender, stewed meat topped with chopped avocado, radishes, white onion and those corn chips tasted like an open-faced taco.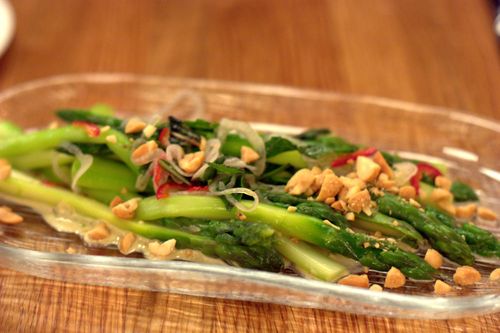 Of course, The Dutch is not strictly Southwestern. The asparagus in a curry-kaffir lime sauce and crushed peanuts was as light as the tripe was heavy. We needed a vegetable. Maybe I'm just coming down off of my post-vacation seared-foie gras-for-$5 San Sebastián high, but isn't $14 a lot of money for a dish of asparagus, Jersey asparagus, or any asparagus? Ok, maybe German white asparagus that has been flown in straight from the soil?

The sloppy duck sandwich may be a little messy but it isn't a minced, saucy Manwich affair. Instead, the dark meat remains chunky and is flavored like a banh mi with hits of sriricha heat, salty fish sauce and lemongrass brightness. And more crushed peanuts. The minted cucumber salad that accompanied the sandwich was refreshing, but I nipped that nod to health right in the bud with a side order of fries. I could tell from the plates sitting on the tables to my right and left that these were going to be real, thin, double-fried beauties, an anti-steak fry.
One fried item was plenty, which meant I had to forego the fried chicken that's only served at lunch and late night. A return visit wouldn't be out of the question because the pie selection—coconut cream and lemongrass?—could also stand some exploring. I'll just refrain from the asparagus next time.
The Dutch * 131 Sullivan St., New York, NY