While El Jibarto served solid Puerto Rican food I was familiar with, La Casita Blanca offered unique dishes and a welcoming, cookbooks and knick-knacks setting that I didn't encounter elsewhere in San Juan. I hate to overstate the just like grandma's house vibe (especially since my grandma wasn't particularly known for her cooking—she did have lots of owl tchotkes, though).
Perhaps the character of this pocket of the Santurce neighborhood changes after dark, but I had been expecting a rougher area based on a smattering of online reviews. I only encountered bodegas, men working on cars outside, roosters on the loose (heard, not seen) and incongruously, a brand new luxury condo building at the top of road. (The only two times I've even been a crime victim were both in the Pacific Northwest, mugged in Portland and robbed in Vancouver, BC. Nothing bad has ever happened in Asia, Latin America or Europe, so I don't worry about these things when traveling and I suggest you don't either.)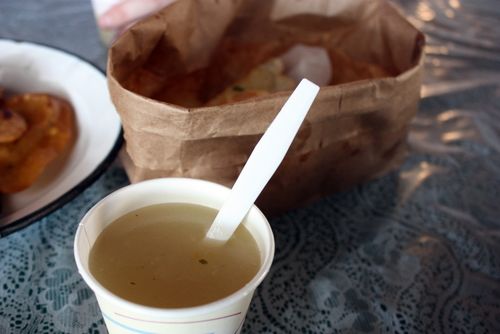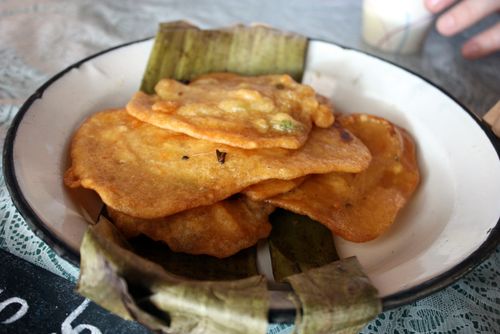 When first seated you are given a little brown bag filled with strips of focaccia, and chicken rice soup in a paper cup. A pile of thin fritters colored with bits of green onion also show up. They were just like mini scallion pancakes and were exactly the type of thing that lend the home cooked feel. No one else in Puerto Rico provided a greasy snack while deciding what to order.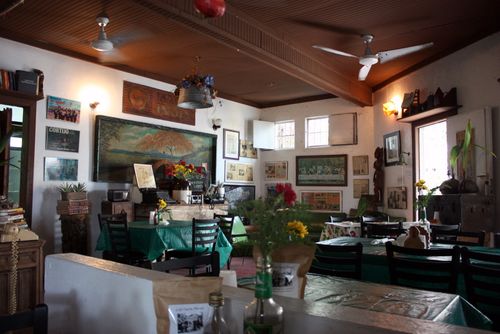 No English is spoken and the blackboard menu carried table to table is written in Spanish. I would just take a chance on something if you weren't sure. The only word that threw me for a loop was tenera. Not fish, beef, chicken, goat, duck, turkey, lamb, rabbit or pork, what else could it be? I was kind of hoping it was goat. I know that meat as chivo; maybe they use a different word in Puerto Rico? I asked about it in Spanish and our waiter tried responding in English but the only word he could say sounded like beer. Beer?
Ah, beef, I later realized. Tenera is veal. Instead of the mysterious fricase de tenera, I went for the fricase de pollo just to be sure. Ok, I just violated my advice to take a chance on something unknown.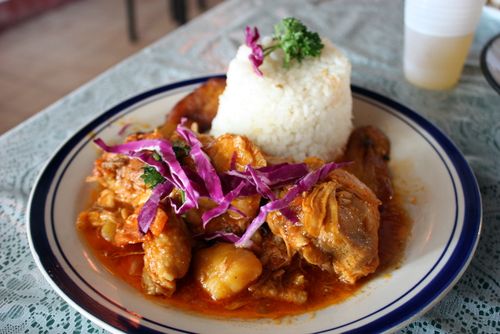 The food is simple with colorful presentations. All that annatto orange looks inviting when completed by shreds of purple, framed by two lengths of sweet plantain. One of the only reasons I fear stewed dishes like this is that I worry that the meat will be bland and dry, but it's never the case, not with chicken adobo or this fricase served with the classic mound of rice. Rich, tomatoey with added salinity from the green olives and capers, the stew transcends a plate of boiled chicken parts.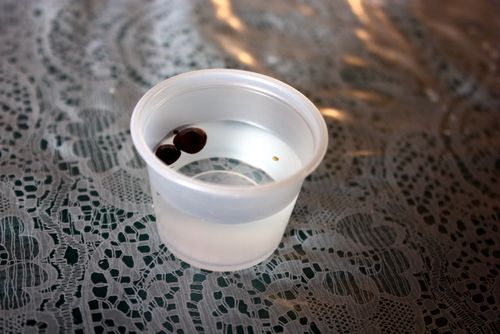 You are sent off with a shot of anisette and coffee beans. Like I said, I didn't want to to overstate the granny vibe, but get an eyeful of that lace tablecloth topped with plastic.
La Casita Blanca * Calle Tapía 351, San Juan, Puerto Rico