The Poor Man's Macaroni Grill Chianti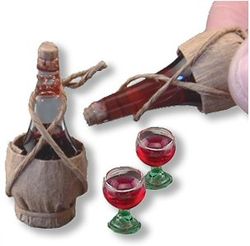 I don't give much thought to wine lists in chain restaurants, though at a white tablecloth joint like Bonefish Grill (I mean that literally, not metaphorically, though on my last visit they'd stopped using tablecloths) I will order a glass or two even if the rest of the diners are drinking Diet Coke in glass tumblers. Bonefish also has inexpensive martinis with blue cheese-stuffed olives, but that is getting off track…
Little did I know that Macaroni Grill has had its own house wines—Chardonnay, Chianti and White Zinfandel—since 1988. Maggiano's Little Italy started their own label, Salute Amico, last month and un-Italian P.F. Chang's just launched two private-label wines under the name Vineyard 518.
A few days ago this search string landed a poor misguided stranger here: I need names of wines that compare in quality to Macaroni Grill's Chianti but not as expensive. That is awesome and so very specific. I wish I could help but the prices aren't listed on their online menu so I'm not sure what not as expensive might mean.
Lilliputian Chianti bottle photo from Miniature Cottage.