PlearnWan
PlearnWan, I can't think of an American equivalent. Colonial Williamsburg? Too sprawling, too established, ancient history. We don't really celebrate mid-century Americana beyond a love of Formica-and-chrome diners. Sonic and Ruby's are bringing back carhops, and oddly, even Malaysia has jumped into the Happy Days fray).
From what I can gather PlearnWan is a 2009-created site meant to simulate the 1950s, nostalgic fun for young and old alike. It's kind of a museum despite lacking an educational component, it's like an amusement park but there is only a small ferris wheel, there's also a motel, bar, boutiques, vintage shops and food stands selling items that may or may not be old fashioned because I'm not familiar with mid-century Thai fads. The whole complex is compact, narrow and stylish like a modern Manhattan condo, wedged in along the highway just outside of Hua Hin.
I was drawn in by the sharp retro design I had seen on their website, which I stumbled upon accidentally. They're not even trying to cater to non-Thai tourists. There wasn't a lick of English on signs and no one was speaking it, only a handful of other non-Asians were bumbling around.
We didn't bother trying to get a ride from The Putahracsa, fearing that our hotel staff would try to discourage us from visiting (Thai hospitality workers seemed to have strong opinions on what tourists would and wouldn't enjoy) or try to put is in an overpriced car. We did learn the hard way that while a mile-and-a-half walk in NYC is reasonable, it's punishing under the instantly sweat-inducing Thai sun. Already sunburned from the day before, I took a cue from the locals and used an umbrella as a shield. Even then, I genuinely thought I was going to have a heat stroke on the walk back to town. We never did figure out how to catch a songthaew.
Despite the numerous stores and services, no one at PlearWan was buying anything. Instead, the entire grounds were like a grand sound stage ripe with photo opportunities. I'm probably now in the background of hundreds of Thai flickr sets. I wonder if the Japanese feel relived that the '80s snap-happy tourist stereotype is fading post-digital camera boom. Even the bathroom wasn't safe from cameras; a group of girls were practically posing on top of me while I tried to wash my hands in peace.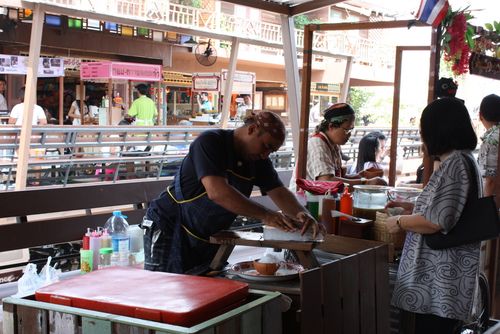 Shaving ice the hard way.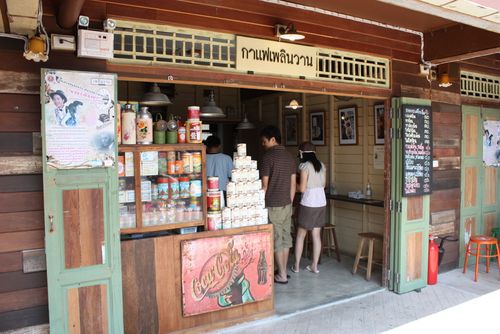 A coffee shop. Many of the cans and packages in front are just for show.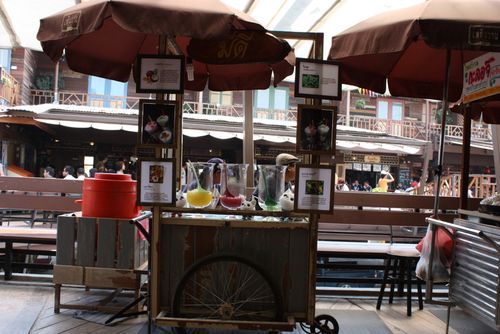 Yellow, red and green squiggles with matching ladles, to be served over ice, I assume. The green must be the most popular. Personally, I like the little cat figurines.
Fried rolls filled with what I think were taro and glutinous rice. The crushed peanuts and chiles were sitting atop a thick, gooey sweet sauce.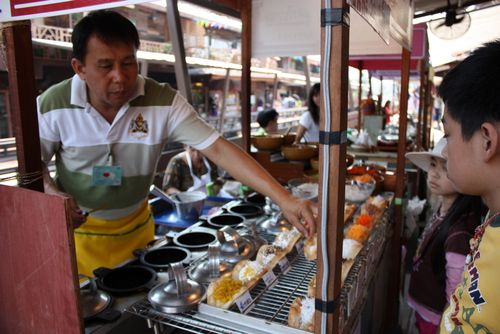 I'm fairly certain these were the same Thai tacos, kanom buang, I had been seeing around Bangkok but even better with a slew of sweet flavors.
I spy some pumpkin, squash, raisins, coconut, sprinkles…I can't read Thai, though. I picked the green custardy one, which I assumed was pandan.
The bar was empty; I don't think it was open yet.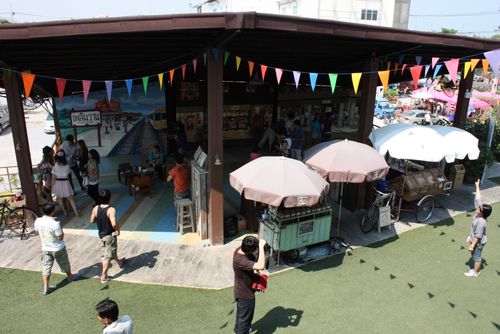 In the background are three painted scenes primed for photo-taking.
Ice cream parlor. The pandan, coconut milk ice cream was wonderful. I was dying of thirst and slammed a paper cup of water from the metal cooler on the counter and got a mouthful of moldy mildew flavor. No one else seemed to have a problem with it, though. Maybe it's a microby taste you get used to.
PlearnWan * 4/9 Soi Moo Ban Bor Fai, Hua Hin, Thailand