Ramadan, which ends today, (time passes so fast) is something I've always been vaguely aware of (though not so aware that I booked travel to Dubai before realizing I'd be in the thick of it) but never so much as this year. I'm sure that annually the holy month gets covered by the media, but this year it felt like was seeping everywhere.
Without actively seeking out any articles, recently Ramadan has been the subject of a first-person account of first-time fasting  in the The New Yorker, in NPR about cheaters, and amusingly to a glutton like myself, mentioned in hand-wringing stories over perversion of its true meaning due to all the pigging-out at decadent iftars (hundreds ate themselves sick and right into the emergency room in Qatar). How restrained can a region that welcomes the first Cheesecake Factory outside the US be?
And malls–The Dubai Mall and Mall of the Emirates are the biggies, and I do mean that literally even if I'm too lazy to look up their square footage for comparison to their US counterparts–are the places that one (ok, me) might argue are the cultural hubs to best witness the collision of the modern and ancient, or at the very least how the West meets (Middle) East and adapts.
The man-made ski slope would be the obvious start. And it is nearly the first thing you see when rising up the escalator into the entrance of the Mall of the Emirates where taxis let off passengers scrambling for air conditioned relief.
You can have fondue and cocktails overlooking Ski Dubai. I'm surprised they didn't go all New Orleans and use real fireplaces despite the ridiculous temperatures (though Dubai was twenty degrees hotter than the hottest weather I've ever experienced in Louisiana).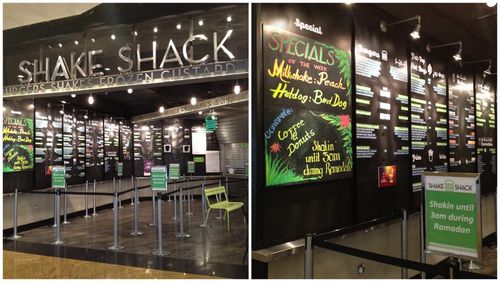 Shake Shack holds prime real estate across from the slopes. And while no burgers could be consumed until after sundown, you're able to get your (halal, bacon-free) fix until 3am during Ramadan.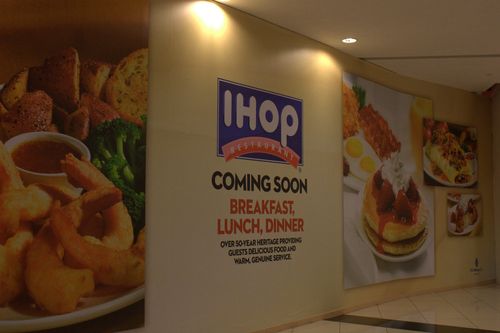 The IHOP directly next door has already opened, and I do hope a chicken veal sausage, turkey beef bacon version of the Rooty Tooty Fresh 'N Fruity is on the menu.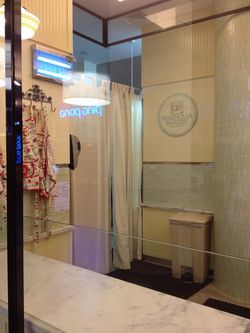 The Magnolia Bakery was deserted. No lines, no cupcakes.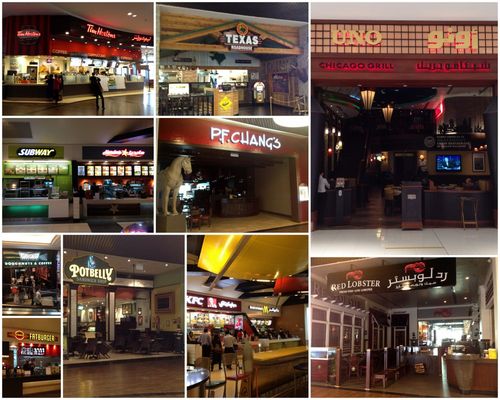 The concentration of American chains (ok, Tim Hortons is Canadian) was astonishing. Dubai has doubles and triples of restaurants with zero presence in NYC (though, oddly, Olive Garden was absent). And if you think they are filled with tourists (Americans definitely don't make-up any significant proportion of visitors, who seemed to be very British with a sprinkling of Russian) you would be mistaken.
High-end imports like The Ivy also have doppelgangers in Dubai. As do confectioners like Laduree and Barcelona's Cacao Sampaka. Maison Kayser, recently exciting New Yorkers, is old news in the Dubai mall world.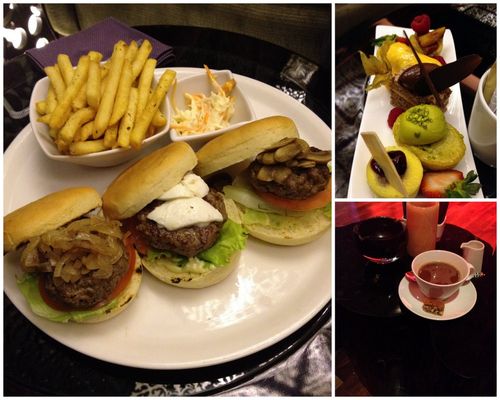 Covertly sneaking a sip of water or handful of Marks & Spencer trail mix in the bathroom can get old for a non-Muslim mall rat. I quickly figured out that mall hotels were safe havens. (Bizarrely, in Bangkok, a week later in my itinerary, I butted up against so-called Buddhist Lent, where no alcohol was sold anywhere for two days, except in hotel bars. If one must suffer Santana cover bands and iced Manhattans to get a fix, so be it.) The Kempinski, attached to Mall of the Emirates, had a bar full of secret smokers and eaters (no daytime drinking for anyone). We headed in for mini burgers and a dessert sampler, both far larger than the snack we originally were looking for. The Ember Grill at The Address Dubai Mall is where to do the same at the other big mall in town. There, we pit-stopped for a coffee and a smoke just because it felt forbidden and we could.
Even before 7pm, restaurants began filling up with those anxious to eat. As soon as the prayers sounded–around 7:15 during my visit–masses started trickling into the walkways (from where?) and by 7:30 some restaurants already had lines for seats. Texas Roadhouse was the surprise hit–a number of parties were waiting out front, beepers in hand. What I really wanted to know was if the servers in Dubai also periodically perform country line dances.
I returned to the Shake Shack close to midnight, mostly to see if Dubai's version attracted NYC-length lines. That did not seem to be the case–at least not at that hour. It took restraint to not order a burger, but we had vowed to try local fast food brands instead (more on that later).
My biggest two Dubai regrets were being unable to explore more ethnic eats like those chronicled in I Live in a Frying Pan (normally, I balance the modern and franchise-y with local restaurants and street food) because none were open during the day, and my brief four nights in the city meaning only having time for as many dinners, too short a stop to justify a curiosity-satisfying visit to California Pizza Kitchen or P.F. Chang's.