Some say that foreigners can't/shouldn't cook food that's
not their own, though arguments tend to be more specifically about white
guys appropriating Asian culture. (You don't hear so much dissent over
French-trained chefs of all nationalities. And really, about women like Naomi Duguid or Fuschia Dunlop because they are cookbook authors, not chefs, I imagine.) I believe that anyone can learn to
cook anyone's cuisine if immersed extensively (I wouldn't say a few weeks
in Vietnam counts) and just growing up with a cuisine doesn't make you an expert. A corollary might be gastropubs like Smith where Thai chefs have
no problem cooking scotch eggs or haggis.
Where you risk courting the most criticism is when
attempting to cook your non-native cuisine on its home turf. Like Andy Ricker
may get some shit over Pok Pok, but it's not as if he's an American running a
Thai restaurant in Thailand.  Jarrett Wrisley is with
Soul Food Mahanakorn (well documented here) though he manages to sidestep drama
since he's more restaurateur than chef–and it doesn't hurt that the restaurant is pretty likeable.
Kill me, but I'd describe Soul Food Mahanakorn as the Pok
Pok of Bangkok (I'm shocked that Google only turns up two "the Pok Pok of…" hits–neither for Soul Food Mahanakorn) by which I mean that both are casual with decor that nods to Thai pop culture and serve a curated selection of dishes that are nearly
unbastardized, yet appeal to a specific western sensibility. That
translates to snacky small plates of organic, responsibly sourced wings, ribs
and sausages, and cocktails crafted with bitters and egg white cocktails, as
well as Thai aromatics and herbs. Nice.
Your typical all-in-one grapow with a runny fried egg, but using
roughly chopped lamb. This was particularly good because the meat had a little wok char.
Who wouldn't order a salad made of fried chicken? This yam
with all the requisite shallots, mint, lime, fish sauce and chiles, reminded me
of a similarly odd dish they used to made at more oddly named VIP@ Thai Cuisine in
Carroll Gardens. The Brooklyn version was served with the meat pulled from the
bone and tossed in and didn't have the green bean and cabbage garnishes. Both have their merits.
Pork belly and kale! This is what I'm talking about when I'm
talking about specific Western sensibilities.  I wanted to see kale in a Thai context, except
that I'm fairly certain the kale mentioned on the menu was not the green that
arrived on my plate. This is Chinese broccoli and crispy pork, right?
* * *
Nahm is a different beast (and technically a chain since
there's an older Michelin-starred London location). This year it became the 50th
best restaurant in the world, which I know doesn't sound so impressive compared
to Spain's continued dominance of the single digits, but it's a feat for the
only Thailand entry.
The project of Australian chef, cookbook author and Thai
obsessive, David Thompson, Nahm is more of a classic fine-dining draw. I
suspect that the
average patron is not there to experience obscure ingredients or
lost-to-the-ages preparations, they just want to eat at a good looking
restaurant in a stylish hotel.
For instance, the similarly aged, Brooklyn-ish
(yes, kettle black) couple we were seated next to were
unfamiliar with, non-obscure mangosteen and durian, and ordered the latter because they
were charmed by its descriptor as "the king of fruit." Yes, they
learned a lesson (frankly, I don't get the big stink over durian–it's not that
foul) but I don't they were at Nahm to be schooled.

Expensive for Bangkok, but stellar value by NYC
standards, the 1700 baht ($55) set menu with five courses, each with vast choices (nam prik, soup, salad, curry and
stir-fry/steamed/grilled dish) plus desserts, is really the way
to go. After the amuse and canapes (above: smoked fish, peanut and tapioca dumplings; grilled chicken satay with peanuts and tart chili sauce; coconut cup cakes with red curry of crab;
spicy pork with mint, peanuts and crunchy rice on betel leaves) everything shows up at once,
Thai-style (which took me by surprise the first time I encountered it at Bo.lan, a similarly minded restaurant run by Thompson proteges).
The array is
both dazzling and overwhelming with portions that initially seem dainty but nearly
push you over the edge by the time the sweets arrive.
If I'm
giving the individual dishes short shrift (I am) it's because I always find
tasting menus daunting to blog about to the point that I just don't anymore
(not without weird OCD regrets–I'm still torn over not taking photos or
blogging about Reinstoff in Berlin, the only upscale meal I ate during last November's vacation). But I'd still like to
convey the style of food served.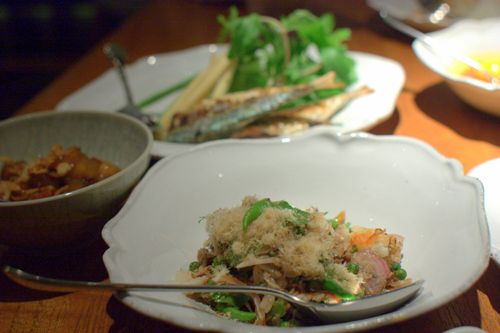 The most memorable dish (with the least illustrative photo) or rather
seemingly incongruous group of dishes (we were trying to think of American
things that would be equally nonsensical together–chicken, waffles and syrup? Cincinnati
chili?) was a nam prik/relish that pushed the limits of sweet, fatty, fiery and
bitter. In front is mess of very spicy prawns and oysters, covered in shallots,
chiles and a floss of some sort. This was accompanied by a small dish of caramelized
nuggets of pork belly and a small deep-fried fish with raw vegetables and herbs
like long batons of almost menthol galangal. The intense flavor of the rhizome
made it very apparent why substituting ginger like Westernized recipes often recommend,
wouldn't work.
This is the kind of recipe that I would read about, want to eat, but wouldn't
even bother to attempt because of the steps involved. Eleven Madison Park: The Cookbook (a Christmas present from last year that admire but from afar) has nothing on 688-page Thai Food.
Soul Food Mahanakorn * 56/10 Sukhumvit Soi 55, Bangkok, Thailand
Nahm * Metropolitan Hotel, 27 S. Sathorn St., Bangkok, Thailand