Much of the food at the touristy Hua Hin night market is unremarkable, and whatever you do don't get suckered into one of the "Western" sit down restaurants along the perimeters hawking steak and potatoes to Germans and Swedes.
Steak was a prominent marketing buzzword in Hua Hin. I guess they've determined that foreigners really want their beef, and not in a Thai salad.
There was no resisting the novelty of having a 100 Baht ($3) whiskey sour at one of the three-seat bar stands, though.
It took strength to ignore the pink lady on the menu. Surprisingly, no grasshopper.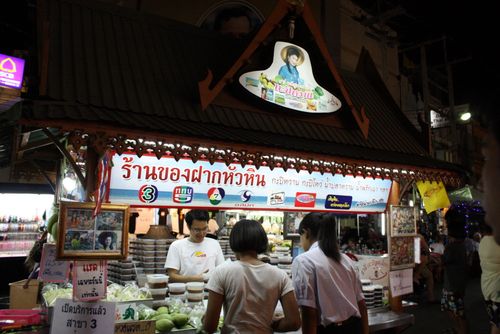 This nam prik stall was mobbed the night before. I pushed my way to the front to sample some chile pastes and ended up buying a sweet, fishy one. I later saw the woman running the operation and in the picture on top of the stall, on a billboard. I guess this a well known brand, at least locally.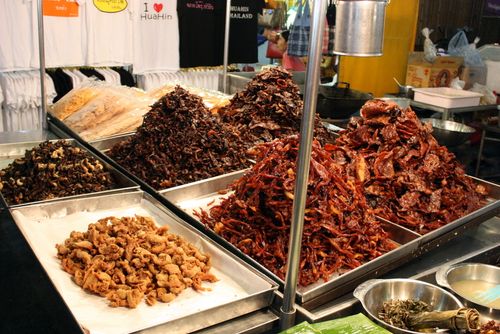 We picked up some unusually expensive pork jerky (front and center). Fatty and unchewable at the same time.
I stayed away from the seafood, as I was certain it came with a marked-up price.
Churros? Churrooo? It's all about love.
This was more my speed. Nothing makes me happier than rows of curries. Two stands compete for attention at the far end of the market where the crowds aren't.
Fried catfish with chile and basil and something porky with green beans. Regular Hua Hin cuisine was not timid with spice. The razor clam curry we ate at La Mer, some street som tam and this duo all surprised with their powerful burn. We ate refined Thai-esque fare at our hotel's luxurious Oceanside restaurant, right on the beach, our last night and wished we had came back to the market for more $2 curry.
Hua Hin Night Market * Petchkasem Rd., Hua Hin, Thailand