Chote Chitr

Even though most English you'll hear in Bangkok is marked by an Australian or German accent, you still might end up dining next to the vocal American foodie. It's uncanny.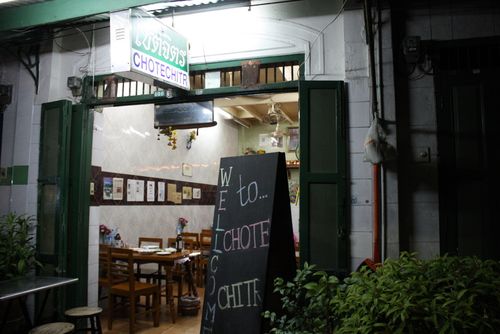 We were thankful to have finally been able to try Chote Chitr, the much lauded, no secret to anyone, 90-plus-year-old Thai restaurant in Banglamphu. We were thwarted our first day in Thailand when we trekked over to find a closed gate, no explanation. It wasn't until our last night in the country, two weeks later, post-Hua Hin and Penang, that we were able to get back to that neighborhood and hope for the best. It turns out that they are only open for dinner, 18:00 posted on the backside of their sidewalk chalkboard.
We were excited. The only downside was knowing we wouldn't be able to eat more than three dishes unlike at Sripraphai where we always over order in anticipation of leftovers. I'm more about choosing wildly than wisely.
Meanwhile, we were getting a reverse Park Slope from the table across from us. Instead of parents demonstrating their genius aloud, teaching their toddlers algebra in the subway or color theory in Ikea, this adult expat child was schooling his visiting parents (and girlfriend) on the right things to order. Shut up, foodie?
Maybe I was just being overly sensitive because he dismissed our order of mee krob, one of Chote Chitr's signature dishes that he declared, "popular but too sweet." It Is sweet, the noodles are practically candied. But if you're going to sample this often maligned, nay ignored (I didn't think it existed in NYC, though I checked and it is on the menu at Sripraphai. I've never heard anyone mention it) preparation, you really do want the non plus ultra mee krob, a designation assigned to Chote Chitr's rendtion by numerous publications. Just yesterday, I read yet another convincing testament on a CNNgo.com post about five forgotten Thai classics.
Here is gaucheness on a plate. Are you over it yet? It is unusual, a tangled ball of crispy sweet and slightly sour noodles, sliced green onions, bean sprouts and mustard-type greens on the side. Apparently, the ingredient that makes this mee krob unique is peel from som saa, a green bitter citrus fruit that like many Asian fruits is non-existent in the US.
The banana blossom salad is another classic that isn't ubiquitous in the US. Though the dressing looks creamy, this was the hottest dish we were served, the coconut milk barely tempering the chiles. Bits of chicken and shrimp are tossed with the shredded banana flowers and the pile is topped with fried shallots.
We ordered the crispy bacon with green beans because all vacation we had been looking for an equivalent to Sripraphai's crispy pork with chile and basil (as well as the crispy watercress salad—I've deduced that it's an invention not a standard). This was more like Chao Thai's crispy pork pad prik khing, and it was awesomer because while essentially the same dish everything was amplified. The meat had a richer, porkier flavor, there were more lime leaves that I see used in Queens and with a brighter citrus taste, the dish was also less salty while more fish saucey at the same time.
I like to think that there are scores of restaurants in Bangkok with an adherence to tradition and quality while offering such a voluminous menu, and that they're lesser known only because they aren't English-friendly. Maybe, maybe not. Either way, Chote Chitr is definitely notable and repeat-visit worthy. My only fear is that if I stayed in Bangkok long enough I might just become the opinionated foodie at the table.
Chote Chitr * 146 Thanon Phraeng Phuton, Bangkok, Thailand