Sunday Night Special: Cochinita Pibil & Pickled Onions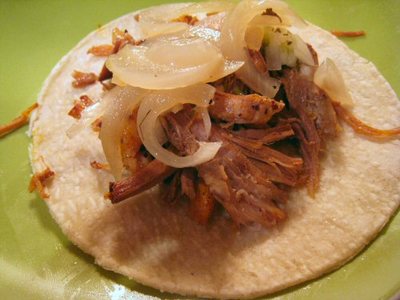 Wow, I've barely cooked anything other than a turkey burger in the past three weeks. Vacation, recuperation and entertaining out-of-town family hasn't lent itself to kitchen experimentation. Instead I've been eating mediocre take-out Chinese and paid visits to Totonno's, East Buffet, Fragole, Sripraphai, Sophie's, Om Tibet, Junior's, Brooklyn Ice Cream Factory, La Rosa and Sons and Dunkin' Donuts (can you believe these no longer exist in Portland, Oregon?).
Sunday was not the smartest day to get back into the kitchen. Especially since I was keen on slow-cooking a pork shoulder, Yucatan-style. There's nothing like a hot oven on all afternoon and evening during 90 degree heat. I suppose that's the beauty of an outdoor roasting pit.
After reading a little Diana Kennedy, Rick Bayless and Gourmet, I eventually settled on CHOW's rendition of cochinita pibil. It seemed the simplest (though I can't figure out how I managed to miss scrolling down and seeing all the negative comments) and I had no problem with using a pre-made paste. But a problem shortly arose with acquiring said paste.
Sunday morning I got into a huge unnecessary fight because James got up early and went shopping for ingredients without waking me up and asking what I needed and where to go. The hunk of meat practically cooks all day so I get that he was trying to get a jump start. I guess I'm a control freak because but I was irked because he didn't know what store I had in mind. I was thinking of Nuevo Faro on Fifth Ave. around 16th street but the night before when I said "that Hispanic store in South Slope" he thought I meant the wretched National Supermarket in my old neighborhood on Fourth Ave. and 25th. No!
And no paste. He did pick up achiote seeds and some achiote lard blend in a glass jar, but didn't get the concept that these are raw ingredients that need seasoning. It was now going to take extra time and effort to make the paste from scratch. I hadn't intended on toasting and pounding spices in such heat and humidity. I really felt like I was in the tropics, though. Our spice grinder bit the dust some time ago and some things like say, annatto seeds, are hell to pulverize even in a sturdy mortar and pestle. I pounded until my wrists almost snapped and the ingredients weren't close to powdered.
| | |
| --- | --- |
| Pre pound | Post pound |
Ultimately, I also borrowed from a recent Gourmet recipe for the paste-making steps. We stopped an hour short of  CHOW's original 300 degrees for eight hours instructions, which seem too high and long now that I think about it. The meat wasn't dried out, though. Next time I would consider marinating the meat overnight but we were short-sighted as it was. Dinner wasn't ready until Entourage started.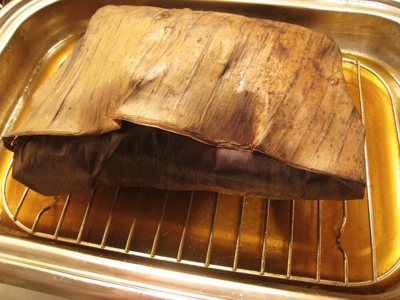 Cochinita Pibil
1 3-pound boneless pork shoulder roast (also known as pork butt)
1/2 cup fresh Seville (bitter) orange juice
1 teaspoon black peppercorns
1 teaspoon cumin seeds
1/2 teaspoon whole allspice
3 tablespoons annatto (achiote) seeds
6 garlic cloves
1 teaspoon dried oregano (preferably Mexican), crumbled
1 large banana leaf (about 4 feet long)
3 cups water
Heat oven to 375°F. Trim any excess fat from pork.
Toast peppercorns, cumin, and allspice together, then cool slightly. Transfer to grinder along with annatto seeds and grind to a powder. Transfer to a small bowl.
Mince garlic and mash to a paste with remaining 1 1/2 teaspoons salt using side of a large heavy knife. Add to ground spices along with oregano and remaining 6 tablespoons juice and stir to make a paste.
Trim center core from banana leaf and run it under hot tap water until leaf becomes soft and pliable. Remove excess water from leaf and cut in half horizontally; overlap the two leaves so that they are about 2 feet long and 1 foot wide, together.
Generously season pork on all sides with kosher salt and freshly ground black pepper. Place the pork in the bowl with the achiote mixture and coat it well, rubbing the spice mixture into any crevices. Place pork on banana leaves, fold in the left and right sides, and roll it up like a burrito, completely encasing the roast.
Place roast in a roasting pan on a rack, with the seam of the banana leaves facing down. Add the water to the bottom of the pan, cover tightly with foil, and place in oven for 20 minutes. Reduce heat to 275°F and continue roasting for 6 hours.
Remove pork from oven; unwrap the banana leaves and discard them. Shred meat with two forks onto a serving platter. Serve with pickled red onions, warm corn tortillas, and salsa.
Serves 8
Recipe based on Yucatecan-Style Pork from Gourmet May 2007 and Mayan-Style Pit Pork from CHOW
After leafing through a few versions of habanero salsas (mildly fun fact: habeneros are traditionally used only in the Yucatan), I chose one from the Gourmet's international issue. It's meant to accompany cochinita pibil. It ended up  too liquidy. I was hoping it would be thicker like the ones I had at Coox Hanal in Mexico City. I added an extra pepper and it still wasn't so hot. When I eat it again, I'm going to strain off some of the orange juice and add a few drops of El Yucateco KutBil-Ik.
Pickled onions are also a must with Yucatecan fare. The end result is supposed to be tangy, pink slivers but I had to make do with white onions. After the achiote paste fiasco there was no way I was going to make a stink about only getting white onions from the store.
Pickled Red Onions
escabeche de cebolla
1 small red onion, peeled and sliced 1/8-inch thick
1/4 teaspoon black peppercorns
1/4 teaspoon cumin seeds
1/2 teaspoon dried oregano, preferably Mexican
2 garlic cloves, peeled and halved
1/4 teaspoon salt
1/3 cup cider vinegar
Parboiling the onion. Blanch the onion slices in boiling salted water for 45 seconds, then drain and place in a medium-size bowl.
The pickling. Coarsely grind the peppercorns and cumin in a mortar or spice grinder, and add to the onions. Add the remaining ingredients, plus enough water to barely cover.  Stir well and let stand for several hours until the onions turn bright pink.   
Makes a generous 1 cup
Recipe from Authentic Mexican by Rick Bayless
I really don't understand memes and how they take off like wildfire. I was peripherally aware of a Robert Rodriguez taco cooking video showing up all over blogs in the past week but only took notice after I saw another one demonstrating puerco pibil. Everyone's a cook nowadays. Also entertaiment-related, I just discovered that even Variety has a food blog. Forgive me, I'm slow to Hollywood trends.