Very occasionally I do this horrible thing where
someone speaks perfectly good English with a Spanish accent and I respond back
in crappy Spanish, like a reflex. There's no need for that.  I was just excited to get a cashier at Food
Bazaar who happened to be Peruvian (not what I'd expect in East Williamsburg)
and was into my ingredients. I blurted out "Mis amigas no comen carne"
when she suggested lomo saltado, I guess because coming up with a non-meaty
Peruvian menu sucked ass and the trauma was pent-up. I did make a chicken.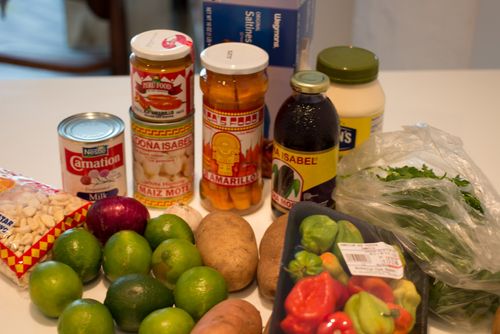 I was asked if could add a dish that didn't involve
onions, corn, peppers, potatoes or avocado, and add asparagus somewhere.
Um…no? At least I didn't suggest salchipapas or anticuchos. And clearly, I am
a control freak who can't just mellow out and have fun cooking with friends. The
dinner turned out pretty well, though. Wine smoothes things out.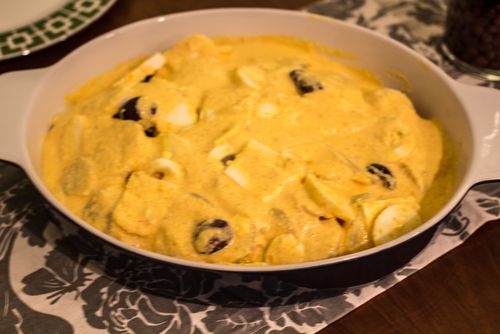 Papas a la huancaina. Sometimes you've got to embrace the starch. Potatoes were how this whole idea started (Peruvian wasn't even my suggestion) and I can't think of a more classic dish than the simple sliced boiled potatoes with a cheesy aji amarillo sauce. I've had restaurant versions and always thought it was a little bland, but this version was spicy (just lightly–nothing Peruvian is incendiary). Recent James Beard award-winning Gran Cocina Latina had a higher-brow version, and it was tempting, but I just went home-style with evaporated milk and saltines.
Pollo a la brasa had to be oven-roasted, no brasa. There are a million variations on the marinade, and I'd say the most important ingredient is the soy sauce.
The green sauce, a non-traditional (I think) staple at Peruvian-run chains like Pio Pio and Sophie's, may have been the biggest hit. You could eat this on anything. I had habaneros on hand instead of jalapeños. Half a pepper added punch–and a little yellow-ness–but the sauce can handle it because it's mayonnaise-based.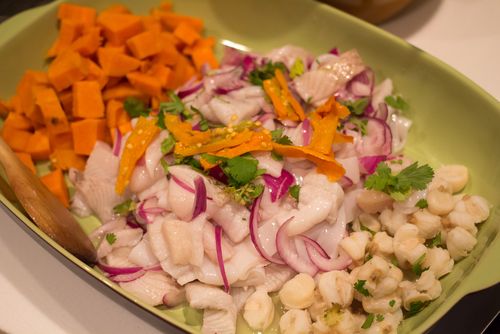 I did turn to Gran Cocina Latina for the ceviche,
Marisa Guiulfo's Lima Fish Cebiche (not online anywhere) since there is a whole
chapter devoted to variations. The base is simple: lime juice, garlic, red
honion aji amarillo and cilantro, and I included scallops and squid in addition
to cubes of flounder. It could've done without the squid, which was a little
bitter and chewy. And yes, corn in two forms–hominy and toasted kernels–and
sweet potatoes (some use white potatoes and yuca too) were present. There's no
harm in more starch with your nearly-raw seafood.