I'm With the Band
Ignoring T.G.I. Friday's late-to-the-game attempts at small plates, Subway has introduced a new overstuffed behemoth (I can't find any reference to this on their lame website or on the blogosphere—perhaps I imagined it?). Surely, to compete with Quizno's girthier sandwiches. Sorry Jared. The commercial that I've only seen once initially caught my attention because I'm a sucker for chain food gimmicks, then I became fascinated by one of the eaters, a office lady woman dressed to look younger than she is. Office ladies eat Lean Cuisine, salads and microwave popcorn, not bulging hoagies. But I do appreciate the attempt to include the fairer sex in their marketing ploy.
Another weird ladylike eating habit presented itself to me on Sunday. I was scoping out the now slightly famous Red Hook ball fields. I hadn't been this year, and wow, it has practically been taken over by South Brooklyn post-college, just barely pre-stroller/SUV set. Live and let live, but I couldn't ignore the female members of these crews and their approach to a food-centric gathering.
There were a number of groups scattered around the hot grass and precious few shady tables, and they tended to be made up of two or three guys with one girl. The young men were all chowing down on sasquatch-sized huaraches or greasy pupusas while their accompanying gal pal remained empty handed. Ok, a few had agua frescas and one of the dudes tried scoring a Diet Coke for his little lady but the damn Mexicans only had full sugar versions.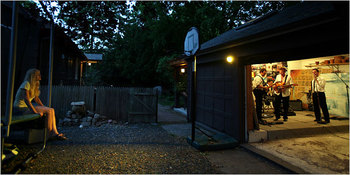 So, that's how you spend your Sunday? Sipping lemonade and watching a bunch of men eat? I don't get the point. Maybe it's the 2007 equivalent of being subjected to band practice, a ritual no self-respecting woman over 24 should engage in.
Hmm, I was just skimming through my feeds and couldn't help but notice this post from a Food & Wine editorial assistant (#4 of Five Bites Outside of Aspen). It looks like the girl managed to at least choke down half a quesadilla. We must've been on different days.
I, too, had a quesadilla on Sunday. And yeah, they're unnecessarily large (though I handled a whole one no problem). I'd never had a Red Hook version before and was hoping they'd be compact and cheesey like the one I recently had in Mexico City. The Brooklyn ones aren't really like quesadillas at all since they put tons of stuff in them like lettuce, onions and they don't stay stuck in a half moon shape because the cheese is only melted to the tortilla and there's not enough of it. The insides need to be gooey and you really only need one simple filling.
Jeez, I had no idea I was such a street food snob. I'd remedy this with a Subway sandwich taste test, if I could only remember the name of their new supersized product.
Photo from the New York Times article, "The Boys in the Band Are in AARP"