Pujol

Pujol is the type of establishment that many might describe as being "like a New York restaurant." The same has been said of Cinc Sentits in Barcelona, which also gave me pause while trip planning. Who wants to eat at a New York-esque restaurant when you're trying to escape the city? I would just say modern. You know, kind of starkly decorated with deconstructed dishes, custom serving vessels and tasting menus.
Originally, I wondered if I really needed to eat foam while on vacation in Mexico City. But it turned out that I did. Enrique Olvera, Pujol's C.I.A-trained chef, is clearly of the molecular gastronomy school (I really need to come up with a more apt short hand for this style since it's not as scientific or clinical as that moniker implies), a frenzy that hasn't fully seized Mexico yet.
Targeting the likeliest clientele, Pujol is located in Polanco, the neighborhood often referred to as the Beverly Hills of D.F, which only furthered my impression of the capitol as more of an L.A. than an NYC. The diners certainly reflected this. Though the cream on ivory room was fairly quiet when we arrived at 8:30pm–a group wine tasting was being conducted in the back–it soon filled up with parties that all seemed to know each other. 9pm seems to be prime time for cena.
It almost felt like we'd crashed a private party. I noticed this at both higher end restaurants, large, obviously wealthy groups dining together. Pujol attracted the 40-plus types where Aguila y Sol enticed younger crews, which seemed mis-matched because the latter felt like a stuffier restaurant in some ways. I don't get that so much in NYC or else I just don't frequent those types of restaurants. It was nearly a highbrow meatpacking scene but with foodie food.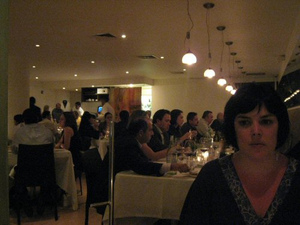 This shot was intended to show the room, not me looking grim. The silver stand on my right is a portable purse-rack. 
We opted for the seven-course tasting menu without wine pairings. Strangely, a dining time is listed on the menu. The one I was given on request to take home was not a match of our dinner and reads, "7 tiempos (90 minutos)" though I swear ours said "60 minutos" and didn't have the four wines listed for pairing. The dinner lasted more than an hour. I wish I could remember the wine. All I can say is that it was Mexican, similar to a cabernet sauvignon and was miles better than the one we had the night before. The degustacion was 495 pesos (395 per person extra for wine parings), which I thought great value for the caliber. That's about $45. I'm not sure where else you'll find an equivalent for such a price in NYC.
The menu is entirely in Spanish (so the English descriptions below might be a bit wonky) and the staff was accordingly monolingual. One of our servers would helpfully try to translate, though his accent was as heavy as I'm sure my Spanish one is. We got by, though it's certain that nuances were completely lost on us. You have to be familiar with the original to understand the riff and I suspect that many dishes were plays on traditional flavor combinations.
The thing about these restaurants is that they're not conducive to furtive food photography. It seems that the more a meal costs, the subtler the lighting gets. Nice for atmosphere but not so nice for flash-free shots. The colors were so much more vibrant in person. I'll openly admit that these pictures do little justice to the subjects.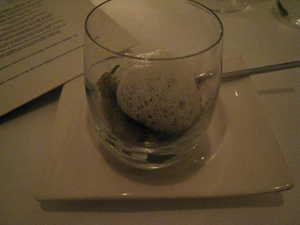 This was a big amuse (though you can't tell from the photo) and it immediately came to mind when I saw Clay's awkward apple construction on the premiere of Top Chef 3. I don't know what this was, though the green gelatinous component seemed like nopales and there were a lot of crumbs. Olvera seemed enamored with crumbs and they appeared a few more times throughout the meal. I really didn't want to eat the whole thing because it was awfully filling right off the bat.

Ensalada de nopal tierno curado en sal, guarnición tradicional, masa tostada, nieve de orégano-limón/Salad of salt-cured cactus paddles, traditional trimmings, toasted masa, oregano-lime sorbet
This was really good. I'm always wowed when I see a bunch of vegetables and they end up tasting like so much more. This was tangy, creamy, crunchy, warm and cold. I'm not sure what is meant by traditional trimming (garnish), perhaps the cheese crumbles. The little cactus tuile sticking up doesn't seem very traditional.

Jaiba de concha suave, emulsión de chilpachole, gelatina de epazote, chips de ajo/Soft-shell crab tempura, chilpachole emulsion, epazote gelatin, garlic chips
Initially, I had no idea what was presented but guessed it was seafood tempura. After closer inspection, I noticed the soft-shell crab shell on top of the fritter beneath the garlic crisps and epazote leaf. Soft-shell crab worked well with the chile sauce and bouncy, herby cubes. Ok, I just learned something. Like I was saying, this fanciful cuisine might mean more if you know the original. Chilpachole is a Veracruz-style crab stew, so the crimson swipe wasn't merely a chile sauce but an approximation of this regional dish in sauce form.

Capuchino de flor de calabaza, espuma de leche de coco, nuez moscada/Squash blossom"cappuccino," coconut milk foam, nutmeg
It took a while to figure out that "noo meh" meant nutmeg and was akin my favorite baffling ingredient description in Thailand, "ding gah" that we didn't figure out was ginger for quite some time. Rick Bayless sipped this creation on one of his episodes so it kind of made me laugh when the streamlined glass mug appeared. Because, you know, Rick Bayless is kind of a cornball. Earnest and knowledgeable, but a cornball.

Filete de mero envuelto en hoja santa, huitlacoche rostizado, veloute de jitomate y masa, cracker de comino/Sea bass fillet wrapped in hoja santa, roasted huitlacoche, tomato and masa veloute, cumin cracker
The entrees were both full on nueva cocina mexicana. Cumin, huitlacoche, hoja santa, masa—uber Mexican ingredients. The flavors melded in a dirty, earthy licorice way. Foam was definitely present, though it doesn't appear in the description.

Top Sirloin, mantequilla de limón verde, aire de tortilla, puré de aguacate-chile serrano, sal de Nayarit/Steak, key lime butter, tortilla air, avocado-serrano puree, Nayarit sea salt
This was awesome and I'm not joking. Despite the insane tortilla "air," this dish was one of the simplest. It's basically rare steak with guacamole, lime butter, sea salt and a hint of tortilla, like a fancy carne asada taco. I'm still not sure how the essence of a tortilla was so perfectly captured in such an ephemeral medium.
The not-my-type but handsome and stylishly besuited dad dining with his teenage son at the table nearest us (we had a very private table with no other next to it, a rare luxury in NYC) had the full-sized entrée and I couldn't help but ogle it. He didn't eat all of his butter either. They got little candies at the end of their meal that we did not (they didn't finish those either). The staff seemed to know him, though.

Plato de quesos artesanales de Ensenada, Atotonilco y Atlixco/Plate of artisanal cheeses from Ensenada, Atotonilco and Atlixco
I don't know what these cheeses are, and I was sad that I was so full at this point. I could barely enjoy them. The middle one with an apricot-like jam was my favorite. The one on the right was creamy and very pungent and came with sliced prunes. The left one was similar to gruyere and had a berry blob.

Pie cremoso de limón verde, merengue, helado de yogurt/Key lime cream pie, meringue, yogurt ice cream
Yep, it's a deconstructed key lime pie with more of those crumbs. No complaints, and thankfully no molten cake ending.
Pujol * Francisco Petrarca 254, Mexico City, Mexico