Sunday Night Special: Pork & Shellfish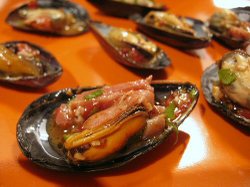 I used to harbor fantasies of eating hors d'oeuvres for dinner (yes, my imagination is that lame). The dainty notion seemed mildly exotic when I was younger but now they just call the concept tapas, Spanish or not. As an adult I've grown to realize that putting together lots of tiny bites can be fussy and time consuming; fun for a party, not so much for mid-week dinner. But this was Sunday so it was ok.
I'm not sure what possessed him, but James went through two of my food magazines sitting on the coffee table and marked all these recipes to make. I've never seen such cooking enthusiasm so I didn't made any comments to deter his sudden interest even though I did think it was odd that he picked three Gourmet recipes all on the same page with the same pork and seafood theme and that he only picked Cooking Light dishes from the roasting feature, but whatever.
Since it turned freezing this weekend (how can it be 80s and 40s within ten days of each other?) I was gung ho on pot roast. That was the original Sunday night plan. But after eating braised lamb shoulder the evening prior at Flatbush Farm, I was totally stewed-out. We'd already tried the Grilled Pork Chops with Clams and Chorizo earlier in the week so all that remained were the two other Jew unfriendly double whammies from Gourmet. Sea Scallops with Spiced Bacon and Mussels with Serrano Ham it would have to be.
However, these were hors d'oeuvres. No matter, I was able to live out my mini food dream (who says I never what I hope for?). And tiny doesn't mean light in my world. Just because there were two of us rather than the 60 intended for the mussels and 28 for the scallops, didn't mean we scaled down our operation. It simply meant we had a shit load of bite sized treats to gorge on (and I wonder why I can't get my B.M.I. down one point into the merely overweight category). Who needs a $12 per bitsy portion gouging? You can be thrifty and gluttonous when you recreate the small plates experience in your own home.
In case you're wondering, we didn't actually eat the whole damn slew in one sitting. Luckily, I'm not averse to day-old seafood. All that spice and acid–cayenne, curry powder, sherry vinegar–must preserve to some degree, right?