Flatbush Farm

1/2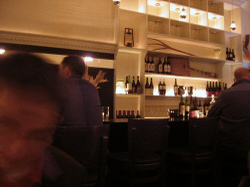 I'm so not into the whole urban "farm" trend. Terms like seasonal, organic or locally grown excite me slightly less than fritter, popper or bacon wrapped (I realize the two sets needn't be mutually exclusive—now, that would be a restaurant concept I could support). But I can venture into this terrain if doesn't entail straying too far from my apartment and Flatbush Farm, while not walkable, was close enough for at least one visit.
The restaurant, which is situated on that semi-Prospect Heights, kind of Park Slope, mini-strip of St. Mark's between 6th Avenue and Flatbush that's nearly the tip of a triangle, wasn't terribly crowded at 9pm on a Saturday. Bad for them but a boon to me. There's nothing convivial about being wedged into a squished row of two-seaters.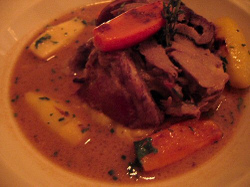 They had the atmosphere down pat, slightly woody and candlelit yet modern and enhanced by design-y hanging bulbs. A Mo' Stomy, their minty take on a Dark 'n Stormy, was the perfect warming beverage to sip while skimming the menu, which was spot on with the sudden drop in temperature. Braised, stewy dishes were exactly what I'd had in mind and that's where they excelled. I had a lamb shoulder with bubble and squeak, as they said. That's one British classic I've never actually tried so I cannot vouch for any authenticity. This rendition seemed to consist of pureed potatoes (possibly with cabbage mixed in) topped with chunks of meat and whittled carrots and turnips, all sauced. James had the pork goulash topped with a wad of hearty egg noodles.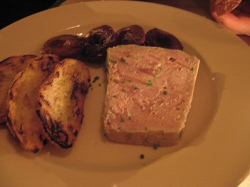 The country farm terrine with pickled fruit and toast was kind of flat and flavorless. I want terrines to be unctuous and rich. The plums brightened up the dish a bit, but essentially this was a chilled slab of what seemed to be canned chicken. I don't know that I've ever had canned chicken but I imagine it would be like this: dry, chunky, grocery store tuna style. Maybe there's a poultry based Chicken of the Sea product, after all. And initially our waitress thought that they'd run out of this starter, so obviously we weren't the only ones ordering it. I'd love to hear other takes on this because it takes a lot to induce finickiness in me.
We finished with a piece of gooey chocolate peanut butter pie, which probably wasn't necessary but hard to say no to. The feeling was relaxed enough that I could've lingered around for one more drink. I could see Flatbush Farm as fitting for cocktails and bar snacks. That menu includes things like fries with herb mayonnaise, radish and butter baguettes and tempura onion rings.
Because that's the way I am, I have to toss in one unsavory tidbit. James threw up around 3am the night we ate here, which is something I've never known him to do in the eight years we've been acquainted (though I did hear a story about puking up his mom's home cooked hamburger in a Northern Virginian movie theater restroom during The Aviator) and I really don't want to blame the faux farm food. He insists it was the beer later consumed at Moonshine but we only had a couple I.P.A.'s. Maybe all that hormoneless, antibiotic-free meat was too much for his system.
Flatbush Farm * 76 St. Marks Ave., Brooklyn, NY