El Corte Inglés Menú del Día

El Corte Inglés is the Macy's of Spain, and no great shakes, I know. But beyond the obvious culinary attractions of San Sebastián, I needed more bait to get James to take a vacation (if it were up to me, I'd stay out of NYC half the year). Having a mall and a subway (TV and internet access goes without saying) are the two unspoken requirements for cities we may visit.
In the 11-and-half-years we've been dating (ha) Bangkok, Toronto, Montreal, Barcelona, Madrid, Shanghai, Beijing, Kuala Lumpur, Hong Kong, Mexico City, Buenos Aires, Singapore and London have had both; the only exceptions being Macau, which was a Hong Kong addendum and Penang, which only had a bus system but made up for it with amazing food and a hotel abutting a shiny, air conditioned mall. Oaxaca had neither, and tellingly, I traveled there alone (though took a cab out to Plaza del Valle, where fast food and a strip mall lurked).
That San Sebastián supposedly had a Corte Inglés, helped matters. Except that it didn't. The address listed online was nonexistent. I was totally up for finding one, though. Bilbao had one (and a metro and a lightrail, both of which we rode on a day trip. I don't talk art, but Paul Pfeiffer's The Saints was the best thing at the Guggenheim) but we'd already been to that more modern city, which brought up the question, "Why didn't we stay here?" Pintxos, that's why.
Pamplona, the next biggest city, was only an hour by bus in a different direction.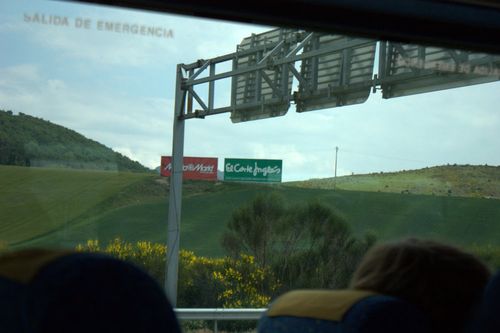 El Corte Inglés' familar font on a  billboard. The sure sign that we were getting closer to civilization.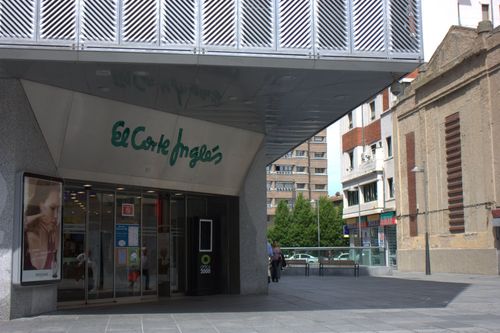 And then we waited in line for lunch, the only pile-up during the week.  Everyone loves a menú del día, the affordable workhorse midday prix fixe served in nearly all restaurants. They're rarely exciting—so much so that I won't document another from Bilbao's Café Iruña—but usually good value. While waiting in the entryway between the cafeteria and El Corte Inglés' branded travel agency, I had plenty of time to plan my three courses.
I was totally going to get a hamburger because I hadn't encountered one in Spain yet, plus it came with an egg, which seemed oddly Australian. I also spent an inordinate amount of time parsing that a rollito de primavera wasn't some rolled arrangement of spring vegetables but a spring roll. Duh.
Soup is usually dreary to me, but I ordered it anyway hoping it would counteract the fries I would have next. Once again, I exposed my shoddy Spanish. Crema de calabacín, was not a squash like the orange pumpkiny calabaza I see at stores in NYC, but zucchini, which I guess is squash too.
If you order the ensalada mixta, which I did not, you get to make your own pepper-free dressing.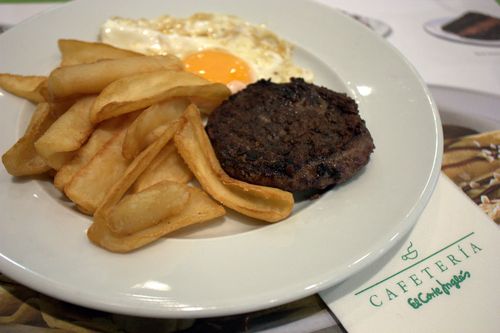 Ugh, una hamburgeusa wasn't a hamburger either. I was most definitely wasn't expecting a naked, well-done patty. At least I had the fries and egg to make up for the lack of a bun. And the pleasure of eating a regular person's lunch instead of something Michelin-starred or smothered in foie gras. Actually, they did have foie gras and fries on the regular menu.
I had far more trouble at this department store restaurant than any complicated pintxo bar. I saw a bunch of people eating chocolate cake at the end of their meals, but all I saw as dessert options were yogurt, sorbets, rice pudding and natillas. I thought natillas was something custardy, but ordered it anyway because it was the only thing I wasn't 100% sure on so it could possibly be the chocolate cake. No, it was a cinnamony custard. Where did everyone get the chocolate cake?
El Corte Inglés * Calle Estella, 9, Pamplona, Spain