Having started with the Gurney Drive hawkers, then moving onto more modern Northam Beach Café, New World Park was the next logical step. Only a little over two years old, this complex is home to casual upscale restaurants like Shanghainese Rou Gu Cha King and Sri Batik Nyonya Café, as well as this tidy hawker center, all signage homogenized into one distinct style.
The popiah stand was popular and I hadn't tried any on this vacation. I'm not sure if it's the nature of popiah or just this version, which were freshly made on the spot, but I found the rolls kind of bland. I think it was the jicama-heavy filling.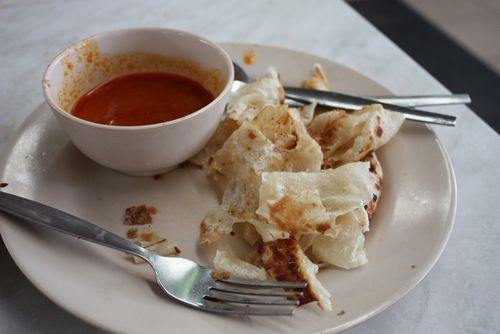 We ordered roti canai from the Indian Muslim stall. The sauce was redder than anything I've encountered in the US, and I think vegetarian. Then again, roti canai here isn't the same since most Malaysian restaurants are run by Chinese.
And a shrimp fritter too.
James ordered char kway teow because…he usually did in Penang.
New World Park * Burmah Rd., Penang, Malaysia