Muthu's Curry

I had originally set my sights on Karu's for fish head curry, but after so much sickness set in, ease of transport took precedence over tracking down obscure haunts. This wasn't the time to be catching buses to the Queens and Brooklyns of Singapore. Instead, I went for the obvious: Race Course Road, the main drag of Little India.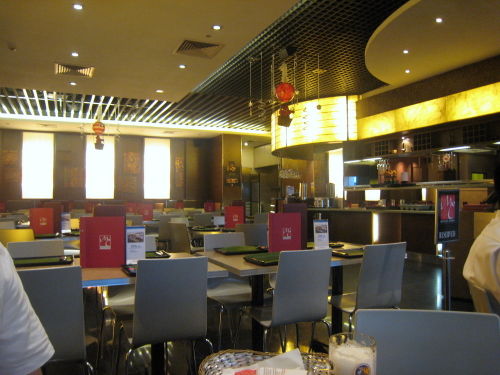 I had tried the other well-known fish head purveyor on this strip, Banana Leaf Apolo, last time. Muthu's is shinier and more modern in décor and showcases a much-used tandoor in the front of the large room. They totally mix up Northern and Southern styles of cooking and seemed proud of their bizarre hybrid, a tandoori fish head, which I would've gladly tried on a second visit. Muthu's is also a la carte, so no blobs of sundry curries doled onto banana leaf placemats/plates.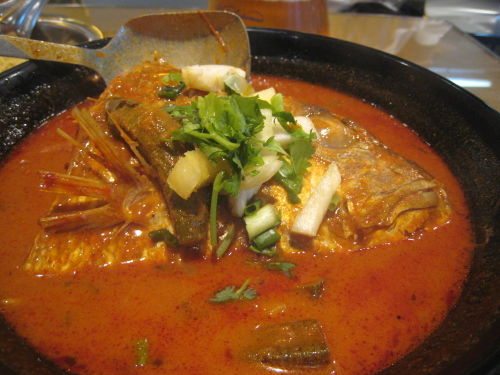 I was surprised how much I liked fish head curry the first time I had it, not because of the disembodied head (I really don't know why people are so scared by fish faces. I've had various odd links to my stargazy pie experiment because the dish seems freakish) but because I envisioned a blah soupy mild Indian-spiced preparation. In reality, it's kind of like nothing you've tasted before, assuming you're American, that is.
This is one of those rare Singapore specific dishes like chile crab or Hainan chicken rice No one else can claim it (though there is a Nonya version). Fish head curry is a total invention dreamed up by local Indian cooks and not something you would find in South Asia. In some ways it's closer to a Thai yellow curry, all sour and hot, no coconut milk softening or sweet notes. The meat, including the gelatinous bits, is moister than a filet and half the fun is picking the white flesh from the many nooks and crannies. However, I stopped short at eating the eye and I refrained from biting the cartilage-heavy tongue after dislodging it from the little jawbone ringed with sharp teeth.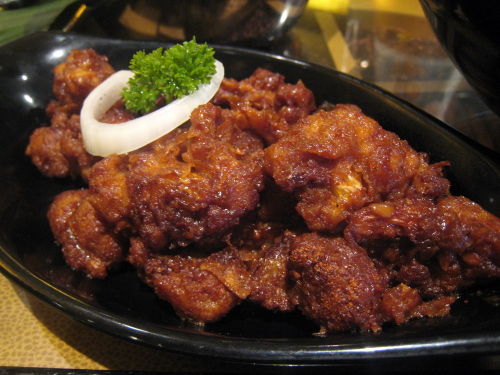 We had Malay-Indian mishmash on the table so why not Chinese-Indian too? Gobi Manchurian is classic Indian "Chinese" food. Battered, fried cauliflower is filling, though, and would probably be better as a focus than a side.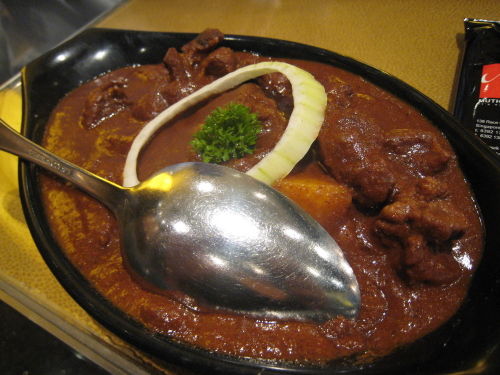 The pork vindaloo was one course too many (there was also biryani and naan) and just weighed us down. This is where we should've taken our waiter's suggestion of something skewered from the tandoor.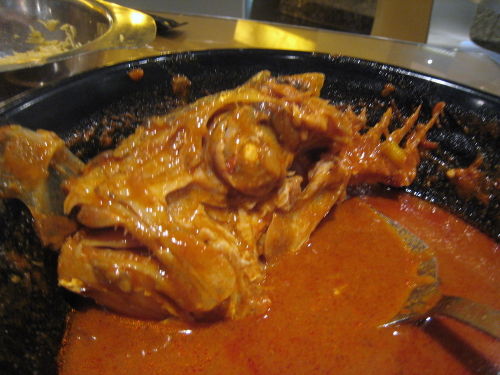 Picked nearly clean.
Muthu's Curry * 138 Race Course Rd., Singapore