Toast Box & Ya Kun

1/2 The first meal I ever ate in Asia was kaya toast and soft boiled eggs at the original, air condition-less, non-mall Killiney Kopitiam way back in 2003.
I've since eaten a fair amount of kaya toast (I went through a phase here where I'd make my own version with kaya and peanut butter) and every time I fret a bit over the quarter-inch thick layer of butter. Never mind the sugar and fat in the coconut jam. White bread slathered with rich sweetness doesn't do much for me, but there's something about the crunchy warmth of toasted bread that melds everything together perfectly.
Before heading to our hotel, we stopped at Toast Box in Changi Airport. I always throw people off because I drink my coffee black. That's neither the standard kopi (coffee with evaporated milk and sugar) or kopi-o (coffee with sugar).
I also tried a bowl of not-as-wretched-as-it-looks mee siam at the Changi Toast Box on our way to Hong Kong.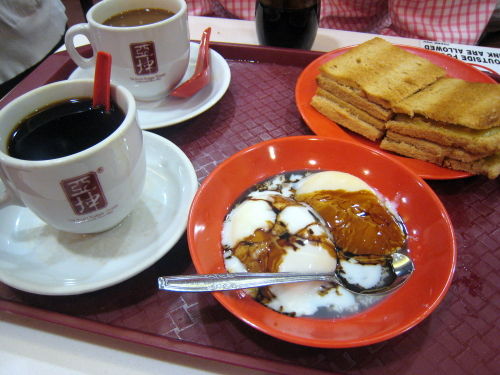 At Ya Kun in Bugis Junction shopping center, we had the full combo complete with soft boiled egg. I mixed a little too much soy sauce in, I'm afraid. Dipping sweet toast into a salty eggy soup sounds odd but it works.
Toast Box & Ya Kun * various locations, Singapore