MOS Burger

I've said it before but I'm no burger aficionado, either I like one or I don't. MOS was more important to me for the foreign chain unavailable in the U.S. factor.  It's the type of place that will randomly show up in NYC some day and there will be guaranteed lines out the door.
Maybe I should've gone for one of the burgers that replaces the bun with rice patties but I was lured by the Spicy MOS Cheeseburger.
Initially, I freaked when I mistook the melty white cheese for mayonnaise (you never know with those Japanese). The spice comes from a mild sienna-hued sauce full of minced onion. There's kind of a lot happening on this burger–look at that massive tomato slice–so much so that the meat barely registered. I'm just not a burger purist, I guess because it didn't bother me.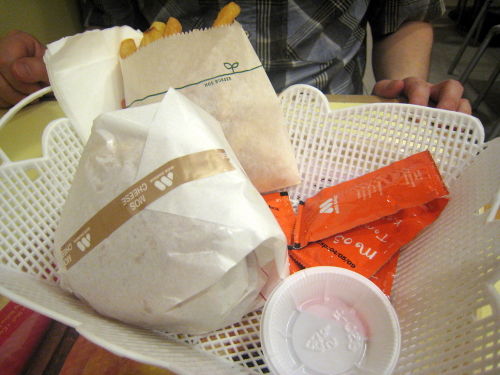 It should be noted that this was very slow fast food. We waited about 15 minutes before having our food brought out (I do appreciate that fast food chains, Carl's Jr. too, bring your order to you. They are also very obsessive about clearing tables and removing any loose napkins, fry bags and the like while you are still sitting). I don't know if that's part of the MOS concept or simply how things were done at Ngee Ann City in Singapore.
MOS Burger * Ngee Ann City, 391B Orchard Rd., Singapore