My Mum's Place

I'm
not sure if we were just hungry from scoping out so many restaurants embedded
in maze-like malls, but this food was really good, way better than I would have
expected from an eatery across the walkway from the always-busy Spageddies
(Hong Kong has a chain called The Spaghetti House, which looks equally
frightening). Being housed in a mall means nothing in Singapore, though; there
was also a branch of Din Tai Fung, a highly regarded Taiwanese chain I tried in
Beijing, around the corner.
I
love Nonya cooking but James always makes a stink (ha) about the rampant use of
shrimp paste in the cuisine. The strong flavors were balanced perfectly, just
hot and sweet enough padded with that belachan in a way that boosted everything
rather than overwhelming, kind of like a natural msg or narcotic even.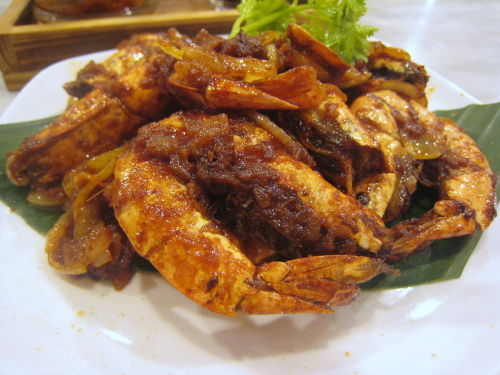 I've
had shrimp sambals in NYC that were like eating nothing; a few sad prawns
sitting in a dull ruddy puree. I've also made sambal, myself, a huge tub sits
in my fridge that tastes like damp mush. This sambal could be a multi-purpose
condiment even minus the prawns. Plain white rice is all you need to go with
it, or even white bread for colonial-style tea sandwiches. Crusts removed, of
course.

Kang
kong (I know, I always want to say king kong because I'm corny) is another one
of those things that's lackluster in my hands (though I think our produce can
take some of that blame) but vivid here. There was plenty of shrimp paste in this, yet it didn't overwhelm the water spinach in the least.

The
requisite beef rendang, ordered primarily to appease James who still contests
that we never had any in Malaysia and doubts its origins, altogether. This is
one SE Asian dish I don't ruin. it's hard to destroy coconut-and-spice stewed
meat, especially since it's designed for tough sinewy cuts.
It's odd that I can't seem to find a website for this restaurant.  They were selling branded spice mixes and pastes at the front of the room, which implies broad name recognition.

My Mum's Place * Paragon Shopping Centre, 290
Orchard Rd., Singapore