Raan Jay Fai

It's not often that I encounter a knife and fork prawn, a meaty curled specimen that's more than three bites. Raan Jay Fai's pad kee mao goong is full of these monster shrimp; maybe that's why this dish commands the notoriously high 250-baht-price ($7.75 today) when you can get a plate of drunken noodles for a fraction of that elsewhere in Bangkok.
These wide rice noodles are seared with a crisper bin worth of vegetables: shiitakes, strips of carrot and red pepper, fat snap peas and wedges of a sweet crunchy root that I'm 85% sure was taro though it lacked the tell tale mauve speckles.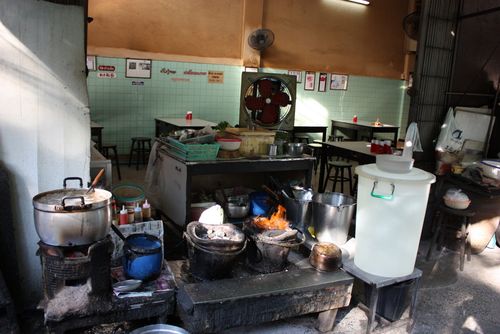 The charcoal-fueled flames waiting for a wok.
Rows of condiments waiting to be used. I had heard about long lines and crowds but the open-air restaurant was next to empty shortly after their 4pm opening.
Raan Jay Fai * 327 Mahachai Rd., Bangkok, Thailand