MOS Burger

MOS Burger is so civilized. Sane portions, sodas served in real glasses with coasters, food brought to your table, spotless. I didn't feel guilty or dinner-wrecking by stopping in for a late afternoon combo.
I'm not terribly adventurous because the first and last time I tried MOS in Singapore, I ordered the same thing: the spicy cheeseburger. Strange, because it's mayonnaisey and that's not a condiment I normally tolerate. The burger is so foreign that I just have to suspend my prejudices and enjoy the small patty doused in mild chopped onion chile sauce, and bolstered by cheese, a fat tomato slice and yes, that mayonnaise.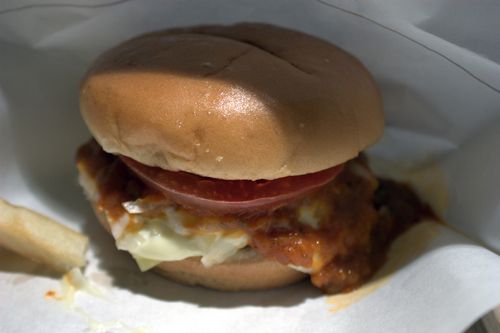 If I ever find myself near a MOS Burger again, I will try one of the rice burgers using pressed rice spheres for buns. Ebi or unagi?
MOS Burger * CentralWorld, Bangkok, Thailand