Aw Taw Kaw Market
Upscale is the adjective frequently used to describe Aw Taw Kaw, the wet market across the street from Chatuchak. The stalls are orderly and clean, the prices are elevated, but it's not exactly like Aw Taw Kaw would be mistaken for the food hall at CentralWorld And your typical American grocery shopper? I think they'd have a hard time calling any store without air conditioning upscale.
It is a great place for ogling produce, meat and prepared foods, even if you can sample a few things. I headed to the food court first. Unless you've spent some time in Thailand (a few weeks doesn't count for me) or can read Thai, it's not always obvious what each stand is selling just based on the observable ingredients on display. 
You can see what others order or go the easy route and find a vendor with many sturdy pots out in the open.
A generous helping of rice is spooned onto a plate and you're given two choices to top it. I pointed at what appeared to be a dry, catfish curry with chile and basil and a soupier curry with fatty strips of pork and what I think was krachai, a rhizome that showed up everywhere in Thailand but is more elusive here unless you like it pickled in a jar. This was some of our favorite food in Bangkok. Curry on rice, simple. I guess we're easy to please.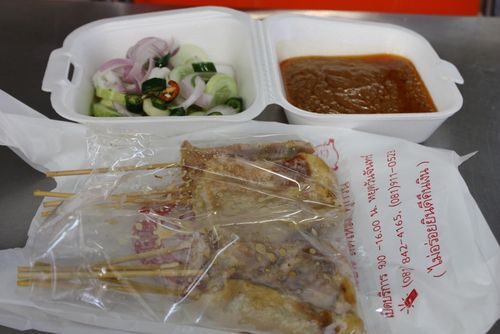 I don't think satay is ever very exciting even when it's good. James tended to pick up a few skewers everywhere we went.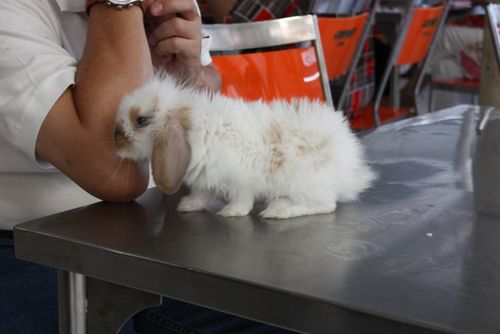 A father and daughter next to us were playing with a rabbit on their table that I assumed to be a pet (you can buy them at Chatuchak) and not intended for a soup pot. I thought he was cute, at one point he jumped off the table and tried hopping away, but I gathered that animals on dining tables aren't universally loved. A nearby woman wouldn't stop glowering. In NYC people act like they don't care about anomalies, in Asia no one has qualms about delivering an overt look of disapproval.
You may or may not know that I am obsessed with food in unusual colors (I don't want to say unnatural because I suspect these hues weren't from synthetic dye) so green, periwinkle and maroon rice completely wowed me. I wish I could've tasted the difference among all five styles but there is only so much eating one can do. Besides, I wasn't sure how they were intended to be eaten.
Taut plastic bags filled with unknown liquids.
Dried fish and shrimp.
So much pork. We did get some slices and chile dip to go.
Som tam kits. Maybe this is what is meant by upscale. Actually, now that I'm looking at this photo again, I'm not sure why I thought this was fixings for a papaya salad. There's nothing papaya-ish about the mysterious brown squiggles on the upper right side of each package.
Grilled seafood.
Thai marzipan, bean paste not ground almonds.
Pork shanks standing upright.
What does the staff eat on their break? Pizza from The Pizza Company.
Giant melons.
Curry pastes packed into dense mounds much like mole in Mexico. We bought a few small packets but haven't used them yet.
Something as simple as ordering coconut ice cream could end up being complicated. There were numerous tubs of white ice cream, each a different flavor from what I gathered were different varieties of coconut. I've never had a choice about what kind of coconut I'd like to eat. And then you are allowed to pick three toppings from an array of glass jars, maybe 15. This is tab tim grob, a.k.a. red rubies, a.k.a. water chestnuts coated in scarlet tapioca starch, candied slivers of pumpkin and something that they call sea coconut in Malaysia. I have no idea what it's called in Thai…ok, now I do: look dtao, palm seed.
A convenience store on the perimeter had pay toilets and a cat trying to cool off. A lot of the cats in Thailand seemed as hot and beat up as I was.
Aw Taw Kaw Market * Phaholyothin Rd., Bangkok, Thailand