Food-wise, Macau is known for egg tarts, jerky,
suckling pig and pork chop buns–at least those are my  associations. On my
previous two visits to the former Portuguese colony Tai Lei Loi Kei's well-known pork chop
bun eluded me because it's one of those classic chowhoundish follies: off the
main tourist drag, super-specific hours, long lines and daily sell-outs. I
never made it over to Taipa Village.
Except that now the tourist-packed enclave abutts the ever-expanding
casino district, Cotai  (a portmanteau of the two neighboring areas: Coloane and Taipa) that barely
existed when I was in Macau in 2008. It
also turned out that hallowed Tai Lei Loi Kei was right across the street (granted,
a major multi-lane thoroughfare) from the sprawling Galaxy complex where I
staying (and wasn't allowed to see the world's largest rooftop wave pool because of post-typhoon storms, not even a peek) an exemplary illustration of the collision of old and new/local
culture and Americanization that I enjoy so much. And yet I still did not get my
Tai Lei Loi Kei bun…
The internet is rife with misleading information (and not
just from trolly hurricane douches). Tai Lei Loi Kei hadn't closed and it
hadn't moved into The Venetian. Accuracy, people.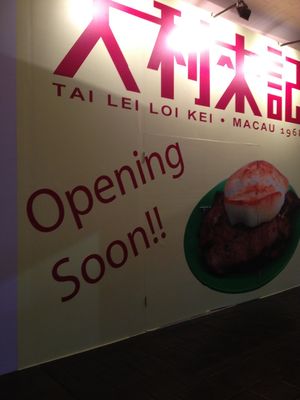 Uh, not yet, at least.
There was a Lord Stow's Bakery, however–another example
of a once small local business (selling egg tarts, in this case) getting modern
and mall-y. They also have branches in Japan, Korea and the Philippines.
The casino food court was highly impressive, though,
with the same false summer blue sky and gondola-filled canals as in Las Vegas–just a hell of a lot
bigger overall. Seriously. The biggest in the world with 546,000 square feet vs. Vegas'
measly 120,000.
Plus, there was a frat-free McSorley's that kind of
blew my American-brands-abroad-loving  mind.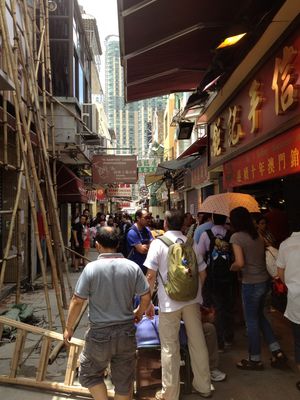 So, the morning before heading back to Hong Kong we
took the hotel's free shuttle bus to Taipa Village, which was, yes, just across
the street. They don't make it easy for pedestrians in a lot of modernizing cities,
which is why there was also a shuttle bus to The Venetian, across another
street on the other side. Maybe the oppressive humidity and sudden bursts of
rain also contribute to the aversion to walking? (Keep in mind that 99% of the tourists are Chinese, not the stereotypically lazy, blobby Americans everyone hates.)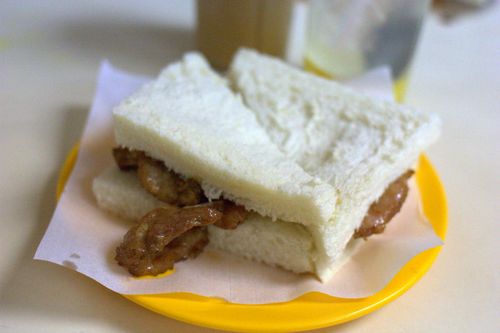 Thinking I was shit out of luck on Tai Lei Loi Kei, original
spot shuttered and not yet open in The Venetian, I sought out San Hou Lei (one of
many other pork chop bun purveyors–they're not that scarce) and ended up with
a pork chop sandwich on crustless white bread instead. Language barriers, they are
legitimate.
There were some cute howling cats pacing in the front of the cafe, though (sadly, you can't see them with the window glare).
On the subject of cats, a souvenir-shopper down the street had a shirt that I wanted.
Not to be confused with a cat in a shirt I
encountered in Bangkok a few days later. But this is about Macau.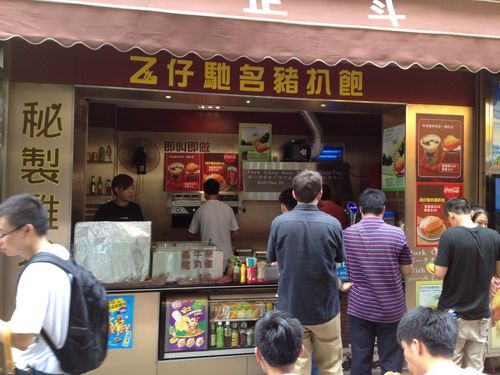 There was a curry pork chop bun stall along the main
shopping arcade with a name I couldn't read because it was only in Chinese.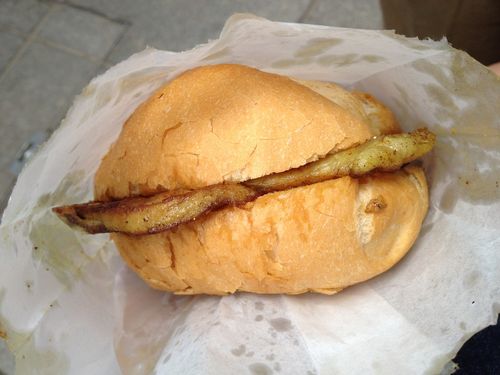 The sandwiches couldn't be more simple: a thin grilled
pork chop, this version sprinkled with curry powder, on a Portuguese roll. I add chile oil to mine. Unlike the McRib, there are actually bones in the cutlet.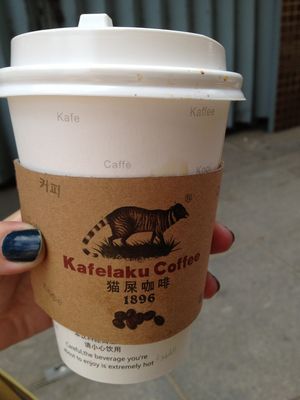 Next door was a cafe selling civet poop coffee. I
couldn't taste anything radical in this expensive $6 cup, but when presented
with the opportunity to try kopi luwak you must partake.
A container of beans cost the equivalent of $168. Pre-digested coffee does not come cheap.
After dawdling and trying two unintended pork
chops between bread, we realized we needed to get back to the hotel to catch a
shuttle to the ferry to make it to Hong Kong by 8pm (yes, pork chop buns are what caused me to miss my original reservation at The Chairman) and in the rush back
guess what we found, merely a block from the crosswalk (the only such
concession to walkers on the entire busy road) leading straight to The Galaxy? I would've gone on day 1 if knew it was so close (Google Maps couldn't find it).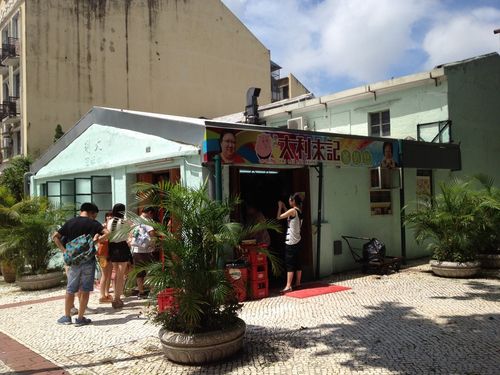 Tai Lei Loi Kei, totally open, and well before 3pm,
the much publicized time when buns supposedly become available.  Internet, you lie. Partially out of fullness
and a little out of spite and heat exhaustion, I didn't even bother buying one. At this point I was
over Tai Lei Loi Kei.  I will never speak of Macanese pork chop buns again after this post.
Look,
a sign advertising a branch in The Venetian.