1/2 There always comes a point during a vacation when I want non-local food (all right, we already had German). Initially, I thought of FINDS (Finland, Iceland, Norway, Denmark, Sweden, amusingly enough) but they were closed for a private Finnish Independence Day party. What were the odds?
Earlier, we had been eyeballing La Pampa, which was directly across the street from the tiny Korean sports bar/fried chicken joint we were having a beer earlier. It was still closed around 6pm even though every place else in the neighborhood was already hopping. We suspected they were just being Argentine and conducted business on a later schedule.
That proved true. We came back a little later and the cozy, ok, cramped, little restaurant was packed, all prime tables reserved. We squeezed into an awkward two-seater near the door and wondered if the food would be even remotely authentic. The tiny room contained the most Americans (as well as Spanish speakers, all three of them, four including the owner) I had encountered in two weeks.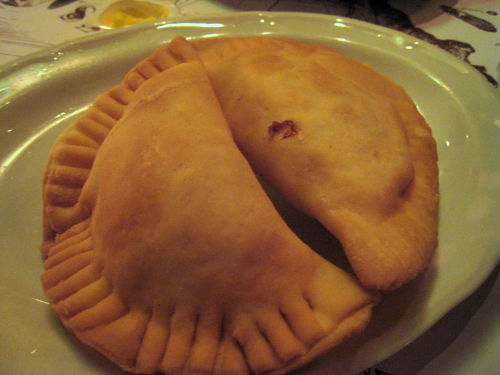 I was reassured by the presence of sweetbreads, blood sausage, provoleta, milanesas and even Don Pedro for dessert. We probably didn't need an appetizer but wanted to try an empanada. No complaints about the ham and cheese.
There wasn't a lot of variety in cuts of beef, just bife de chorizo and bife de lomo. The rest of the mains consisted of meat skewers, chicken and strange for an Argentine restaurant, cod and salmon. I chose the smallest bife de chorizo, 250 grams, which sadly meat absolutely nothing to me because I have no concept of metrics. I was just hoping it wasn't prohibitively massive. But for HK$ 198 (about $25) I figured it would be substantial, and it was. I ate room temperature leftovers for breakfast the next day.
One thing I was curious about is where beef in Hong Kong might come from. Do they have farms in the region? It seemed like Australian beef was popular in the city. I only just now read that La Pampa's beef is imported from Argentina, which answers my question. I was going to say that the steak definitely didn't taste American, not corn fed, but also not nearly as tender and flavorful as what I had in Buenos Aires. The meat was a little tough and flat tasting, though not disappointingly so.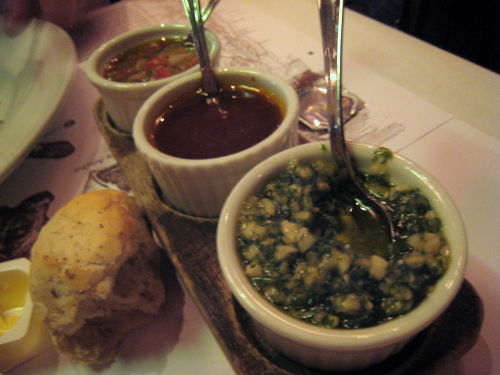 There were only a couple of quirks. One, the corn on the cob on the side. That felt strangely American not South American. And ketchup and two mustards as the default condiments brought with the steaks. We asked for chimichurri and were promptly brought a trio of vinegar-based sauces. Nice.
La Pampa * 32 Staunton St., Hong Kong