Mak's Noodle

1/2 Maybe Mak's is to wonton noodles what Katz's is to pastrami sandwiches. It's a classic, touristy or not. I lamed out a bit by not trying the original location, but one in a Kowloon mall instead. We had to make a few concessions on this vacation, sometimes choosing closer restaurants over potentially more authentic ones.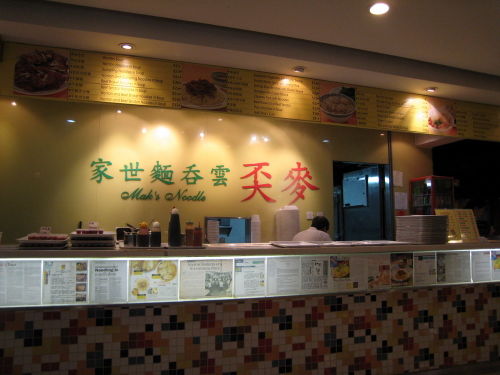 Honestly, I'm not enough of a wonton noodle connoisseur to nitpick over nuances in broth and dough elasticity. I happen to love New York Noodletown's roast pork noodle soup with shrimp wontons, which might not pass muster in Hong Kong.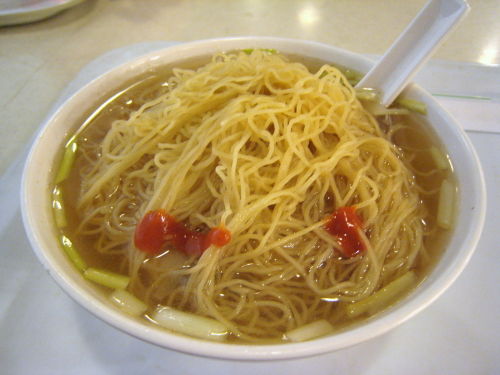 The hallmarks of Mak's is a soup base made from dried fish and pork bones, which lends a robust flavor, and small serving size supposedly to keep the noodles from getting soggy. I think it's the perfect portion because on vacation I like having double meals for maximum sampling. A normal bowl could easily be twice the size of what's pictured. The amusing thing is that everyone around us who had ordered soup from different restaurants in the food court had bigger bowls and still finished before we did. Granted, I'm a slowpoke, but Chinese are no nonsense eaters.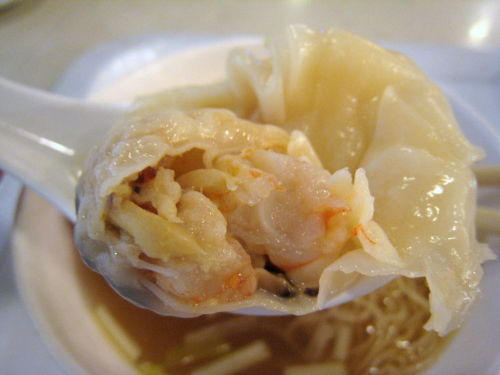 I tried a bowl with dumplings and wontons, not knowing the difference between the two. It appeared that wontons are the compact shrimp-filled pockets you commonly find while dumplings are larger and stuffed with two whole shrimp and chopped mushrooms.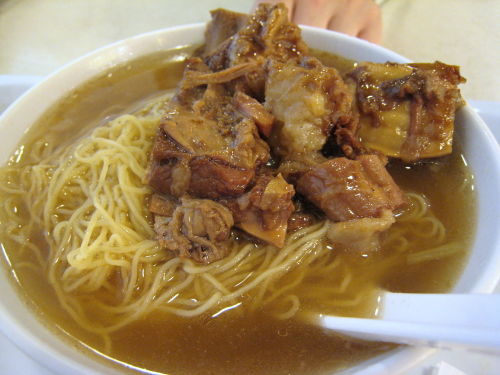 Here's a version with beef brisket. I would've had this if I hadn't just had a surprisingly good room service rendition a few night's previously.
Mak's Noodle * 33 Canton Rd. 2/F, Hong Kong