The Chairman

The Chairman was nothing like I thought it would be.
That name, right? As pointed out in the Times' recent Yunnan Kitchen review, locally sourced,
organic products haven't been adopted by Chinese restaurants in NYC the way
that other cuisines have. The same is true in China, itself, and by extension, Hong
Kong.
So, when I read about free-range chicken from The
New Territories and soy sauce brewed in Kowloon, I pictured communal salvaged
wood tables, subway tiles and cocktail programs because I've been in Brooklyn
too long.
In reality, The Chairman is just a restaurant, a
little upscale, neither flashy nor run-down (crab art on the walls!) with good service (shockingly
affable for Hong Kong) slightly away from the hubbub of Long Fai Kwong at the
end of a quiet street with no outlet.
The absence of abalone and shark's fin on the menu
(they'll make them if you want them) also gave me pause, in a good way. I almost skipped The Chairman due to my ambivalence
about Cantonese food, particularly on the higher end. Status markers like the aforementioned
duo plus XO sauce and birds nests aren't for me, and the austere purity of a
double boiled soup or barely sweetened desserts teeming with legumes are above
my head. I can't appreciate a glossy arranged plate of mushrooms and bok choy
either.
Normally I hate over-explainers, but it was a
novelty for a Chinese restaurant. The service was unusual (they also accommodated a last-minute switch to Sunday night–many HK restaurants are closed on Sundays–when a travel snafu caused me to miss my original Saturday night reservation) in that our server,
an older gentleman with a British name, seemed genuinely excited about the
food,  describing everything and being
helpful by suggesting half portions unprompted when we showed interest in items
that would've been too big for two.
We just had tea, in other words, no drinks, which is unusual for me at dinner on vacation, but I
don't travel well and it was that thing where you're so tired that drinking has
no effect (I'd had Sazeracs beforehand at no-vowel, kind of pricey, The Blck Brd,
which was in a more Brooklyn vein, oh, and four hours of unlimited champagne at the Intercontinental brunch).
Our baby pigeon was missing its head, an omission that
may have been intentional to protect our delicate Western sensibilities (photos
I've seen online are beak and all). Headless or not, the little crisp bird was
smoked with longjing tea and served with pickled onions, a non-Cantonese touch
that balanced some of the richness. There was also a chrysanthemum component,
though it blurred with the green tea flavor (also, I don't know what the flower
tastes like).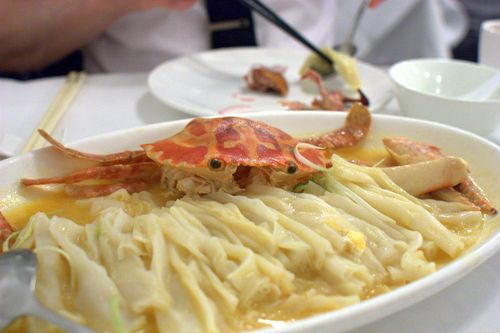 Fresh flowery crab with aged shaoxing wine and  fragrant chicken oil is a signature dish, and
rightfully impressive–look at that face. The mottled crustacean arrives assembled
but already cracked, behind ripples of fat rice noodles. Not an easy chopstick
dish. The sauce was strongly winey yet still smooth, pleasingly bitter and
borderline fermented, just a little funk, almost like nothing I'd tasted before…almost,
half-way through I realized it reminded me of fondue if fondue could be
creamless. If your eyes were closed, I'm not sure that you'd recognize this
dish as Chinese. Combined with the flakes of crab meat and the noodles, it was
like the idealized seafood pasta I never actually get from an Italian
restaurant.  I was resisting my American
urge to clean my plate and trying to be more New York by leaving noodles behind
to save room for the rest of the meal (four-hour brunch, remember) but they
wouldn't clear our plate. The remainders started getting cold. The staff seemed
concerned. Eventually our server came over and divvied up the uneaten noodles and
scraped the roe clinging to the crab shell onto our plates. Rookies.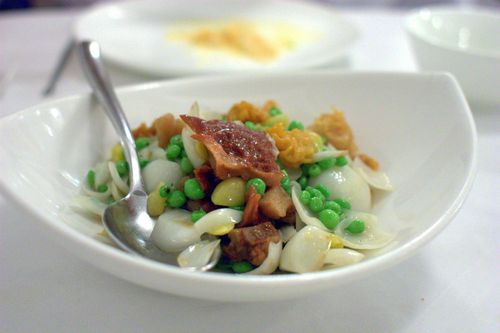 We would've felt guilty not ordering vegetables.
There were like fifty different types of mushrooms–that bacon-looking blob is
fungi–and freshly shelled peas in this dish.
This is a half-order (they were bigger than they appear
here) of the spareribs coated in caramelized black vinegar and preserved plums
and garnished sweet potato chips. It's a fancy sweet and sour sauce, and
therefore, pretty lovable.
This was one of my favorite meals during my quick
stint in Hong Kong because the food and approach, a mix of humble and high-brow
with an emphasis on ingredients over glitz,  isn't really like any restaurant I've
experienced there.
The Chairman * 18 Kau U Fong, Hong Kong