Harbourside at The InterContinental

Update: I re-visted in July 2012 and the buffet is still awesome and pretty much the same, minus the price (it's closer to $100 now) but you don't need a whole rundown. Instead, I have a newer set of photos.
* * *
Ok, I just dubbed StraitsKitchen the most awesome buffet in the universe. That title is now taken. Maybe The InterContinental hosts the most Decadent buffet in the universe. Yes, $80 (approximate, based on the current exchange rate) is crazy but you could recoup that in champagne, lobster and foie gras, alone.
I made sure to take advantage of the free flowing bubbly (Moet & Chandon, no generic sparkling wine). I'm stereotyping but I can say with great certainty that the majority of the clientele drank no more than two glasses; it's not a big drinking culture plus that whole "Asian flush" thing. But the waiter will refill as long as you keep downing them, though after the fourth or fifth glass (hey, flutes are small) they do ask before automatically topping off.
Plate one: half lobster (people were seriously grabbing like two whole lobsters at a time-I was very restrained), salmon mousse, scallop of some sort, a circle of foie gras topped with a thin square of dark chocolate and assorted cold seafood.
I enjoyed the chilled seafood station. The middle shelf was filled with lobsters just minutes before.
Plate two: in the back is seared foie gras with a apple chutney (they are obsessed with foie gras everywhere and way generous with it), jamon Iberico (there was a carving station with three different Spanish hoof-on, whole leg hams), peking duck, "surf and turf," a toast with steak, mushroom and lobster claw meat and shrimp tempura.
Plate three: more lobster, shrimp, squid and dried scallop dish.
I also got some sashimi with this round. Tuna, and maybe mackerel. I forget since this was almost a month ago.
Peking duck "action station" with dim sum, soup and assorted self-serve warm dishes in the background.
Plate four: peking duck redux, cashews, a different Spanish ham and French cheese, one was Comte.
I didn't really capture the sheer volume of goodies in the dessert section. As you will note, they had both white and milk chocolate fountains.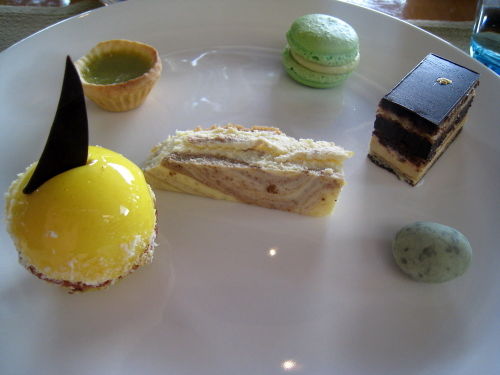 Plate five: aqua green macaron, random cake, dinosaur egg-looking goodie, lemon coconut pastry, lime tart and cheesecake in the center. While picking at our sweets, we were kindly informed by our server that the buffet would be closing in ten minutes so we should make a quick final run. 3pm already? I have no idea how three hours passed so quickly.
I probably only sampled 15% of what was on offer. I don't like filling up on pastas or heavy meaty dishes. And I never eat congee, yogurt or granola at breakfast buffets because it just doesn't seem worth it. Oh, or d.i.y. Caesar salad, which seems very popular at Asian buffets.
It wasn't until we left that we realized the jazzy lite music serenading us all morning was actually being played by humans.
Harbourside at The InterContinental * 70 Mody Rd.,  Hong Kong