Before February hits and all of 2010 gets away from me, I must post a straggler from my New Year's Eve excursion to Chicago. I saved the quintessential regional items for last, mostly because I have the least to say about them.
I wasn't even intending to eat deep dish pizza on this trip. Out of duty, I tried Gino's on my last visit. It was perfectly likeable, but there are friends, and then there are acquaintances and I don't feel compelled to keep in touch with deep dish on a regular basis.
Yet within an hour of landing, a big ol' saucy pizza bubbling in a pan sounded like the best thing ever. Was it the chilly weather commanding my body to bulk up? Who knows, but instead of walking over to Xoco for tortas, as originally planned for first day lunch, I declared, "We're going to Lou Malnati's!"
A pitcher of beer and casserole masquerading a pizza (don't kill me—at least I didn't call it a lasagna with a crust) are good fun. We split a small sausage with a butter crust, two slices each. I love how the sausage isn't portioned out across the pie in blobs but comes as a solid disk the same circumference as the pizza. I have no idea if the 75-cent addition of butter slicked on the dough is wildly different from the original crust, but no expense can be spared on vacation. I will say that the crust was very flaky despite its heft. It may be chain pizza but it's hardly a Pizza Hut (at least not the one I recall from my teenage stint as a dough maker there—though I doubt the formula has changed much since the '80s unless they decide to take a cue from Domino's) pan pizza, which is springy and bready.
In a perfect world, we would've ventured to a more acclaimed joint, but carless in the cold, I was only willing to travel so far. With that said, I still wouldn't try Burt's even if the pizza is amazing, just because I can't stand the rigmarole of a quirk overload place that gets on the cover of Saveur, shows up on No Reservations, only seats 30, runs out of dough unless you call an reserve a pie ahead of time. Whew, it's a lot of effort. Maybe if I had more than a weekend.
Great Lake, however, was a 100% no go, no matter how many best-pizza-in-the-universe lists it makes. Lucali kills me and I can walk there in four minutes. I'm just not going to spend two-plus hours waiting for my pie to find its way into the single-batch oven. I don't begrudge the owners their craft and seriousness of purpose, and I'm certain the final product is delicious, I just don't have the patience to participate in it.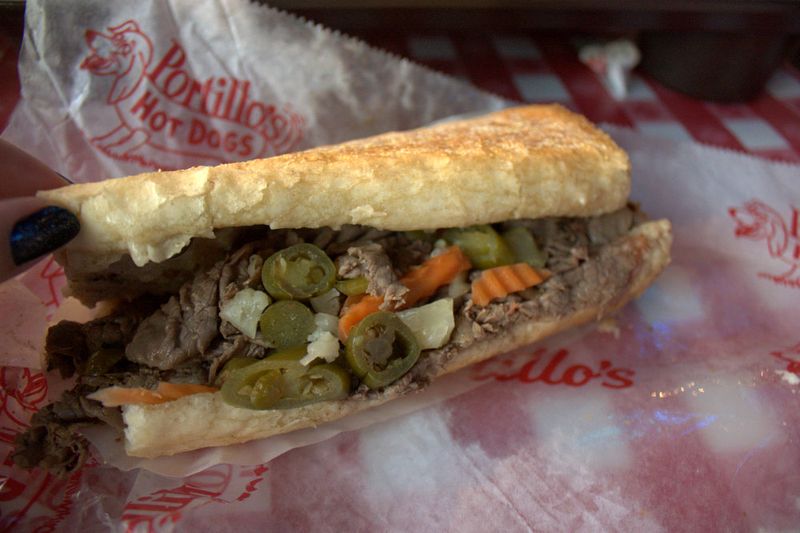 Now, the Italian roast beef I came to with some prejudice. Isn't it just a cheesesteak without cheese? I still kind of think so, and I missed the gooey orange cheese from a can. I like the pickled giardiniera you can add, though I can never see that word spelled out and not think giardia.
My main reason for going to Portillo's, literally wall-to-wall with tourists, was to see the indoor food court setup, akin to a hawker center but with pizza, hot dogs, Italian beef and spaghetti at different counters. You don't really see the multiple counters with central seating arrangement outside of malls in the US.
Lou Malnati's * 439 N. Wells St., Chicago, IL

Portillo's * 100 W. Ontario, Chicago, IL