Billy Goat Tavern

1/2
You know you've entered strange territory when a double cheeseburger starts sounding like light fare. My original itinerary placed us at touristy Gino's for a deep-dish pizza lunch but our flight was delayed slightly and I became concerned about such a heavy item ruining our 8pm Moto meal. There's something about Chicago that allowed me to feel uncharacteristically shameless about cheesy venues. Since I was on the tourist track and scouting walkable options, Billy Goat Tavern (made famous from the '70s Saturday Night Live cheezborger, cheezborger sketch.) seemed as good a choice as any.
We liked how one second you're on shopping central, Magnificent Mile, then after descending a staircase you're in a spooky subterranean enclave like Batman's Gotham City. After opening the front door festooned with a goat painting (the first of two I'd find in 24 hours), you travel down another level of stairs into a barebones, wood paneled, resolutely lowbrow joint, the kind of place people might think still exists in NYC but sorely doesn't. The bar that occupies a good portion of the right half of the room is as prominent as the center grill.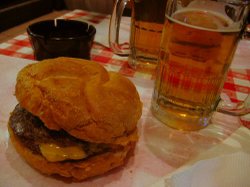 I hate crowds, but I also get nervous when a place is empty. We were practically the only occupants at 4pm on a Wednesday but that was soon rectified. By the time we were ready to leave they were doing brisk business with baffled vegetarian tourists (they got the grilled cheese) and batches of Chicago Tribune employees from across the street, some nursing whiskeys and chain smoking, others conducing business meetings.
You order from the brief wall menu at the counter and a bartender comes around to take your drink order. The animated qualities of the counter guys (yes, they'll do the SNL shtick) were balanced by the flat surliness of the Scatman Crothers-looking bar keep (though after we lingered over six Billy Goat lagers and tipping probably a little generously by local standards he warmed up and began encouraging us to stay and drink more).
The simple double cheeseburger on a roll is the way to go. It comes on a paper plate and you can dress it up with typical condiments like mustard, ketchup, pickles, onions and relish. This meat sandwich tempered with three beers was my healthy lunch. At least I was saved from caloric fries because they don't serve them. The only available side is a bag of potato chips, plain or bbq, and I've never been a chip eater. I still say it was less filling than Chicago-style pizza.
Billy Goat Tavern * 430 N. Michigan Ave., Chicago, IL