Frontera Grill

1/2 Just this month I started catching Rick Bayless reruns on one of the public broadcasting channels. I don't know what his deal is but his breathless, sing-songy stoner mannerisms are kind of distressing yet impossible to ignore. He almost sounds like he's speaking to children, as if Mr. Rogers wore a dude necklace instead of a cardigan. I don't usually laugh out loud when watching cooking shows (besides, he seems to know his craft) so we added Mexico: One Plate at a Time to our DVR queue.
I hadn't considered trying his restaurants at all while in Chicago but what I feared might happen did. It was too bitterly cold for traipsing about on multiple subways and trudging through snow. We did that on Friday for hole-in-the-wall Mexican and by Saturday didn't have the wherewithal to scout out the Lithuanian restaurant, Healthy Food, which I'd intended to visit. I'd heard about kugilis and bacon buns and was intrigued. I never ever eat Slavic, so Eastern European fare is exotic enough to go out of my way for on vacation.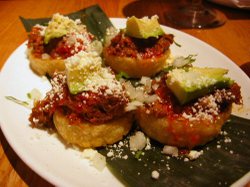 Walkable (well, we cabbed it there and hoofed it back) plan B became brunch at Frontera Grill. I'm scared of the whole celebrity chef, memorabilia for sale in the foyer thing. But prejudices aside, the food was really pretty good, as were the cocktails, which are shaken tableside. Service is well informed and friendly, though I would say that they clearly pander to a certain audience. Or maybe it's Chicago in general.
I don't want to be an NYC know-it-all, but at Moto I didn't really need an explanation of what shiso is. At Frontera we were told that a tamale was corn masa wrapped in a banana leaf. Does their typical diner not know what the heck a tamale is? Maybe our waiter was explaining their tamale since it could come in a corn husk. No biggie, I'm probably overly sensitive about over explaining.
We shared an order of sopes rancheros, which were crispy masa disks topped with shredded beef, roasted tomatoes, avocado and fresh cheese. The accompanying red and green salsas matched well. We were bummed when they took away the tiny dish of spiced pepitas and peanuts when are entrees arrived.
I should've stuck to my original guns and chose something eggy but I've been on a pozole kick lately and couldn't resist their red version filled with pork chunks and hominy. The stew was satisfying but about ¾ of the way through I grew tired of the heavy, slightly salty flavors. I would've preferred a smaller portion, which is something I never thought I'd say.
At least I still had room for a cup of  rich, tequila-spiked hot chocolate and chamomile and lime leaf infused flan with candied orange peel.
Frontera Grill * 445 N. Clark St., Chicago, IL