Spoon Thai

Yes, women have been getting irrationally violent over food this week. First it was the McNugget puncher who was shortly upstaged by the burger rampager.
You might not understand that primal rage. I didn't at first, but now I do. I wouldn't have if I hadn't eaten at Chicago's Spoon Thai on Saturday. Of course there were no fisticuffs or verbal abuse; I was merely howling inside, trying to suppress the Hulk-like anger traveling up from my stomach into my neck when my ground pork and skin turned out to be cubes of chicken breast.
I should've known better than to try Thai food in Chicago when they do a million things better (if you want to go "ethnic," Mexican and Eastern European will soothe not incense) but I was swayed by reviews and photos that seemed so convincing. The northern-style food did indeed look unique and shared many dishes in common with Lotus of Siam, the lauded Vegas strip mall restaurant I dined at twice in one weekend.
And it immediately hit me that Lincoln Park is the German-not-Italian Carroll Gardens of ten years ago; boutiques and cuteness amidst the working class stalwarts, both young couples and pompadour'd men with Cubs jackets covering paunches at nearby Hüettenbar where I had to down a drink (ok, three) to make things right again. But most Carroll Gardens-like were the Thai restaurants clustered on every single block. I spied at least five on the cab ride there. We'd subway'd it everywhere else up until this point but thought we'd save a little time and avoid the predicted six-degree temps, but it just wasn't worth the $20. I'd rather just play Little Match Girl on the el platform and complain about it.
From what I understand there is a regular Thai menu and a special Thai menu, both are now laminated and official-looking. At some point in 2003 the Thai-only menu was translated by an ambitious Chowhoundy type. I'm not sure how it came to its current form dated 2005. I appreciate such efforts, though I'm starting to wonder if the translations, getting lost in them, was part of the disconnect I experienced (I should've taken a photo because I can't seem to find the Thai menu online anywhere and I'm going to look like a liar with no evidence). You would think that if people were getting different things from what they had ordered it would've been detected in the past five years. Maybe I shouldn't have free-styled it and stuck strictly to what I had seen written about online. I just had faith that everything on the authentic menu would be good.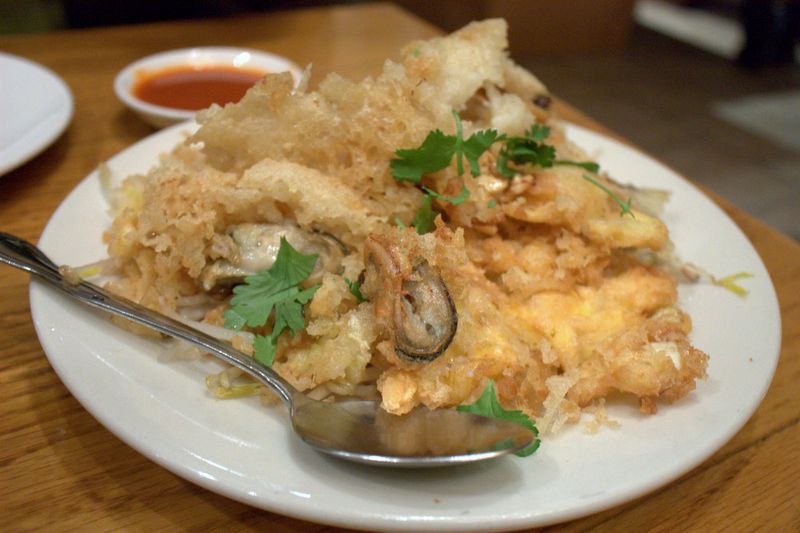 And the mussel omelet was. Greasy and puffy, lacy and eggy with bean sprouts for crunch, I was confident we were in for more greatness. Hawy thawt is made for drinking, and I had my big BYOP bottle of Stella.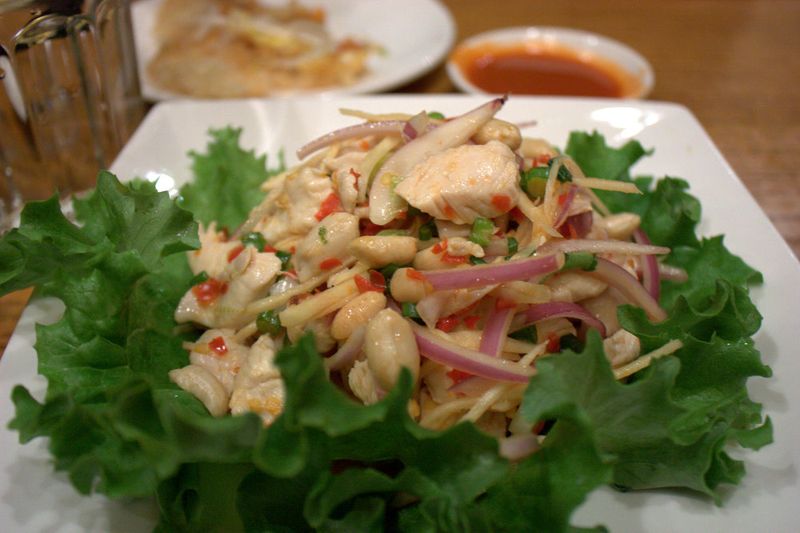 While nibbling on the pancake, our salad was brought out. I was pretty sure the beige blobs were chicken, and even if it was pork, it certainly wasn't minced as described in the menu and there was definitely no pork skin to be seen. This worried me. We both took a bite; the flavor was right on: sour and hot with a fish sauce undertone. No complaints there. But I didn't order chicken and started getting anxious when I remembered our curry also would contain chicken. I'm not opposed to chicken if it's what I ordered but I can't stand two bland white meat dishes in one sitting.
We stopped after a bite each so that we could correct the mistake and get the salad we'd ordered. I eventually flagged down our waitress and asked about the pork. She brought out the menu and pointed to what I had ordered, no confusion, and insisted it was what we had on the table. Um, no. This wasn't going anywhere. I am guessing that she could read the Thai but not the English description and the mix-up lied in the translation. To her eyes, we got what we asked for. Attempting to right the wrong felt futile. But like I said above, wouldn't someone have noticed before that when they ordered ground pork they got chicken breast?
I was disappointed that this would be my final meal in Chicago. It wasn't what I had imagined at all and a waste of my limited time. I had used up a valuable slot for this and considered just paying up and leaving to try Big Star, The Bristol or Kuma's Corner, all who didn't make it into my schedule. But that frangry feeling really enveloped me when our curry showed up.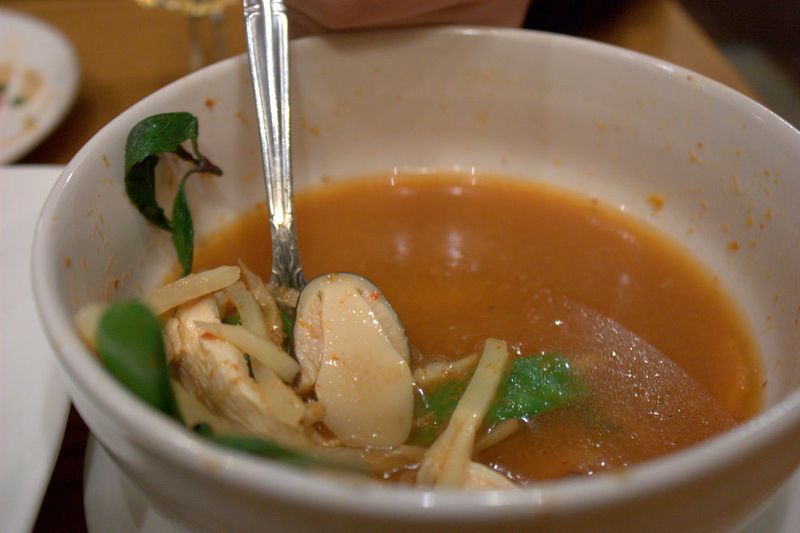 I was picturing something brothy and spicy akin to a jungle curry, it wasn't like I was imagining anything creamy and coconut milky since this was northern Thai food. But the menu promised Thai eggplant and bamboo shoots. This bowl was swimming with straw mushrooms, snow peas and carrots. Ugh. Totally Chinesey and not at all what I wanted to eat. The photo doesn't convey much of anything, I'm afraid, I forgot to take it until the very end of the meal.
I tried a few spoonfuls and gave up. Just not destination Thai food. I've never left behind Thai food before (well, maybe at Joya) and our waitress seemed mildly surprised that we hadn't eaten it all. But I'm such a pussy that I said I was full. I've never really had to deal with a situation like this before and was completely baffled how to deal since it started feeling like a joke was being played on me. James at least asked, "Was this supposed to have Thai eggplant?"
"It could," our waitresses responded.
Er, or it could not. WTF? I've always taken menu listings to be more than just guidelines. If you ordered something that was supposed to come with bamboo shoots and Thai eggplant or ground pork and pork skin, isn't that what should appear on your table?
Like I said, I can't find the Thai menu online anywhere, but this is our bill. I wonder how two of these three dishes translate because they're not at all what we thought we were ordering.
Nearly a week has passed and I'm still confused and unhappy about this place. Of course it's not like I went hungry; a piece of chocolate cake was consumed at a diner near the Belmont stop (unintentionally, something about the shocking cold weather made me unable to hold my pee and while waiting for the red train back to the loop I had to run downstairs and find a bathroom at the nearest place, which happened to be this diner) followed by a double cheeseburger at Billy Goat Tavern.
Touristy, sure, and we'd been there before but Spoon Thai had been my bright idea so I had to go along with James' Billy Goat choice to be fair. I'd rather eat a cheeseburger than blech chicken breast, any day.
Spoon Thai * 4608 N. Western Ave., Chicago, IL