Trader Vic's

So, tiki bars (Painkiller) and restaurants (Hurricane Club) will be the new hotness in 2010? Oh really? (My fingers don't want to type o rlly.) Because I ushered in the new year at Chicago's Trader Vic's thinking I was indulging in retro kitsch when I was really being very forward looking. Hopefully, I can maintain this edge till at least 2011.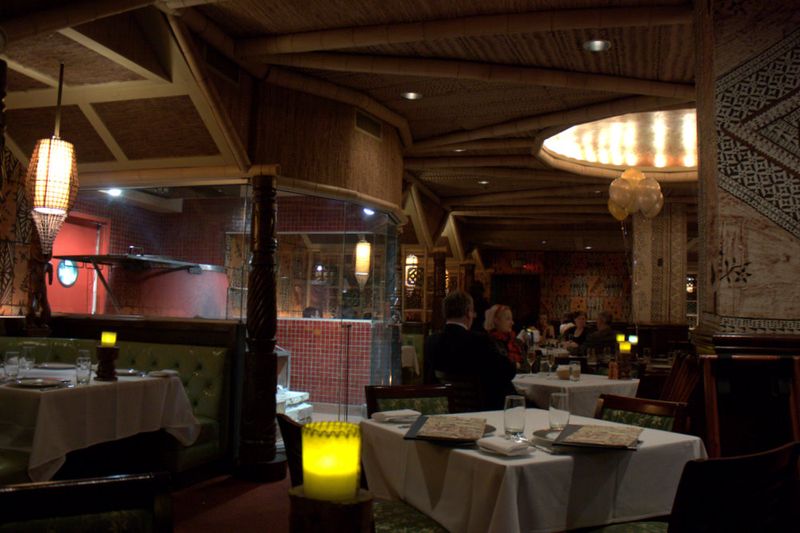 This location at the base of a condo building (with availability—could you imagine a tiki bar in your lobby? The promotional video calls the neighborhood "Little Manhattan" so you know it's great)  is only a little over a year old, reinvented tiki. The original Chicago Trader Vic's in the Parker Hilton served its last zombie New Year's Eve 2006 after nearly 50 years in business. There are the requisite bamboo flourishes, fishing nets and Menehune swizzle sticks, yet there is a clean, smoothness to everything, upscale muted and corporate like a Hyatt (I am more Sofitel or Le Meridien as far as chains go).
My main mission was to eat crab rangoon, plain and simple. I am still mad at myself for never trying Elettaria's happy hour version because the restaurant no longer exists and because I don't feel right claming to be an aficionado having never tried theirs. It has become a lonely, sorry-for-myself Christmas Eve tradition to order cardboardy, oil-saturated cheese wontons from Wing Hua at the north end of the same Court Street block where the more attention-grabbing Buttermilk Channel resides. This year rangoons didn't happen because a gift of soft, washed rind cheeses from Murray's and a loaf of lard bread from Mazzola filled that holiday fat-and-carb void.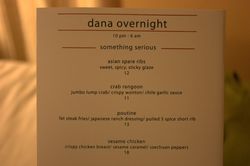 I got an extra surprise at our hotel (the so-so Dana Hotel—I should've just stuck with the Sofitel) when I noticed that crab rangoon appeared on our room service menu, a sure sign that Chicago was the right New Year's Eve choice despite the single-digit temperatures. I vowed to order the novelty along with the "Japanese ranch dressing" poutine, but never ended up being hungry enough in the middle of the night to warrant such snacking.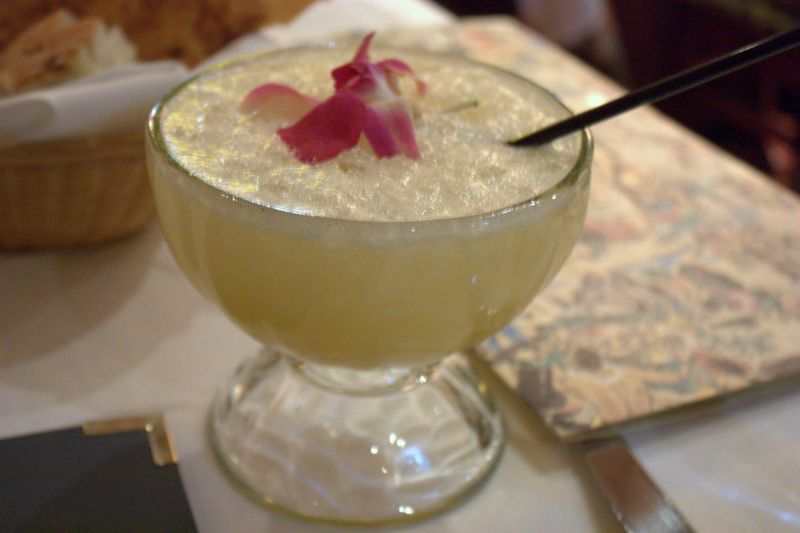 Drinks. This is a scorpion (rum, brandy, orange juice and I think Amaretto). Next to crab rangoon, cocktails are the most important item at Trader Vic's. I expected the food, particularly the entrees, to middling and pricey, and so they were. As long as you know what you're getting into, it's fine. I expect to overpay for fun on New Year's Eve. (Originally, I had 6pm reservations at the bizarrely booked-months-in-advance Topolobampo—Bayless has insane star power and Twitter savvy. He even DM'd me to say hi to him when I tweeted my NYE plans. When it came down to it, though, crab rangoon trumped the $125 per person early dinner.)
Here are my little crisp-fried dumplings, served on a silver, light-radiating pedestal, almost angelic.  It certainly beats a waxed paper bag. The texture was more delicate than Brooklyn takeout, though the filling was still predominantly cream cheese, despite Dungeness being invoked on the menu. I've never had a particularly crabby crab rangoon. However, I do cling to the notion that they contain a trace of crab or crab-like product unlike lobster sauce, which is only crustacean in name.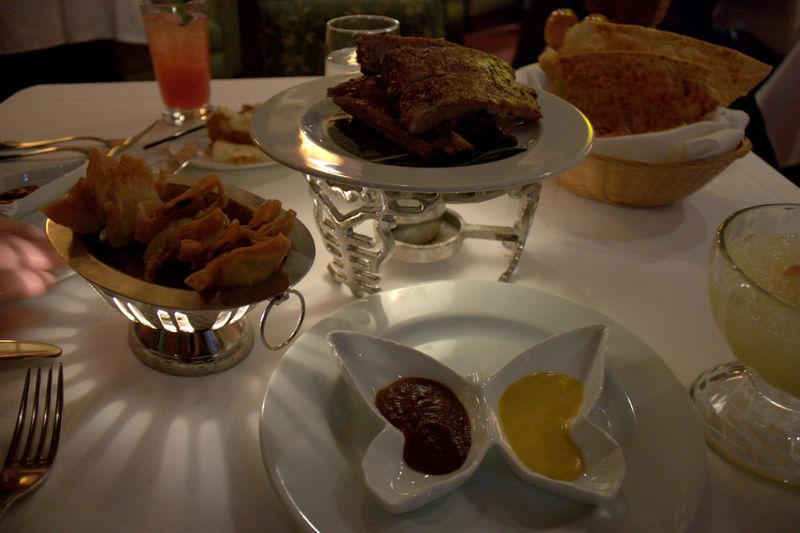 They are served with traditional Chinese-American ketchup and hot mustard in a dish shaped like a butterfly. We also had a plate of tender bbq spareribs.
I was steered away from non-sweet libations and was even given an unsolicited rock sugar stick with my crushed ice Queens Park Swizzle (made with dark rums not the light ones I see at more modern bars) and the explanation that it might be too strong. I can only guess the warning stemmed from face to face market research. I picture an after work crowd looking for happy hour bargains not cocktail mavens consumed by mixology.
I wasn't sitting at the bar, but I would be very surprised if fresh juice and ingredients were being used. After all, the city really only has one we'll-call-you-when-we-have-a-table, vodka-shaming den, Violet Hour (and it was just way too smooshed on my Saturday night attempt to gain entry—clearly there is a need waiting to be filled). The serious cocktail is still gaining traction. Trader Vic's would really steam Rick Bayless (I swear I am not obsessed with him) who was recently Twitter-distraught over a fruit punchy Singapore Sling at Raffles. Syrupy and pre- mixed, sure, but worth doing once (I did it) just like Trader Vic's.
I've always wanted to try one of those mid-century curries you often see in old cookbooks. Madras curry powder is always called for, as well as a whole slew of nonsensical accompaniments like peanuts, shredded coconut, bananas, apples and raisins. More like vaguely healthy sundae toppings. And Trader Vic's had this! With your choice of meat. Er, but they were out of lamb and I got the distinct impression that they didn't want us ordering any rendition period. Like I said, this isn't fine dining. In fact, everywhere we ate in Chicago (even The Publican with great food and gracious service) had inexplicable gaps between courses.
So, I went for the peking duck because I was certain the wood fired oven fusion-y mains with wasabi mashed potatoes and the like would be disappointing, plus their claim, "Our ovens can be traced to the Han Dynasty" made me wonder. I had to stop the tableside preparation half-way through because the meat shredding meant to be theatrical was more like mauling. I'm quite certain the staff had had more than a few celebratory swigs of hooch. And well, at this point, I too, had enough rum in my system to halt the presentation and not concern myself with the dryness of the dark meat. Nothing that a little hoisin, a pancake and another cocktail couldn't fix.
Pino frio is a simple refreshing pineapple juice and rum (and sugar, duh) concoction.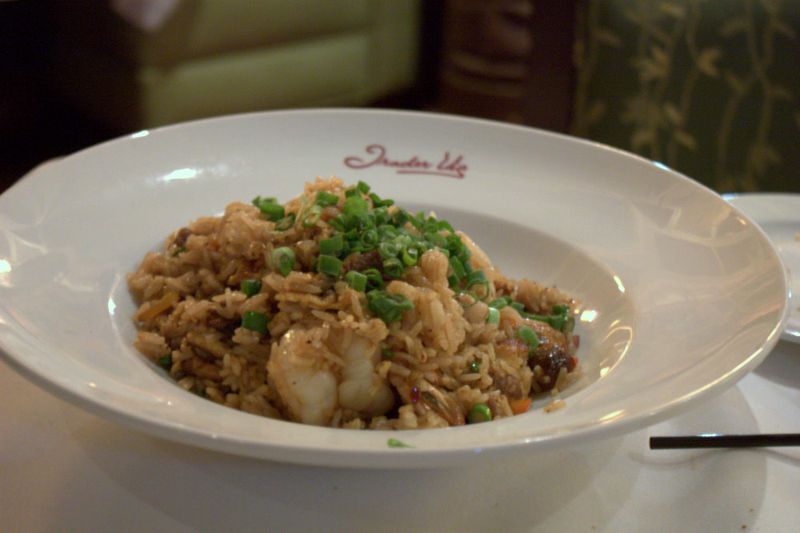 Fried rice is fried rice, though it made it up for a sad main. A sweet-glazed grilled pork chop topped with a pineapple ring, James' entrée, isn't pictured and it's for the best. Despite being told it would be medium, the thick opaque cut of meat was dense and devoid of any moisture. Must've been those old Han Dynasty ovens.
I'm not sure where all these people came from at midnight. Everyone moved to the bar for a champagne toast. The dining room crowd skewed older and more sequined (I was about to comment on the level of sparkle on middle aged women but was mildly guilty, myself) with the exception of the one rockabilly couple you knew would have to be there.
We moved on to Zebra Lounge, a tiny piano bar, not so much because we wanted to hear American Idol-esque belting-outs of Beatles tunes, but because it appeared to be the least scary place i.e. stumbling, screaming young men in doorways, in the immediate area.
One thing that struck me about the bars, or maybe just the bars I saw, in Chicago was their heterogeneous nature. Much age diversity, something I've become acutely aware that NYC lacks as I follow my sequined lady path. My half-baked theory is that educated New Yorkers tend to have kids well into their 30s and 40s, keeping them responsible and entertaining at home until they are senior citizens. Whereas if you'd had kids in your 20s like an average American, the children would already be teenagers by your late 30s and you'd be back out having fun by 40. Not that the grown children necessarily approve or that I would know this first-hand or anything. Ahem.
Trader Vic's * 1030 N. State St., Chicago, IL