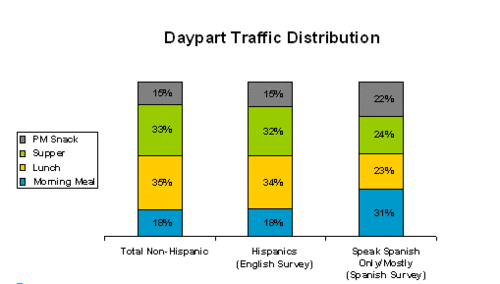 While hay-smoked bitters are most certainly on the horizon for certain segments of the population, the fastest growing beverage in the chain restaurant world is tap water. I love tap water, but it makes me sad to think of all those garnimals languishing behind the bar at Cheeseburger in Paradise. Those Skinny Pirates won't be drinking themselves.
People who prefer their water in bottles, have chosen Aquafina as the brand of the year. Panera tops the casual dining list and Subway wins for fast food. Sandwiches rule.
And for reasons I can't discern, Spanish-dominant Hispanics eat breakfast out more than their English-speaking counterparts. The first meal of the day makes up more than a third of the Spanish-speakers' total dining occurrences. Not surprisingly, English-speakers, Hispanic or not, are kind of the same. Lunch wins by a smidge. I wonder who eats more breakfast burritos.