Hunan House

It wasn't that I thought pupu platters and moo shu pork were Hunan food; I'd never even considered that regional Chinese food existed. And I can't fault Gresham, Oregon or the era when I took my first job bussing tables at Hunan Garden. Even twenty years later in a city filled with actual Chinese people, we have kung pao and lo mein slingers with names like Hunan Balcony and Szechuan Delight.
Luckily, we also have restaurants representing less-celebrated corners of China like Dongbei, Quingdao and Fujian, something that not all cities in the US have. (I truly didn't understand when in the '90s a Queens transplant to Portland complained about the city's lack of good Chinese food. Many of the restaurants serving Chinese and Thai at the time were really Vietnamese.)
And finally, Hunan food. I've gathered from reading Fuchsia Dunlop's Revolutionary Chinese Cookbook, sampling the Hunan section of Grand Sichuan's menu and a meal at a Hunan restaurant in Shanghai, which is about as close as I'll get to Changsha in the immediate future, Hunan food is spicy like Sichuan cuisine—some say spicier— but doesn't use the tingly peppercorns.
I didn't find the food at Hunan House to be particularly chile hot. The cold pigs' ear appetizer was mildly spiced and consisted of chewy ribbons of meat and fat lightly slicked with oil in a very straightforward presentation that was more about texture than strong flavor. I kind of missed the orange pool of oil that dresses similar Sichuan dishes.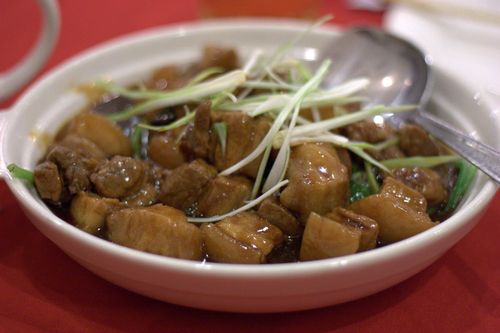 Chairman Mao's pork, a rich star anise-heavy braise of pork belly cubes with green bursts of wilted spinach and sliced scallions to trick you into thinking the dish contains healthy components, has always been a favorite from Grand Sichuan and was successful here, too.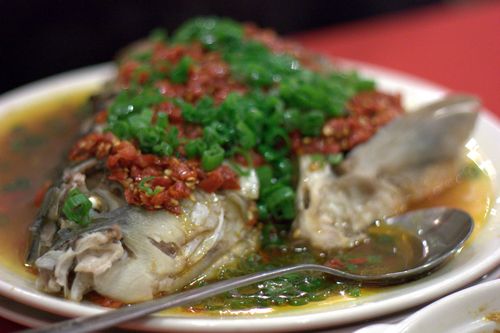 I had no idea fish heads were part of the Hunan canon because I've tended to encounter the toothy castoffs in Southeast Asia, the most famous example being Singaporean fish head curry. At first we worried that our choice was a dud. The waiter asked, "you know that's a fish head?" But after noticing at least three other tables with the same red chile-and-scallion-smothered dish, we realized he was concerned about our non-Chinese palates (I really wanted to type palette to see if anyone would go apeshit on me).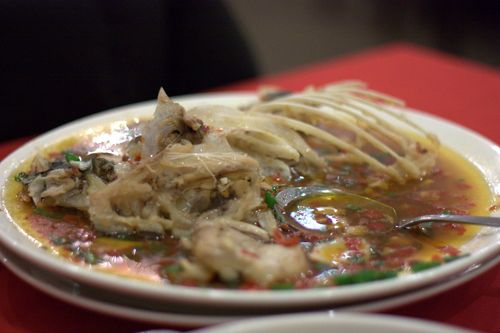 No worries, we picked the bones mostly clean, despite the fish head's size (in Singapore you can specify if you want a small or large head) being better suited for more than two diners.
Ack, the stems (I completely had forgotten that I was aware of their existence and swore to never eat them). I could've sworn the menu simply read sautéed water spinach with green pepper, though the online version I'm currently looking at definitely says water spinach roots. Once again, I got tripped up by a Malay/Singaporean preparation of what they call kangkung. I was expecting leaves in chile sauce, not a whole platter of stems! I don't want to make a big stink and go as far as saying I have a stem phobia (it's like you're being cute and drawing attention to quirks unnecessarily like in that Sloane Crosley story—a few months ago in an attempt to better myself and become more compassionate by reading things I assumed I would hate but that others love, I checked out her book from the library…and couldn't get past the third story—where she claims to have a made-up disorder where she can't read maps) but when I get a banh mi stuffed with more cilantro stems than leaves, I am not happy and if I make kangkung belacan, myself, I use leaves only. Stems go in the garbage, no matter how wasteful.
With all of that said, this dish that was far more challenging than a fish head, ended up being delicious. Light chile heat blended with the salty funk of black beans and hits of ginger and garlic.  I didn't even miss the Sichuan peppercorns I had been craving at the start.
Hunan House * 137-40 Northern Blvd., Flushing, NY